Costa Rica Eco-Tourism Adventure - Family Science Adventures
---
*The event has already taken place on this date: Sat, 06/24/2023
---
Take your family on the science adventure of a lifetime. Join us in Costa Rica for a Family Summer Travel Camp. Participate in sea turtle conservation work and collect turtle data with biologists. Hike on volcanic lava beds, go whitewater rafting and see some of the most diverse ecosystems in the world. Extend your stay for an extra couple days with the option beach extension on the Pacific Coast. Summer camp sessions are led by professional educators and expert local guides.
---
Please help us keep this calendar up to date! If this activity is sold out, canceled, or otherwise needs alteration, email mindy@kidsoutandabout.com so we can update it immediately. If you have a question about the activity itself, please contact the organization administrator listed below.
---
Costa Rica Eco-Tourism Adventure--Family Summer Travel Camp 2023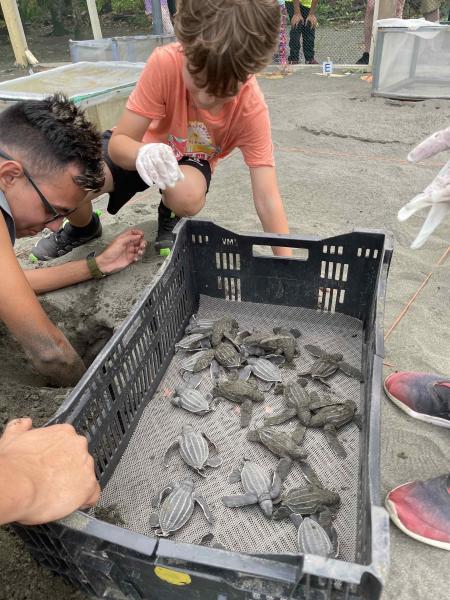 Day 1: Flight to San Jose, Costa Rica. Meet guides at airport and transfer to lodge. Visit downtown San Jose if time permits.
Day 2: Visit a butterfly garden in the Caribbean lowlands on the way to the turtle station. Drive through banana plantations and take a boat through the canals to the turtle station on the Caribbean coast. Search for nesting turtles at night and assist with conservation efforts
Day 3: Take a boat ride through the canals to look for rain forest wildlife. Help biologists with turtle station tasks. A second night of turtle patrols on the beach.
Day 4: Transfer from the Caribbean lowlands to the central mountains. Stop for an exciting whitewater rafting experience along the way. Check in the hotel near Arenal Volcano and swim in the volcanic hot springs.
Day 5: Learn how to make chocolate at a local farm. Nature walk and volcanic lava bed hike. Spend time exploring the town of La Fortuna or relaxing at the pools and hot springs.
 Slide above the canopy on a morning zipline adventure and then transfer to the Guanacaste Province to Rincon de la Vieja National Park with a couple stops along the way. Go on an evening hike near the hotel.
Day 7: Hike in the Rincon de la Vieja national park, often referred to as the "Yellowstone of Costa Rica." Coat yourself in mud before taking a dip in the natural hot springs.
Day 8: Transfer to the airport and head home. Or, extend your stay with the optional beach days at a Pacific resort.
Day 9: **Optional Beach Extension: Spend some time on the beautiful Pacific beach for a free day.
Day 10: Depending on your flights, spend a relaxing morning at the hotel, with one last chance to swim in the Pacific or in the pool. Transfer to the airport and head home.
---
*Times, dates, and prices of any activity posted to our calendars are subject to change. Please be sure to click through directly to the organization's website to verify.
---
The event has already taken place on this date:
Ages
6-8 years
9-12 years
Teenagers
Adults & kids together