10+ Terrific Transportation Museums in New York State
- By Carol White Llewellyn
Looking for a fun day trip or a unique adventure to include as part of your next vacation? Check out these fascinating museums that pay tribute to the many modes of transportation that helped make the Empire State great! These are all terrific outings for every member of your group, from little ones to seasoned travelers.  
Antique Boat Museum – Clayton, NY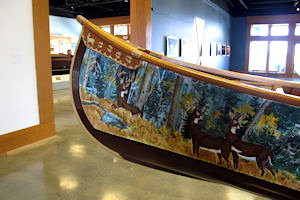 If you love boating, don't miss this museum! The Antique Boat Museum focuses on the nautical and cultural heritage of freshwater boating and transportation in the U.S. and particularly the Great Lakes. With over 4.5 acres and 29,000 square feet of exhibit space, there's plenty of room to display over 300 boats as well as the wealth of historic boating artifacts. Seasonal events include speed boat rides, Ride the River and Sunset Cruises, boat shows, educational programs for all ages, special events, and more. Special exhibits include a 30-minute tour of the 106′ houseboat La Duchesse, built in 1903 for hotelier George Boldt, manager of New York City's famed Waldorf-Astoria hotel (additional fee for tour, reservations required). The museum and museum store are open daily from 9 am -  5 pm, from the first weekend in May through the last weekend in October. Photo credit: Canoe at Antique Boat Museum, right, by Nick Normal. Used courtesy of Flickr Creative Commons license.
The Buffalo Transportation Pierce Arrow Museum – Buffalo, NY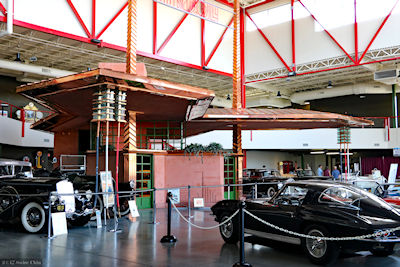 Over a 45 year span,  Jim Sandoro and his wife, Mary Ann collected memorabilia, antique vehicles, and historic artifacts that form the foundation of this museum, filled with automobiles, bicycles, motorcycles, Pierce-Arrow artifacts, a 1927 Buffalo Filling Station designed by Frank Lloyd Wright, and more. You'll discover some of the earliest and most impressive autos on display, as well as a fueling station, under construction, designed by Frank Lloyd Wright, that was never actually built until 2002, when Jim Sandoro began fundraising efforts to build it as a complement to the collection. The museum is open Friday through Monday 11 am - 4 pm. Photo  of 1927 Buffalo Filling Station, right, by Can Pac Swire. Used courtesy of Flickr Creative Commons license.
Champlain Valley Transportation Museum - Plattsburgh, NY
This unique museum was built on the former Plattsburgh Air Force Base as a tribute to the golden age (actually, the Brass Era) of auto manufacturer Lozier Motors. Lozier was a luxury car manufacturer that, at one time, built the most expensive autos sold in the U.S. The museum eventually expanded to also feature the extensive history of land and sea travel on Lake Champlain and the St. Lawrence Seaway. You can catch a bite to eat aAlbant the Bill Gates Diner, a trolley car café, originally owned and operated by Bill and Dawn Gates, parents of Microsoft tycoon Bill Gates, Jr. Kids will love the many interactive features of the museum that include, among its favorite attractions, a Hot Wheels Exhibit. The museum also hosts many special events including Tractor Day, Family Movie Night, and demos on boat making. The Champlain Valley Transportation Museum is open from the first week in May to the first week in November, operating Tuesday through Saturday from 10 am to 2 pm.  All tours are guided and they take about an hour and a half to complete.
Destroyer Escort Historical Museum - Albany, NY
The USS Slater is the sole Destroyer Escort left afloat, and is moored in the Hudson River in Albany. This restored Escort Destroyer pays tribute to the 563 Destroyer Escorts of WWII that battled Nazi u-boats on the North Atlantic and defended Naval forces against Japanese submarines and kamikaze air attacks in the Pacific. Knowledgeable guides lead you on an escorted 90-minute tour of each deck of the carrier, taking you back in time to 1945. Specialty subject matter tours, or tours for those with limited mobility are available by advance appointment. Please take into consideration that you will be climbing stairs and moving through confined spaces. Strollers, large bags and tripods are not allowed. This museum is open from April through November, operating Wednesday through Sunday from 10 am to 4 pm.
Empire State Aerosciences Museum - Glenville, NY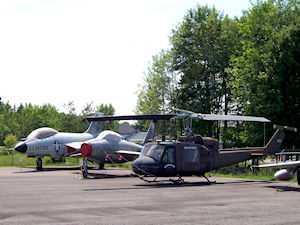 A museum for the true aviation buff, this one-of-a-kind attraction is located on 27 acres near the Schenectedy Airport offering plenty of room to showcase close to twenty different planes and helicoptors in its outdoor Air Park. Head inside and you'll find fascinating exhibits that include one on the Mars Rover Expedition, another on the Antactic, and an enormous scale model of the Japanese aircraft carrier "Akagi."  Inside, the museum features an aviation hall that takes you from pre-powered flight through the golden age of flight including models, artifacts, interactive exhibits, an aviation library and more. If you're visiting for the day, you may want to plan to go to the fly-in pancake breakfast that happens once a month. The Empire State Aerosciences Museum is open year-round, operating Tuesday through Saturday from 10 am to 4 pm from the end of June through the first weekend in September. During the rest of the year, they are open Friday through Sunday from 10 am to 4 pm. Photo credit: Partial view of Air Park at Empire State Aerosciences Museum, right, by O World of Photos.
Glenn H. Curtiss Aviation Museum – Hammondsport, NY 
Discover the roots of modern aviation, which began when Glenn Curtiss put a motor on one of the bicycles he built, contributing to his being acclaimed the "fastest man on earth" when he attained a speed of 136.4 MPH on his V8 powered motorcycle. From there, he was hired to put an engines on a hot air balloon, which launched his aviation career. On July 4, 1908, Curtiss gained notoriety when he flew his flying machine, the "June Bug," a distance of over 5000 feet to win the Scientific American Trophy. Curtiss went on to design aircrafts, seaplanes, and ultimately, the precursor to the Windstream RV, all featured in the museum in actual or replica format. The museum also hosts exhibits on local history, exhibits on female aviators, and a working shop in which restorations take place. Get a snapshot of the entire history of aviation in one fascinating visit! Summer Hours: May 1 - Oct 31, Monday – Saturday 9 am to 5 pm, Sunday 10 am to 5 pm; Winter Hours November 1 - April 30, Monday – Sunday 10 am to 4 pm. Closed: Easter Sunday, Thanksgiving Day, Christmas Eve, Christmas Day and New Year's Day. Photo credit:Seaplane at Glenn H. Curtiss Museum, right, by C. White Llewellyn, used by permission of photographer.
Intrepid Sea, Air & Space Museum – New York, NY
This once-operational Intrepid Aircraft Carrier is an ideal home for a sea, air, and space museum. As you wander through its multiple decks, you can see how Navy personnel in WWII and in Vietnam lived day-to-day aboard the vessel. On its flight deck, get an up-close look at two dozen restored aircrafts. The hangar deck features a movie about the Intrepid, a Medal of Honor Exhibit, the fo'sicle Room with its enormous anchor chains and staff sleeping accommodations. You'll also discover the story of the WWII kamikaze attack that took the lives of 88 crewmembers, and the Exploreum Hall interactive exhibit that fascinates kids and adults alike. Other favorite features include the simulators, the Intrepid model made out of LEGO® blocks, and tours. The museum is open year-round, from April 1 – October 31: Monday- Friday from 10 am – 5 pm, Saturday, Sundays and Holidays from 10 am – 6 pm; drom November 1 – March 31: daily from 10 am – 5 pm.
Medina Railroad Museum – Medina, NY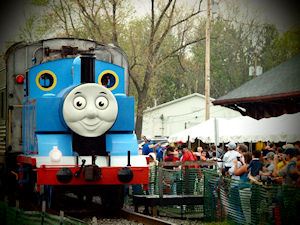 This is the little museum that could! Located in a former freight depot, you'll find both information and hands-on experiences here through its enormous collection of railroad-related artifacts and memorabilia. In addition to the historical artifacts, the museum also offers ever-popular train rides along the historic and scenic Erie Canal. Options include "A Day Out with Thomas" during May, Fall Foliage Rides in October, and the ultimate holiday experience, a Polar Express Ride to the North Pole, where Santa hops on the train for the return trip. The Polar Express Ride runs from mid-November through mid-December. A favorite feature for all visitors is the ever-expanding HO scale, miniature train exhibit, currently the largest in existence. The Medina Railroad Museum is open year-round, Tuesday through Sunday from 11 am to 5 pm. Closed Mondays and major holidays.  Photo credit: A Day Out with Thomas at Medina Railroad Museum, right, by Ray Ordinario. Used courtesy of Flickr Creative Commons License.
National Warplane Museum - Geneseo, NY
This museum is dedicated to the preservation of WWII and Korean War era military aircraft, equipment, and the stories of those men and women who served our country at home and abroad. In addition to maintaining a collection of military aircrafts, they also hold air shows, and many of their aircrafts, such as the B-17 Movie Memphis Belle, The C-47 "Whiskey 7," the C-45 Expediter, and the L-16 Aeronca Champ are available for rides. The museum is open for event and wedding rentals.From May 1 through October 31, they are open 10 am - 4 pm, and from November 1st through April 30th they are open Monday, Wedneday and Saturday from 10 am to 3 pm.
New York Museum of Transportation – Rush, NY 
The focus of the New York Museum of Transportation is to "collect, preserve, display, interpret, and operate artifacts and information from the transportation history of Upstate New York and surrounding areas." Within the museum, you'll discover fourteen full size trolley cars, a caboose, steam locomotive, antique highway and horse-drawn vehicles, as well as other artifacts associated with transportation throughout history. You'll also find an 11' x 21' HO-gauge model railroad that operates five trains and two trolleys simultaneously.  Enjoy a ride on the only electric trolley currently operating in New York State, with its 87-year-old Philadelphia & Western cars! Trolley rides operate mid-May through October, from 11 am to 4:30 pm. The museum is open Sundays only from 11 am – 5 pm.
New York Transit Museum – Brooklyn, NY
The Transit Museum is located underground in a decommissioned 1936 subway station in Brooklyn, and it's dedicated to telling and preserving the stories of New York's mass transit operations. It showcases extraordinary engineering feats, the workers who built the tunnels over 100 years ago, the advances that have taken place in technology, design, and ridership in a transportation system that runs 24 hours a day, every day of the year. Hop on board the vintage subway cars, sit at the wheel of a city bus, step through turnstiles, and explore changing exhibits that highlight the cultural, social, and technological history – and future – of mass transit. Museum is open Tuesday-Friday: 10 am – 4 pm, Saturday & Sunday: 11am – 5 pm. Closed Mondays and major holidays. Photo Credit: Subway at the New York Transit Museum, right, by Alex Headrick. Used courtesy of Flickr Creative Commons license.
 Please note: Be sure to visit the museum website to confirm hours of operation, tour schedule, and admission fees before visiting.
---
Carol White Llewellyn is Editor of BeyondTheNest.com, a travel writer, and the host and producer of Conversations with Creatives, a cable and online TV program that explores the arts and celebrates artists and their work.