Back in Time at Slate Run Living History Farm in Canal Winchester, Ohio
By Meg Brunson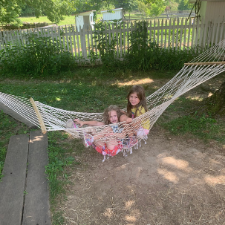 Passing through Ohio, we were looking for something to fill a couple hours - allowing us to take a break from a long day's drive. I am so glad that we stumbled across Slate Run Living History Farm in the city of Canal Winchester, Ohio (south east of Columbus). Visiting the farm is completely free, and there was an overflow lot behind the parking lot, where we were able to park the RV!
It's a short walk from the parking lot to the home, the path is clearly marked and it's a very nice and scenic walk. The home is open to the public and we enjoyed exploring what a home in the 1880s would look like, complete with toys from the era that the kids were allowed to play with. 
We arrived right around lunchtime, so when we entered the kitchen it was empty - but we could hear the volunteers and staff outside, enjoying their lunch. We had a great time idenitfying the differences between this kitchen (and house in general) from our modern homes - most notably the absence of a stove and oven. 
Outside on the porch all of the volunteers were dressed in period clothing, and enjoying their lunch while also conversing with visitors. The kids enjoyed sitting in a hammock and swinging on a tree swing. We also got to see where they cooked much of the food, in the back of the yard.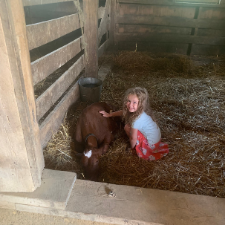 We knew there was much more to see, so we ventured further down the path towards the farm! We enjoyed stopping on a bridge to observe the creek flowing underneath and look for fish. When we got to the farm we were able to see sheep, pigs, turkeys, cows, horses, and chickens. There was even an adorable calf that we were able to pet!
On the way out, we stopped at the "front yard" that was opposite the house we started at. In this area there was a grape arbor with benches to sit on, and some outdoor toys/games to play. The whole family enjoyed walking on stilts, and the kids played darts made with corn, feathers, and a wooden hoop (this was a favorite!). 
While I did notice that the website with the most information about the farm has not been updated in many years, I do recommend you start at http://friendsofslaterunfarm.org/ to learn more about the farm and what it has to offer. You may also want to check https://www.metroparks.net/parks-and-trails/slate-run-historical-farm/ for additional information that may be updated more frequently!
Read about some of the other adventures we're having on our Year-Long Road Trip!
---
© 2019 Meg Brunson
All opinions expressed are my own. See more on Instagram!
Meg is a mommy blogger, Facebook marketer, and much more. She is a mom to four kids who live full-time in an RV exploring the US! As a former Facebook employee, Meg remains a Facebook addict and handles KidsOutAndAbout.com's Social Media Marketing in addition to providing freelance services for other small businesses on how to best leverage Facebook as a part of their marketing strategy. Meg also hosts the FamilyPreneur Podcast, a podcast for parent entrepreneurs raising entrepreneurial children. Learn more about Meg at MegBrunson.com!