Beyond the Nest Reviews Blackfriars' A Chorus Line
- by Carol White Llewellyn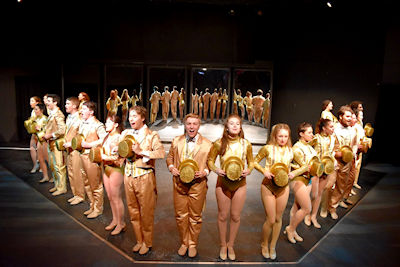 A Chorus Line opened on July 6 at Blackfriars Theatre with a cast primarily composed of students taking part in the six-week Blackfriars Theatre Summer Intensive (BTSI). BTSI is a program, first developed in 2016, that offers rising juniors in high school through newly graduated seniors in college the invaluable opportunity to train and perform with professionals at Blackfriars Theatre. 
This play, cited by Blackfriars Dramaturg Eric Evans as "The First Reality Show," originally opened in April 1975 to much acclaim and sold-out houses. The play's original creator Michael Bennett had gathered dozens of Broadway chorus line dancers together one night to share their true-life stories. He then worked with Marvin Hamlisch and Edward Kleban, using their most poignant tales as the foundation for this musical that won nine Tony and numerous Drama Desk, Obie, and other awards.
The musical itself is fascinating. It focuses on individuals in the normally recognition-less industry of the theatrical chorus line. To achieve success in a theater dance line, performers must not stand out...unless they are selected and pulled out of the line for stardom. Unlike in most musicals, this plot does not hinge on just a few key characters, so this departure from tradition surprises, yet it works. As each character steps into the spotlight to share his or her life story with the director,  we see our own lives, filled with joy and love, pain and longing.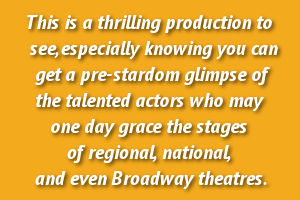 Blackfriars Artistic & Managing Director Danny Hoskins makes tremendous use of the intimate space. Through innovative lighting, mirrored swivel doors, and precise timing, plus the direction of a passionate cast, he captures the raw emotion of working in the high-stakes game of Broadway. Kudos also to the virtuosity of the musicians.
The cast of this production comes from across the region's best high school and college theatre and music departments. This is a challenging production in that, not only must each of the characters act and sing, all must also be adept at dancing to pull off the complex, exciting numbers created by Choreographer Lani Toyama Hoskins and Assistance Choreographer Cordelia Kwon.  And while Bridgett Welch as Kristine may claim she cannot sing in a funny number with husband Al (Ian Yates), and that tap isn't her forte, in fact, she and fellow cast members are all multi-talented triple threats.
The characters paint a picture of life under the stage lights. Through rigorous dance numbers, and by extolling the thrill of working in theater, at the same time as they lament its accompanying uncertainty and insecurity, we come to understand the physical and emotional toll of the life they have chosen.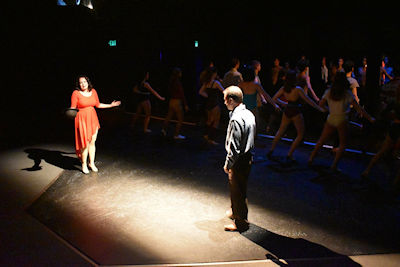 Scott Adams, as Director Zach, at first seems cold and demanding, but soon his armor lowers, and we see he requires as much of himself as of his dancers, often at great cost. One of those costs is Cassie, played by the soaring-voiced Ariana Rivera. Never having achieved the successful career that Zach had pushed her toward, she is willing to "start over" in the Chorus Line…but will he let her, or will his self-esteem get in the way? Then there's Paul, whose stunning voice and touching poignancy do credit to the real-life story of dancer Nicholas Dante, forced to hide his homosexuality from his parents, until they discover him in a drag club. As spunky Val, Avery Carlson joyfully sings of having overcome the degrading classification of "Dance Ten, Looks Three." In a beautiful, belting voice, Diana (Adriana Scalice) shows how important resilience is in rising above both external and internal criticism. Their stories ring of truth, trial, and above all, determination.
When calamity strikes a cast member, Zach leads his dancers in a mentoring exercise to confront what they'll do when they become a "has been" at age 33 or 34 or 35. But lest you worry this play ends on a down note, the finale goes "Full Broadway" in a fun, soaring number with high kicks, tails, top hats, and smiles that would light up the Great White Way.
This is a thrilling production to see, especially knowing you can get a pre-stardom glimpse of the talented actors who may one day grace the stages of regional, national, and even Broadway theatres.
A Chorus Line runs a little over two hours with a fifteen-minute intermission. It can be seen at Blackfriars Theatre through July 15. If you enjoy seeing talented young people singing, dancing and acting their hearts out, don't miss this production!
Photos by Megan Columbo
Top: The Company of A CHORUS LINE
Bottom: Ariana Rivera, D. Scott Adams, and the cast of A CHORUS LINE
---
Carol White Llewellyn is Editor of BeyondTheNest.com and the host and producer of Conversations with Creatives, a cable and online TV program that explores the arts and celebrates artists and their work.