Bristol Mountain Aerial Adventures' Zipline Canopy Tour: A KidsOutAndAbout Review

by Amy Riccardella
Recently, our family visited Bristol Mountain Aerial Adventures' Zipline Canopy Tour, Bristol Mountain's latest addition to their Aerial Adventures, which also include seven challenge courses and a special kids' adventure park.
The Experience
Bristol Mountain Aerial Adventures' Zipline Canopy Tour is found at the end of a long, winding country road. After parking, visitors follow a short pathway through the trees to a welcome center to check in.  Phone reservations are required. Groups begin the course approximately every hour between 9 am and 3 pm each day through the summer season as well as Friday, Saturday, and Sunday during the spring, fall, and winter. A confirmation email contains a link to a waiver form, and it streamlines the process if you print and fill this out in advance. However, if you forget, they do have waivers available at the welcome center.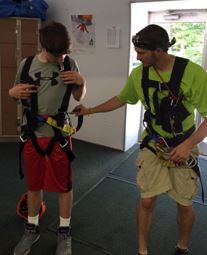 Our guides, Dakota and Luke, helped us into our safety harnesses, making sure they were tight and secure. Each tour lasts three to four hours, and two guides stay with you the entire time. The result was that we felt pretty bonded to our guides by the end of the tour. They shared that guides complete at least 40 hours of training (both physical and written) to be "certified" and they continue to receive training throughout the year.
Once we were in our safety harnesses, we took a short ride to "flight school" in an army-style truck that made us already feel like we were having an adventure.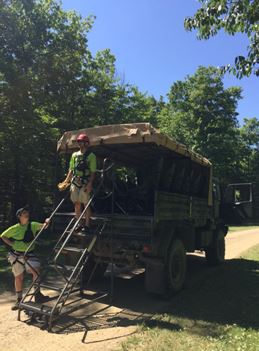 At "flight school," our guides helped us get oriented with the process of zip-lining safely.  Dakota and Luke took the time to explain how they check our harnesses before each launch, what they call the 5-point inspection. They also showed us how to control our speed on the line. This is done by positioning your body in a particular way while flying across the zip line. Once all participants in the group were comfortable, we moved on to our first zip line.
The course consists of 7 zip lines (measuring over 5000 feet, the longest one over 1500 feet), 4 bridges, 2 short hikes, and a final "leap of faith."  We progressed from the shortest to longest lines as a group, which meant that the challenge increased. It offered up enough of a gradual build-up for the more timid in our group. Occasionally, when our entire group was on a platform together, it felt a little tight, but soon enough we'd head to the next one. It was amazing how long some of the zip lines were, and there were absolutely shouts of pure joy and adrenaline. Personaly, I found crossing the bridge pretty terrifying. Then, for the subsequent bridges, it was still pretty scary! I knew that I could do it, but every time, taking that first step was still tough!  Once we went through the entire course, we were exhilarated as we took the truck ride back to the check-in station. 
Is it Safe?
Our guides for the Zipline Canopy Tour were very attentive during our visit, checking our safety harness prior to each zip line.  Even while on platforms between zip lines, each member of the group was tethered for safety. At no time during the tour were we free standing. At each zip line, one of the guides crossed first, so there was a guide waiting in case anyone needed help reaching a platform, while the second guide would wait and leave the departure platform last.
Each participant wears a safety harness and helmet, and our guide helped us ensure that we'd tightened our straps and helmet for a great fit.
Who'll Love Zipline Canopy Tour?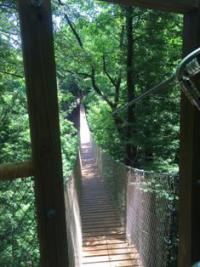 We loved our Zipline Canopy Tour, but it's not for everyone. You must weigh between 80 and 250 lbs.   It's mainly because an individual must be heavy enough for gravity to pull them along all of the zip lines.  The zip lines themselves are above some pretty deep gorges, as are the bridges, so those with fear of heights may find the course unnerving. 
The zip lines are fun and exciting, and the attentive and excellent guides help build group camaradie as everyone cheers each other through increasingly challening zip lines. The great experience combined with the convenient location make this a terrific choice for a multi-generational adventure or a teen party. Zip Line Canopy Tours offers group packages.
Tips to Make the Most of Your Visit
Call for reservations and fill out your waivers in advance to limit check-in time.
If you have flexibility in your schedule, call the day of to see how many are in your group and find out if there is a smaller group at a convenient time. The samller the group, the less waiting time in between each zip line.
The park is open rain or shine unless there's an electrical storm or high winds. Keep in mind that even if there's light rain, the tree canopy offers more shelter than you'd expect.
Sneakers or flexible hiking shoes are recommended, and you can't wear open-toed shoes or any loose, flowing clothing or hairstyles that could become tangled with equipment.
Zipline Canopy Tour's only bathrooms are located at check-in. Be sure to use them prior to starting the tour! You'll be traveling from platform to platform without the opportunity for a bathroom break.
The confirmation you receive says no backpacks allowed; however, there were members of our group who carried backpacks, and no one told them to set them aside, nor did they get in the way. If you'd like to, say, carry a camera, you can call to ask or use your best judgment and try your luck with an unobtrusive backpack.
There are vending machines available at check in, but keep in mind the tour is 3-4 hours long. Your best bet would be to arrive fed and ready to go.
Ask for tips on how to approach each zip line. The guides are very familiar with each of the lines, and they can offer suggestions about specific challenges for crossing each one and most importantly, sticking the landing.  
The Zipline Canopy Tour at Bristol Mountain Aerial Adventures is approximately 45 minutes from Rochester. More location information is available here.
At the time of our visit, passes cost $109 per person or $93 per person for groups of 8 or more. For the most up-to-date information on ticket prices and FAQ's, visit Bristol Mountain's Aerial Adventures Zipline Canopy Tour's website directly here.  
To learn about Bristol Mountain Aerial Adventures' challenge courses for older kids and adults, read our review here.
To learn more about Bristol Mountain Aerial Adventures' special Kids Adventure Course for kids as young as 4, read our review here.

For more info: bristolmountainadventures.com
---
© 2016, KidsOutAndAbout.com 
Amy Riccardella is a Client Services Manager at KidsOutAndAbout, fitness enthusiast, and mom to two boys and four pets. "Slow and steady" is usually her motto, but her zipline experience may just change all that.