A Day of Fun & Learning at Adventure Science Center in Nashville, Tennessee
By Meg Brunson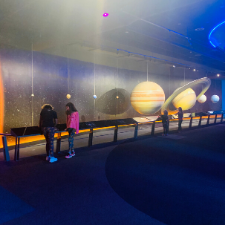 When you've traveling, it can be easy to overlook the local Science Museum because you can go to the Science Museum back home anytime… but, not all Science Centers are created equal, and the Adventure Science Center in Nashville is proof of that!
When we planned our trip to Nashville initially, all my thoughts flew to country music – and we did hit up the Country Music Hall of Fame – but I am SO glad that we also discovered the Adventure Science Center, because we absolutely loved it. It's right up there with the best museums we've visited (so far)!
When we arrived at Adventure Science Center, it looked majestic and exciting atop a hill overlooking Nashville. The 3-floor museum covers 44,000 square feet and features over 175 hands-on exhibits focused on many different fields of science! 
The first exhibit we checked out was focused on sound – in Nashville, it seemed appropriate that there was a whole exhibit focused on music! We loved seeing what singing looks like through an x-ray machine (or an image that looked like an x-ray, at least) and watching visual representations of our own sound waves. The kids also had a BLAST with the augmented reality band performances. This one exhibit was so good – it left us wondering if the rest of the museum would "measure up" – and it did!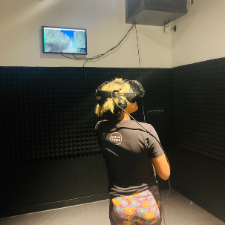 On the first floor we loved learning about physics – lifting an actual car and engaging with exhibits focused on light, color, and heat. The Space Chase exhibit was really well done. We loved being able to learn about all of the planets and see diagrams at scale – to really get a feel for how we measure up within the universe. There were also scales – so we could not only see how much we all weigh here on earth… but with a flip of a switch we could discover how much (or less) we'd weigh on all of the other planets! But, by far, the favorite part of the first floor for the kids was the Moonwalk simulator!  The older kids strapped in and got a first-hand experience of what it's like to walk on moon without Earth's gravitational pull! When I first saw it, I assumed it'd be an additional charge, but was pleasantly surprised to learn that it was included in the cost of admission. 
Up on the second floor, we had fun with virtual reality games/headsets, and learning about a variety of weather – including tsunamis, earthquakes, and tornados! We spent most of our time in the Body Quest exhibit. Characterized by bright neon colors and graffiti like design, there were a bunch of interactive displays teaching about the various systems of the human body. My kids loved the "poo slide" (the museum calls this the colon slide – but once we explained it to my kids, it quickly got a new name)! We also loved teaming up with other guests to experience the immune system in game where you worked for either the pathogens (bad guys) or the lymph nodes (good guys) and shot laser guns at a variety of targets – I've truly never seen a game like this (or the moonwalk exhibit downstairs) at any other museums we've visited.
There were so many amazing things – it's hard to pick our just a couple to highlight in this article – I posted more pics on Instagram if you want to check them out!
Things you need to know:
Food & Drink – you can't bring in any outside food/drinks, but they do have a café on the 2nd floor including a Subway and frozen yogurt, or you pack a lunch and picnic outside, or leave for lunch and return the same day (just get a receipt for returning admissions).
Adventure Science Center has a Planetarium – there is an additional ticket fee for the planetarium shows, so you should plan for this and plan your visit around show times if you're interested.
I recommend planning to stay the whole day – there is so much to see and do, and it's so fun and well done!
Parking – we found parking right outside the museum in their main parking lot. There was a ton of parking in an overflow lot across the street, and if we had the RV with us, we likely could have found a spot to park over there!
The Adventure Science Center is a can't miss venue for school-aged kids, grown-ups interested in learning, and anyone who likes science. Learn more about Adventure Science Center and start planning your trip at https://www.adventuresci.org/
Read about some of the other adventures we're having on our Year-Long Road Trip!

---
© 2019 Meg Brunson
Thanks to Adventure Science Center for sponsoring this review. All opinions expressed are my own. See more on Instagram!
Meg is a mommy blogger, Facebook marketer, and much more. She is a mom to four kids who live full-time in an RV exploring the US! As a former Facebook employee, Meg remains a Facebook addict and handles KidsOutAndAbout.com's Social Media Marketing in addition to providing freelance services for other small businesses on how to best leverage Facebook as a part of their marketing strategy. Meg also hosts the FamilyPreneur Podcast, a podcast for parent entrepreneurs raising entrepreneurial children. Learn more about Meg at MegBrunson.com!