A Day of Play at the Children's Museum of Wilmington, North Carolina
By Meg Brunson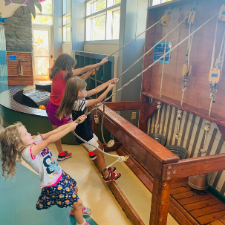 We love visiting Children's Museums when we travel because we know it'll always be a good place to let the kids burn off some energy in between doing all the other stuff we want to do (some of which is not as interesting for the kids). We also enjoy seeing the unique exhibits and activities that each museum offers, as well as (sometimes) discovering some familiar activities as well! The museum is really intended for the "under-ten" crowd, that being said, my twelve year old did enjoy exploring and playing with her sisters. 
Soon after arrival, my four-year-old was excited to find the Toddler Treehouse - an area especially for kids four and under. The treehouse was made from carpet and a variety of fabric scraps and pieces. There were nooks and crannies to explore and play, slides, and a treehouse she could climb up. Around the tree were a variety of toys with toddlers and preschoolers in mind. A play kitchen, ride on toys, and a ginormous teddy bear were among her favorites. There was also a soft play area for the youngest visitors.
Outside of the Toddler Treehouse was a dental exhibit where the older kids enjoyed dressing as a dentist and then taking turns being the patient. They were also able to play with ginormous teeth! While playing in this area, we could hear the sound of puppies barking and cats meowing... I wondered if there was a pet store nextdoor! In a nearby room was "Animal Alley" - where kids can find a variety of animals to play with and care for. There was a motion sensor sounding the animal sounds, making it all feel more authentic!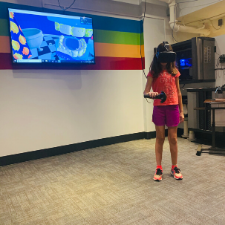 On the day of our visit, the art room had painting crafts available and the kids loved wearing smocks and painting with waterproof colors on paper. Other exhibits introduced the kids to simple machines like pulleys, wedges, and levers through hands-on interactive exhibits. 
The Children's Museum of Wilmington has a kid-sized grocery store where the kids can shop for their favorite things, and then take turns working the cash register. There was a large pirate ship that provided many oportunities for imaginative play.
The museum also had a virtual reality headset, which was the first time our kids have had the opportunity to interact with this technology. There were a couple different games/experiences to choose from. My older kids (and husband) enjoyed playing a toothbrushing game, whereas my younger kids enjoyed the experience where they were observing jellyfish and whales underwater.
During our visit, there was some construction - they're definitely working on some new exhibits that I am sure will be amazing - definitely keep an eye on their website for news on new exhibits opening! There was a beautiful outdoor courtyard as well, so you can enjoy both indoor and outdoor play!
Helpful Hints For Your Visit
Snacks - The museum doesn't have a cafe, but there are areas where you can eat snacks if you pack them... and there are restaurants nearby, too!

Parking - The museum does not have any dedicated parking. We found metered parking on the streat nearby the museum and were able to pay with credit card (since I never cary cash). There are some streets nearby that don't charge for parking, but it'd be a bit of a walk... and there are lots nearby with 1 hour free parking - but we knew we'd be here longer than an hour.
Learn more about admissions, current exhibits, and special events happening at the Children's Museum of Wilmington at https://www.playwilmington.org/
Read about some of the other adventures we're having on our Year-Long Road Trip!

---
© 2019 Meg Brunson
Thanks to Wilmington and Beaches Convention & Visitors Bureau and the Childrens Museum of WIlmington. for sponsoring this review. All opinions expressed are my own. See more on Instagram!
Meg is a mommy blogger, Facebook marketer, and much more. She is a mom to four kids who live full-time in an RV exploring the US! As a former Facebook employee, Meg remains a Facebook addict and handles KidsOutAndAbout.com's Social Media Marketing in addition to providing freelance services for other small businesses on how to best leverage Facebook as a part of their marketing strategy. Meg also hosts the FamilyPreneur Podcast, a podcast for parent entrepreneurs raising entrepreneurial children. Learn more about Meg at MegBrunson.com!