Destiny USA Summer Fun Pass: A KidsOutAndAbout Review
by Kathleen McCormack
Destiny USA in Syracuse, NY is more than just a shopping mall; it contains a number of attractions that could easily make up an entire day of fun and then some. However, to pay for a child and an adult to enjoy several of these venues might cause some sticker shock. Enter the Destiny USA Summer Fun Day Pass, a booklet of vouchers to any four attractions in the mall plus a ticket to the Carousel at a steeply discounted price. I recently took my two children, as well as a friend and her two girls for a ridiculously fun day at Destiny USA. We arrived at 10am and didn't leave until almost 6pm! Exhausting, sure. But wildly entertaining, heck yes!
Restrictions
I traveled with two adults, two preschoolers, and two babies. Due to age, weight, and height restrictions on some attractions, I needed to take a few notes about who would and who physically could enjoy each of the venues.
Here's how it breaks down:
Child pass: $38 for ages 11 and under
| | |
| --- | --- |
| Attraction | Restrictions |
| 5 Wits | Under age 13 needs a paid adult |
| Billy Beez | Best for ages 2 – 8, bring socks for kids and adults |
| Canyon Climb Ropes Course | Closed shoes required, no skirts or dresses permitted. Must be at least 42" with an adult or 48" to participate alone. |
| Dave & Busters | None |
| Lazer Tag | For guests ages 7+ |
| Mirror Maze | Under age 9 needs a paid adult |
| Pole Position Raceway | For guests 48'' and above |
| Revolutions Bowling | None |
| Wonderworks | Under age 16 needs a paid adult |
| Sky Tykes | For guests 48'' or under |
Adult Pass: $48, Several attractions require adult admission
Know Before You Go:
5 Wits Adventures gets major props for originality. Guests choose from one of two (soon to be three) adventures in which to take part. You can either attempt to escape from a pharaoh's tomb or complete a spy mission. Strollers can be accommodated in either although someone in your party will need to make it through the spy laser maze before you can get the stroller through. Will small children be scared? It's a bit dark at times in either adventure, we were told, and there are some scarier elements to the pharaoh's tomb but nothing jumps out and grabs you. In the fall a new adventure will open: a medieval fantasy in which you are transported through a book of spells to the time of castles and dragons. Yep, someone's going to need to fight that dragon! We decided to pass this time but 5 Wits is a must when the kids are a smidge older.
Wonderworks is described as an amusement park for the mind. Try a 4D ride, lay on a bed of nails, or act as a human lightning rod. The moms' favorite part was playing Mind Ball. Move a ball using only your brain waves; whoever is the most relaxed wins. And the kids? They couldn't get enough of the Bubble Lab – industrial strength bubbles and giant wands made to create bubbles so big you can stand inside them! To enter Wonderworks, you walk through the Funky Tunnel but this can be bypassed if you're concerned about vertigo. Redeem your vouchers for Sky Tykes and Lazer Tag at the Wonderworks check in as well.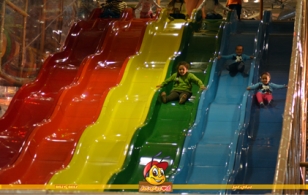 Billy Beez is an indoor play center with slides, bikes, lava pits, ball blasters, you name it. Signs clearly state that adults are not to ride the slides with the kids: yeah, good luck with that. It was hard to tell who was having more fun – the kids or their parents. However, it's best suited for ages 8 and under. Surprisingly, it was a bit difficult to maneuver the stroller around the play area. Bring your infant carrier to haul the littlest ones.
At Dave & Busters your voucher gets you $10 in credit for the arcade. We only stopped in here for lunch, which was a nice meal, but be aware - a day at Destiny USA is stimulation nation. Lots of lights, lots of music, lots of kids yelling. Lunchtime might be a good opportunity to take a quiet walk outside or find a calm spot to reenergize before all your afternoon activities.
The Amazing Mirror Maze is a real mindbender. You'll understand as soon as you enter why guests are required to wear plastic gloves. You'll be huddled together with your party, hands outstretched all around you trying to figure out who's real and who's a reflection. Leading with the stroller was probably not the best idea as my infant was bumped into countless walls. Nevertheless we made it through and then were allowed to turn around and find our way back out to the entrance. Warning: Those with claustrophobia should consider carefully before entering. The infinite reflections and the black lighting can be a bit off-putting.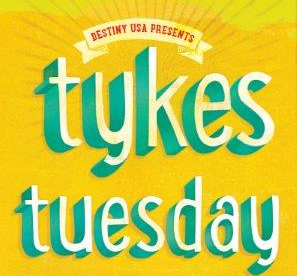 As if all of that weren't enough, come for Tykes Tuesdays and enjoy a different free activity each week from 12 to 2pm. The day we went, a gymnastics school had provided equipment allowing the kids to practice trampoline, balance beam, tumbling, and flips on the bar. Will your children fall asleep on the car ride home? Absolutely.
Alert: The Disney Store is closed for renovations until the fall. I'm not sure who was more devastated: the little girls in tow or the mommas who had been planning to do some early Christmas shopping. All was forgiven when we were informed that the store would reopen bigger and more "magical" (yes, that was the word they used); and the grand opening will be celebrated with a grand sale… which means anything Frozen will be gone in 42 seconds.
We ended our day with a frozen yogurt (coupons from Tykes Tuesday) and a ride on the carousel. Our trip to Destiny USA using our Summer Fun Passes was a real treat for the kids and parents alike. Now if I can just find a sitter to watch the kids for a day so that the grown ups can go back for our own playdate!
---
© 2014, KidsOutAndAbout.com
Kathleen McCormack is editor of KidsOutAndAbout.com and lives in the Rochester, NY area.