Experiencing The Anheuser-Busch Brewery Tour With Kids
By Meg Brunson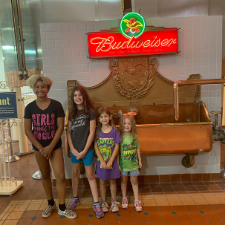 Headquartered in St. Louis, we were excited to discover that Anheuser-Bush offer free tours that are open to all ages and teach about the beer making process, introduce us to the history of the business, and more. My oldest daughter asked if I was being irresponsible by bringing my young children to a brewery – and I reminded her that there was a lot to learn here, and as long as my kids don't drink the beer, then there is nothing irresponsible about it!
We loved learning about the history of the business, and seeing so many original/historical buildings – like the Clydesdale stables – so beautiful! We all loved meeting some of the horses as well!
The tour led us through the entire process of brewing Budweiser beer – our favorite part  was that during our visit they happened to be brewing a special batch of beer to honor the 2019 stanly cup champions: the St. Lewis Blues. Since their team song is "Gloria" – the barrel holding the beer had been playing that song on repeat 24 hours a day… there were even giant headphones on the barrel, ensuring that the tune was really impacting the beer! 
And the tour was about more than beer and brewing processes… we learned a bit of history too! During prohibition, we learned that the factory stayed in business by shifting their focus from beer to ice cream! And they cleverly marketed the yeast they had used to brew the beer – people would buy it and use it in their own home breweries. Once prohibition ended, they celebrated in the streets with a big party. They immediately resumed beer business as normal, and stopped all ice cream production! We loved this story because it triggered discussions about the constitution, and also about flexibility and pivoting in business.
At the end of the tour, adults 21+ are offered a beer of their choice, and anyone under 21 or not interested in beer can have a complimentary soda!
Tips for A Terrific Trip
There are a few different tour types available – only the General Brewery Tour is free – but you may want to browse to see if any of the other tours appeal to you! At https://www.budweisertours.com/locations/st-louis-missouri/attractions.html - age requirements may also vary for the different tours!
General Brewery Tour is free, but tickets are first-come-first-served. You can reserve tickets in advance for $5/each – which I prefer because with kids I like to know what the exact schedule will be. That being said, there is a huge gift shop and some exhibits inside the visitor area that you could browse while waiting for a later tour time.
There is a lot of walking – wear your walking shoes!
Whether you're a beer fan, or just a lover of Super Bowl commercials starring those gorgeous Clydesdales, Anheuser-Bush is an amazing place to visit with (or without) kids! Learn more about the tours they offer, and start planning your trip at https://www.anheuser-busch.com/about/breweries-and-tours.html
Read about some of the other adventures we're having on our Year-Long Road Trip!

---
© 2019 Meg Brunson
Thanks to Anheuser-Busch for sponsoring this review. All opinions expressed are my own. See more on Instagram!
Meg is a mommy blogger, Facebook marketer, and much more. She is a mom to four kids who live full-time in an RV exploring the US! As a former Facebook employee, Meg remains a Facebook addict and handles KidsOutAndAbout.com's Social Media Marketing in addition to providing freelance services for other small businesses on how to best leverage Facebook as a part of their marketing strategy. Meg also hosts the FamilyPreneur Podcast, a podcast for parent entrepreneurs raising entrepreneurial children. Learn more about Meg at MegBrunson.com!