Exploring the World of Coca-Cola in Atlanta, Georgia
By Meg Brunson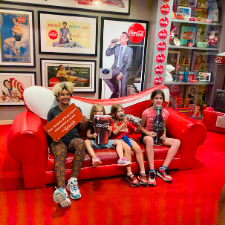 I have so many Coca-Cola memories form my childhood. My dad managed a movie theater and my sister and I used to sneak sips of Coca-Cola every chance we had! One of my favorite shirts in my teenage years was a vintage Coca-Cola tee that I found in a thrift shop. And most recently, we've loosened the reins with our kids and they've started to enjoy an occasional Coke! My 8 year old is especially infatuated with Coca-Cola and we definitely planned this trip with her in mind, however the entire family had an absolute blast!
When we arrived, we were greeted with a complimentary can of soda and we had 4 types of Coca-Cola to choose from. The museum is all self-guided, but it does begin with an introduction with a tour guide who was funny, personable, and engaged with everyone in attendance. We watched a video that was a perfect summarization of how something as simple as a beverage can positively impact people world-wide. It was a feel-good movie that made us even more excited to experience the World of Coca-Cola!
The movie emptied into the main museum area where we were able to take a photo with the Coca-Cola bear himself, and explore a variety of exhibits. Inside "The Vault" we learned all about the secret formula, and even saw the safe that contains the top-secret recipe... and it's the real thing! The safe has multiple layers of protection including a security system that will sound and notify security if you get too close to it - which my 4 year old confirmed for everyone.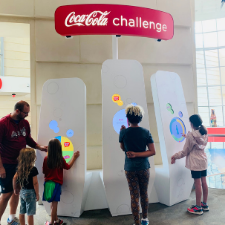 While World of Coca-Cola is not the actual factory that produces/bottles/distributes our favorite soda, it does have an exhibit that granted us a behind-the-sceens peek at what that bottling process looks like!  Plus, history buffs will enjoy learning about all the company history in "Milestones of Refreshment" 
Up on the second floor, there were some interactive electronic games that the kids all enjoyed. They could complete puzzles, quizzes, and play a recycling game. There was also a 4D movie that we LOVED. The chairs moved, we got wet, and there were a couple times I worried about the kids being scared by the abrupt movements, but the sounds of their giggles assured me that all was well!
The Pop-Culture Gallery was another family-favorite! The kids all loved making their own pop-art on the computerizd canvases and then seeing their creations display for all to see. We loved all the memorabilia - and the kids even got to hold a torch from the Olympic games!
They definitely saved the best for last... after going through the other exhibits we entered the "Taste It" room where we were able to try over 100 international and domestic beverages made by The Coca‑Cola Company. Yes... it was THAT amazing! The highlight for us were the five tasting stations arranged geographically – Africa, Asia, Europe, Latin America, and North America. Each station offers different beverages to sample that are unique to that region - and some of them were SUPER interesting - I highly recommend you try them all! This area also has six Coca‑Cola Freestyle Machines, and each single machine offers over 100 different beverage choices!
Helpful hints for an extra fun trip!
Come Thirsty and Adventurous - The tour starts with a can of Coca-Cola and ends with unlimited soda including a huge selection of international and domestic sodas - you really should try them all!
See More at Pemberton Place - World of Coca-Cola is located at Pemberton Place - a plaza in the heart of Atlanta where you're also find the Georgia Aquarium and the Center for Civil and Human Rights. Keep that in mind when deciding if you want to take advantage of Atlanta's City Pass!
World of Coca-Cola is the perfect attraction for anyone who loves soda, pop-culture, or history - themes that are all present throughout the museum!  Learn more and start planning your trip at https://www.worldofcoca-cola.com.
Read about some of the other adventures we're having on our Year-Long Road Trip!

---
© 2019 Meg Brunson
Thanks to World of Coca-Cola for sponsoring this review. All opinions expressed are my own. See more on Instagram!
Meg is a mommy blogger, Facebook marketer, and much more. She is a mom to four kids who live full-time in an RV exploring the US! As a former Facebook employee, Meg remains a Facebook addict and handles KidsOutAndAbout.com's Social Media Marketing in addition to providing freelance services for other small businesses on how to best leverage Facebook as a part of their marketing strategy. Meg also hosts the FamilyPreneur Podcast, a podcast for parent entrepreneurs raising entrepreneurial children. Learn more about Meg at MegBrunson.com!