A Family Day at PanIQ Room - Experiencing an Escape Room with Kids
By Meg Brunson
Over the past few years, escape rooms have really spiked in popularity. On social media I have seen friends posting photos revealing whether they escaped, or failed at their task – typically a mom's night out or adult activity... but, what would a family escape room experience be like? We were about to find out!
Honesty time – the thought of being locked in a room and unable to get out is a bit anxiety-inducing, which is why I really liked that at PanIQ Room, you actually aren't locked in a room at all – instead, you're in a room solving a series of puzzles in an attempt to solve a big "master puzzle."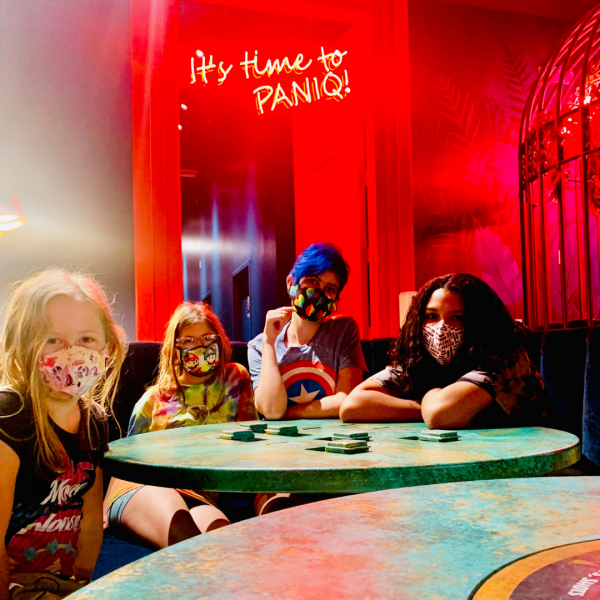 We arrived a few minutes before our experience was scheduled so we could sign all the waivers. Lockers were provided free-of-charge to secure purses, coats, and any personal belongings because the rooms are not big – and those things would just get in the way! We loved that the tables had built-in puzzles and games to play while we waited – and there was a bar in case you want to enjoy a beverage before embarking on your challenge.
A PanIQ Room staff member outlined the rules and left us to our room with an hour on the clock. Then the fun began – we had to explore the room, figure out what puzzles existed, and how we could solve the puzzles using only what was provided in the room. The kids got right into it, touching, pulling, pushing, tapping, reading… one by one we started to solve the puzzles. When we felt stuck, we could request a clue and a voice would come over the speakers to deliver a hint to keep us moving in the right direction.
Once we solved all the puzzles in room #1, a second room was opened and we found ourselves facing more puzzles, and running quickly out of time.
At the end of our hour we were so close to beating the game, but we didn't make it. Bummer!
PanIQ Room was a great family experience – it definitely surpassed my expectations. We worked together to solve the puzzles and helped each other with the tasks at hand. Even though we didn't win – everyone left with big smiles on their faces and asking if we could try another room.
Tips for a terrific experience:
Keep an eye on the timer, and keep in mind that there may be a second room – we thought we were doing great time-wise, but we didn't realize there was a second room that was more challenging than the first. Once we got in there we put the pedal to the metal, but simply ran out of time. I think we could have pushed a bit harder in the first room, to give us more time in the second, we might have been able to beat it. Don't get me wrong – it was fun anyway… but who doesn't like to win!?
When booking, consider the escape room difficulty & age restrictions/recommendations – There are a variety of experiences to choose from at PanIQ Rooms, and some are scary or have adult-themes, so make sure you're selecting one that's appropriate for your family. I liked that they also have a variety of Escape Room Difficulty scores ranging from easy-hard. The room we choose, Wizard Trials, was "medium" and I think it was a good choise for our family. "Easy" would have also been okay – but I think anything harder would have been too tough on the kids.
Potty & Snacks – take care of that stuff before entering the room. I am sure you could make a potty run during the game, but it's like missing part of a movie – no fun!
Realistic Expectations – I think it's always helpful to remember that the goal is to have fun and work together. This is a great opportunity to reinforce that winning is not everything with your kids, and to have a ton of fun playing the game.
After our experience at PanIQ Room, I can totally see the appeal of attending with a group of adults, but I also loved how fun it was to experience with my kids – I encourage you to consider this for a family togetherness activity! 
In addition to the Vegas location we visited inside of the Venetian Resort, PanIQ Rooms are also located in Atlanta, Boston, Chicago, Dallas, Houston, LA, Miami, NYC, San Francisco, and San Jose! Learn more about PanIQ Room, and start planning your escape, at https://paniqescaperoom.com/ 
Be sure to check out the other fun things we experienced visiting Las Vegas with kids and read about some of the other adventures we're having on our Indefinite Road Trip!

---
© 2021 Meg Brunson
Thanks to PanIQ Room for sponsoring this review!  All opinions expressed are my own. See more on Instagram!
Meg is a mommy blogger, Facebook marketer, and much more. She is a mom to four kids who live full-time in an RV exploring the US! As a former Facebook employee, Meg remains a Facebook addict and handles KidsOutAndAbout.com's Social Media Marketing in addition to providing freelance services for other small businesses on how to best leverage Facebook as a part of their marketing strategy. Meg also hosts the FamilyPreneur Podcast, a podcast for parent entrepreneurs raising entrepreneurial children. Learn more about Meg at MegBrunson.com!