Go Glamping at Conestoga Ranch Glamping Resort at Bear Lake, Utah
By Kerry Smith
Growing up, I was taught that true camping means roughing it. Nothing like glamping, short for glamour camping, was even an option. But luckily, times have changed. When I learned about glamping, I knew I had to give it a try. Fortunately for me, one of the best glamping campgrounds in the country is only about a 2-hour drive from Salt Lake City. After a weekend in Garden City, Utah, near beautiful Bear Lake, I can say without hesitation that glamping, particularly at Conestoga Ranch Glamping Resort, is a mighty fine way to enjoy the great outdoors.
When my husband, two sons (ages 3 and 14) and I arrived at  Conestoga Ranch Glamping Resort, it was love at first sight. With nature as a beautiful backdrop, the organized, clean campground with tents and conestoga wagons is inviting. The centrally-located Main Lodge offers snacks at Shakes at the Lake as well as nearby restrooms for guests who are staying in conestoga wagons or traditional tents. Gravel-lined paths meander through the camping areas. First thing, we spotted a deer on one of the paths. My boys were instantly impressed!
We checked in at the main office, which is also serves as a small general store, stocked with items you might need or didn't know you needed. A staff-driven golf cart soon arrived to bring us to our tent.
Our Accommodations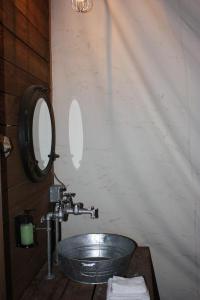 We rode a short distance up the mountain and were delighted to see a breathtaking view of Bear Lake—right from our front porch! We quickly unloaded as the boys explored the tent, yelling, "Wow! Come check this out!" The six-person Grand Tent where we stayed includes separate bedrooms (one with a king-sized bed, one with four twin beds) as well as a private bathroom, and it is comfortable, rustic, and charming. The tent has canvas sides, but the flooring and middle walls are wooden, resulting in a partially permanent structure within outer walls that move slightly with the breeze. We instantly adored our tent. Even the smaller tents were gorgeous, but if you'd like to explore your options, check out the floorplans and photographs on their website.
Moments later, our family was treated to a front-row view of a young deer only about 20 feet away. We watched the two-point buck, apparently unconcerned by our presence, rub velvet off his antlers on a nearby tree for at least 20 minutes.  We could have ended our weekend vacation right there and been completely happy.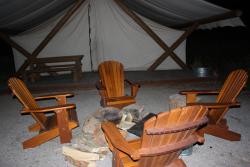 At dusk, a staff member lit our personal campfire. Each site has a private campfire pit with cozy Adirondack chairs surrounding it. The campfire is the real deal, not gas; all you have to do is toss water on it from a nearby bucket when you're finished. But first, there are s'mores to enjoy. Conestoga Ranch Glamping Resort provides a complimentary bag with all the makings for this traditional campfire treat, including dowel sticks. It's good, old-fashioned fun, and we loved every minute of it.
The autumn air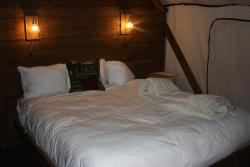 is a bit crisp, but electric blankets that are provided for each bed to ensure a cozy night's sleep. We noticed fans are also available for summertime heat. After several trips to our private bathroom for showers and such, we enjoyed a few bedtime stories, turned out the lights, and enjoyed the quiet before slumbering away on plush pillows and mattresses.
A Delicious Breakfast
Something about being in the outdoors makes you terribly hungry for a good breakfast, and Campfire Grill Restaurant at Conestoga Ranch Glamping Resort does not disappoint. During the summer, it's open to ranch guests and the public for breakfast, lunch, and dinner.  For fall, they serve breakfast and dinner. A professional chef oversees the menu, featuring foods which are grilled with different types of wood for added smoke flavoring. The menu options offer a touch of elegance but also great selections for kids. Sample menus can be viewed here, and prices are reasonable, ranging from about $7-$13 for breakfast entrees during our visit. Guests will be happy to know there are free refills on sodas, coffee, and hot chocolate. More important, the food is amazing!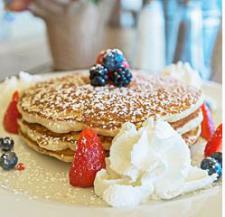 We dove right into our meals, and though we'd intended to share our dishes, when we tasted how delicious everything was, no one wanted to give up even a morsel of their own orders.  We loved the pancakes with a homemade caramel syrup and whipped butter, and the omelette was tasty, with a side of precisely-cut hashbrown potato bits (only a true cook would notice and appreciate the effort required to cut them just-so).  The homemade biscuits were excellent, and we loved them accompanied by gravy with pulled pork (to die for!) as well as with Bear Lake's famous raspberry preserves, jelly, and whipped honey butter—all made from scratch at Campfire Grill Restaurant. There are lovely restaurants in town and you can arrange to bring a grill to your tent for do-it-yourself meals, but you don't want to miss eating at the Campfire Grill Restaurant! It's a real treat.
What To Do


Right on the site, you'll find a game tent, which includes with ping pong, air hockey, and other games that the whole family can enjoy, as well as a playground area. There are also complimentary Cruiser bikes available for guests to use to explore farther afield, and we wish we had had more time to stay and enjoy them. Free wifi is available throughout the campground, but you'll likely be too busy enjoying the natural world. You're a long walk or a short drive to all sorts of Bear Lake amenities, including walking trails; swimming, boating, and fishing on Bear Lake; and shopping around downtown Garden City.
Our short visit felt much too short! We highly recommend Conestoga Ranch Glamping Resort to anyone. Super kid-friendly with rustic elegance for adults, it's a great place to stay at beautiful Bear Lake.
Items to Bring:
Snacks and a cooler with ice and drinks. While the General Store and Shakes at the Lake, both on site, sell snacks, you might want to bring along your favorites. Grand Tents, like the one we stayed in, have a small fridge. There are no microwaves or coffee makers, however, for personal use.
Extra items to roast or grill. The complimentary s'mores kits make about one treat per family member. So bring more of those supplies if you'd like to really indulge. Also, the kits contain a couple of wooden dowels, each with a sharpened end for the mallows. They'd work for hot dogs too, but you'd probably want to bring enough sticks for everyone in your party. Which brings us to the next tip . . . You can request, at no additional charge, to have a grill brought to your site. Just bring your own charcoal. Don't forget the hot dogs and all the fixin's—or whatever you plan to grill. You'll need paper/plastic products and a garbage sack too. A picnic table is provided at many of the campsites, and there are covered, communal picnic areas.
Bike accessories. While bikes are provided, helmets, child seat and pull-behind trailers are not.
Medical equipment. Ask ahead regarding electrical use for CPAP machines or other medical equipment. When possible, Conestoga Ranch facilities can be equipped with adequate electrical access.
Sunscreen and insect repellent. The insects weren't out much during our visit, and we didn't use our repellent.  But you should bring some just in case. Supplies can sometimes be limited at the General Store.
Hair dryer. If you must fuss with your hair, feel free to bring your own dryer, but you may need to use it in a bathroom at the Main Lodge if the camp is at capacity, making electricity limited. Ask at the office. Quality shampoo, conditioner, body wash, and hand soap are supplied in all bathrooms.
More about Conestoga Ranch Glamping Resort
Operates mid-May to October 2: new establishment; opened in 2015.
Prices start at $115 per night for select tents and wagons with discounts offered before and after the busy summer season.
10 Grand Tents, 10 Traditional Tents, and 14 Conestoga Wagons. Grand Tents are timber-framed, featuring wooden floors and interior walls for bedrooms and a bathroom, with exterior canvas walls. They include running water and electricity. Traditional Tents are smaller and also have a wooden floor with canvas walls. They do not have bathrooms and are without electricity, though lanterns are provided. The conestoga wagons are mobile and can be moved to accommodate various group sizes. They have electric lights. All bedding and towels are provided, as well as electric blankets and fans.
1 Royal Tent Suite: This is the most luxurious tent; it offers many extras. Perfect for VIPs, honeymoons, or an extra-special getaway.
Event tents: Event tents are available for groups, special events, and family reunions.
Entertainment: Entertainment is provided during summer season and includes a variety of entertainers.
Bathrooms: Grand Tents have a private bathroom; Traditional Tents and Conestoga Wagons share bathroom facilities. Though shared, they don't compromise privacy. About 20 Individual bathroom rooms are located in the Main Lodge and are available for individual or family use. Each has running water and electricity and includes a sink, shower, and toilet. Diaper-changing stations are not available, however. Again, high-quality hand soap, shampoo, conditioner, and body wash are provided in all bathrooms.
Kid friendly: Conestoga Ranch has a playground and game room with ping pong, air hockey, and other games. Cruiser bicycles are free for guest use, while supplies are available. They do not include child seats or pull-behind trailers. Helmets are also not provided.
On-site store: The General Store offers snacks, the essentials, and a few souvenir items. You can also purchase items such as towels and sand toys for your visit to the nearby lake.
Local wildlife enjoy the ranch too. We can't guarantee you'll see our two-point buck, but you'll likely see other deer, possibly some wild turkeys, and other critters.
No pets or smoking. The wildlife and other guests appreciate your respect.
---
Kerry Smith, editor of KidsOutAndAbout.com's Salt Lake City site, enjoys getting "out and about" with her family, especially in the gorgeous outdoors of Idaho and Utah. She's also passionate about helping others at mrsladywordsmith.com.
© KidsOutAndAbout 2016