Going Underground at Mammoth Cave National Park in Kentucky
By Meg Brunson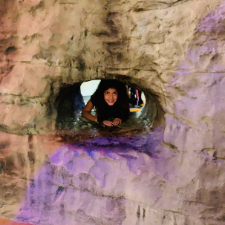 Mammoth Cave earned it's name because it is the world's longest known cave system! Since I am the only member of my family who's ever gone into a cave - and I certainly have never been in a cave of this magnitude - it was an obvious choice for a roadtrip while in Kentucky!
The Mammoth Cave National Park contains a museum within the visitor center, and of course, tons of caves to explore. You must explore as a part of a tour, so I highly recommend that you check out the types of tours that are being offered - which may vary based on the time of the year. If tours sell out, there is a self-guided tour available, but even this tour only runs at certain times. So it's worth familiarizing yourself with the schedule (linked at the end of the review). 
For the self-guided tour, it's a short downhill walk from the visitor center to the cave entrance. At the entrance you will listen to some safety rules and then proceed down a set of stairs to the caves. There are pathway lights in the sections of cave you will be exploring, but it is relatively dark. Flash photography is not permitted. You'll be able to see a variety of rock formations and also plaques that teach about the caves. We did not see any bats (phew!) but it is a possibility! When leaving (at the time of our visit) we all had to walk over a special squishy mat that cleaned the bottom of our shoes - because there is some kind of a fungus in the area that is affecting bats, and this will help the other bats stay healthy!
After our tour, we spent time exploring the museum and learning more about the Mammoth Caves. The kids were able to complete a Junior Ranger booklet (just ask for it at the info desk) and turn it in for a ranger badge pin (which they love collecting from national parks!)
Tips for a SUPER Fun Trip
Footwear - There is a lot of outside walking, stairs, and then exploring the caves is all on foot. Definitely wear comfortable, closed-toed shoes!
What time is it? Mammoth Caves is near the official time-zone line.. this park is in CENTRAL time!
Tour Tickets - I highly recommend you make reservations and purchase your tickets online at least 24-hours in advance of your visit. Otherwise, tickets are first come first served and may sell out. I really wanted to take my family on the Frozen Niagara tour, but when we arrived it was sold out... so we opted for the only available option, the self-guided tour... which was great, but I do wish we had been able to do the other one, and if/when we return we WILL ensure we get our tickets in advance! 
Learn more about the upcoming tours, and start planning your trip at: https://www.nps.gov/maca/planyourvisit/gocavetours.htm
Looking for something else to do in Kentucky? Abraham Lincoln's Birthplace is only an hour away - but be aware that Lincoln's Birthplace is in EASTERN time, whereas Mammoth Caves is in CENTRAL time.
Read about some of the other adventures we're having on our Year-Long Road Trip!

---
© 2019 Meg Brunson
All opinions expressed are my own. See more on Instagram!
Meg is a mommy blogger, Facebook marketer, and much more. She is a mom to four kids who live full-time in an RV exploring the US! As a former Facebook employee, Meg remains a Facebook addict and handles KidsOutAndAbout.com's Social Media Marketing in addition to providing freelance services for other small businesses on how to best leverage Facebook as a part of their marketing strategy. Meg also hosts the FamilyPreneur Podcast, a podcast for parent entrepreneurs raising entrepreneurial children. Learn more about Meg at MegBrunson.com!