Highlights of the Rides at Disney World's Epcot
by Katie Beltramo
What you need to know before planning to ride the rides at Epcot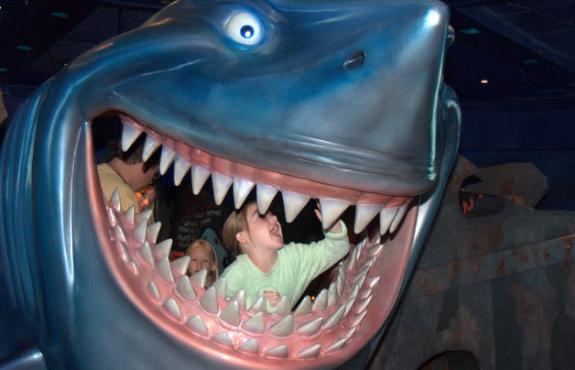 Soarin', designed to make you feel like you're hang gliding, was the hands-down family favorite at Epcot. It was fun without being scary, and even though we genuinely felt like we were moving quite a bit, none of us got motion sickness. Another Disney-style feast for the senses, Soarin' was beautiful and strangely moving.
Spaceship Earth, the ride that takes you inside the giant golf-ball centerpiece of Epcot, was a hit with the kids. It's largely what I've come to expect as the Disney standard: a slow-moving ride past interesting animatronic exhibits. This one is a short history of the world of communication. A more recent addition is a screen that allows you to place yourself into the future of the world. In order to enjoy that part successfully, make sure that riders are visible for an early-in-the-ride photo, and have non-readers sit with readers so that you can participate in the interactive portion. After the ride you'll land in an area that videogame fans will love. For me and my younger daughter, it was way too much stimulation, and the sponsorship messages felt heavy-handed and intrusive.
The Seas with Nemo & Friends was another joyful and family-friendly ride. Here you ride in a "clamobile" and search for Nemo. Video animation, scene sets, and real aquariums combine to make a fun ride that ends with informative exhibits and a small play area that the kids loved with a giant shark's mouth that was yet another fabulous Disney photo op for parents.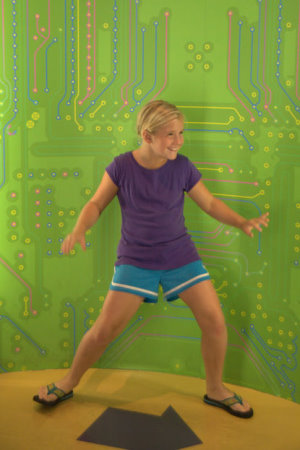 Mission: SPACE is one of the big attractions at Epcot, and space, gadget, and transportation enthusiasts will love it. You choose to spin or not, and we chose the green, non-spinning option. Prior to boarding the ride, you get a pep talk about how you have a crucial role to play in the upcoming mission (really just pressing buttons). My 7-year-old was deeply concerned that she would fail and ruin the mission, so she entered the ride stressed. Once you're strapped in, there's a control panel full of buttons and switches to play with. My husband loved this part. My 7-year-old, meanwhile, couldn't stretch her arms far enough to reach the panel. The ride was fun, but my 9-year-old and I stepped off with motion-sickness, even without the spinning.
Test Track is the rollercoaster of Epcot, and it's touted as the "longest, fastest attraction in Disney history" on the map. Again I thought that the sponsorship was heavy-handed. The spiel is that new cars are tested on a variety of road conditions including different road surfaces, temperatures, and speeds. Riding in a very fast car was fun, but with such a dreary commercial introduction, we favored rollercoaster-style rides at the other parks.
Gran Fiesta Tour Starring The Three Caballeros, located in Mexico, is a musical boat tour ride with upbeat music and video of The Three Caballeros. I don't think that any of the children had heard of Donald Duck's amigos, but the adults enjoyed the nostalgia and everyone had fun.
Maelstrom is a Viking boat voyage ride in the Norway pavilion, conveniently located, for a ride when you're waiting for your reservation time at Akershus Royal Banquet Hall. This was a mostly tame ride with an occasional twist or dip (or scary Viking) to make it interesting.
---
©2011 Katie Beltramo
Katie Beltramo, a mom of two, is editor of Kids Out and About--Albany. She also blogs at Capital District Fun.