Las Vegas with Kids: Tournament of Kings
By June Santini
People say Las Vegas is like Disneyland for grownups. While that seems to me to be generally true--that the majority of touristy activities in Vegas are intended for those 21 and older--kids and families can also have a good time together in Vegas. Here we have some fun that's so old-fashioned it's positively medieval.
---
Tournament of Kings
The Tournament of Kings, a dinner show at the Excalibur Hotel, has just about everything a kid could want: drama, sword fighting, pageantry, beautiful damsels, fire-breathing dragons, and plenty of horse riding!
The arena has large stadium seating with tables on which to eat facing the dirt performance area. We were seated in sections which represented our "country"; in our case, Spain. We were to cheer for our own Spanish Knight. Drink orders were taken and many people chose to order their drinks in a take-home metal tankard. The show started and soon after, the food was served. Merlin the Magician kicked off the show with many dazzling tricks. We were taught a special toast (I imagine to encourage audience participation) to be done when prompted. We had fun laughing and cheering for our own knight and loudly toasting him while imbibing our favorite beverage. The main course arrived and thetournament continued with many competittions between the knights of the various countries. A classic battle between good and evil ensued and many damsels in distress were rescued, gratefully. There was much jousting, many songs and dances and production numbers and finally, good wins, defeating evil. All is right with the world. A lovely hostess returns with souvenir pictures you may purchase.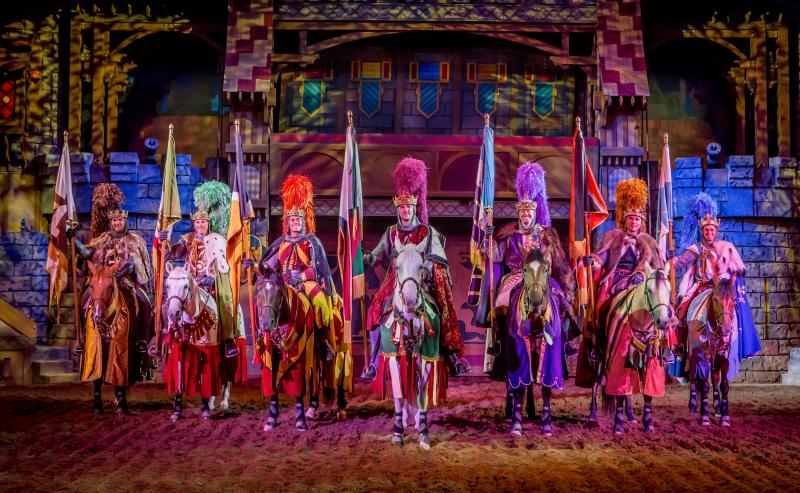 Our little princess was right at home and even clapped at all the appropriate times. The 6 pm show is early enough so that the whole family can go together and Mom and Dad can still go out on the town afterwards, while the little ones will make it back to the hotel in time for a decent bedtime. We found the show delightful and fun. The production values were very high and the food was decent. If your children have ever made believe they are knights or princesses, they're sure to love, love, love this show.
Jousting Dinner Show:
Monday: 6 p.m.
Tuesday: Dark
Wednesday: 6 p.m.
Thursday: 6 & 8:30 p.m.
Friday: 6 & 8:30 p.m.
Saturday: 6 & 8:30 p.m.
Sunday: 6 & 8:30 p.m.

Tickets: $59.00 per person. (No discount for children.) Children 3 and under are free, but must sit on their parent's lap and share their dinner.
---
Back to main Las Vegas Review page.
---
© 2012, KidsOutAndAbout.com
June Santini is Vice President of Operations at KidsOutandAbout. She lives in Honeoye Falls, NY with her husband, Steve, and two of their four children. She is adjusting to her half empty nest and comforting herself by taking her granddaughter to every cultural experience she can.