Moccasin Lake Nature Park
By Meg Brunson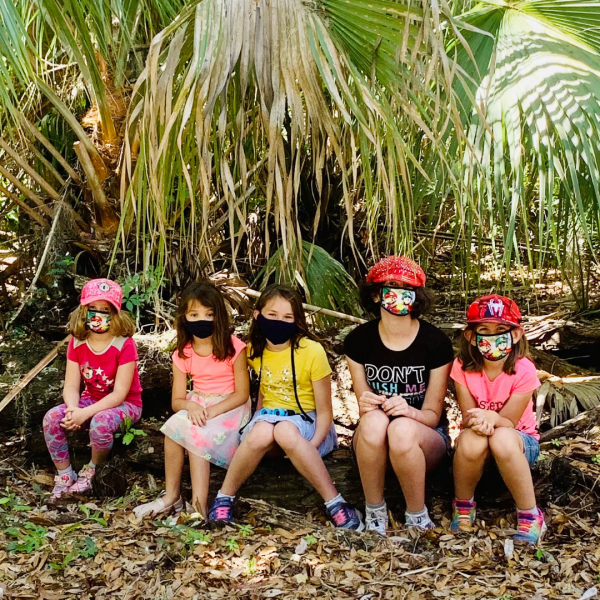 I can't beleive I'm about to say this, but we got a little tired of beaches and pool days, so we were thrilled to check out the Moccasin Lake Nature Preserve including their Raptor Sanctuary. The 51-acre nature preserve includes trails that were easy for the whole family to walk while enjoying the beautiful sights around us. From the lake and streams, to the butterfly garden and turtle pond - this was the perfect destination to experience Florida beyond the beaches.
Inside the visitor center we loved viewing turtles and snakes, and right outside we got to observe injured birds of pray and learn more about the birds. There were a variety of animals throughout the park - some seemed to be strategically placed/housed, like the turtle pond, and others that were clearly just living thier wild lives throughout the park (like the turtles we saw in the lake).
While we weren't there for a birthday party ourselves, there was a party happening and my 9 year old commented that she thought it'd be a cool place to have a birthday! A venue I probably would not have thought of, but the party certainly did look fun, and we ran into some of the volunteers who had taken 4 owls out for a birthday party and they welcomed us to learn even more about the owls. 
I loved the docks and benches throughout the park - places we could stop and just take in the sights. The kids were thrilled to discover a playground, which allowed them to play off some energy that walking the paths didn't burn.
This park is completely run by volunteers and donations. There is no admission fee charged, but we felt good about leaving a donation, especially seeing how much the kids enjoyed being there and learning about the different birds (their favorite part for sure). We even happened to be there for feeding time and watched the Bald Eagle eat a mouse and the Barn Owl was offered 2 baby chicks. Something I worried might be too gory or sad for the kids, they handled remarkably well.
We visited in March 2021 during the coronavirus pandemic: Most of the park and things to see/do are outside and it's easy to maintain social distancing. The indoor visitor center with some small animal/amphibian/reptile exhibits has limited capacity and masks are required. We met up with friends and wore masks throughout the trip out of respect for our friends, though most outdoor visitors were not wearing masks.
Tips for a Terrific Trip
Hydation - bring water so you can stay hydrated as you explore.
Sunscreen - While it's not a beach, the sun is still strong in Florida, be sure to protect your skin
Pack a lunch - There is no where to purchase food at the park, so bring what you may want to eat, and ensure you clean up after yourself.
Don't be shy - The volunteers were all super happy to answer any questions we had. 
Free admission, but consider donating - The park is dependent on donations and volunteers.
Start planning your trip today at https://www.myclearwaterparks.com/facilities/facilities-amenities-locator/moccasin-lake-environmental-education-center and read about some of the other adventures we're having on our Indefinite Road Trip!

---
© 2021 Meg Brunson
All opinions expressed are my own. See more on Instagram!
Meg is a mommy blogger, Facebook marketer, and much more. She is a mom to four kids who live full-time in an RV exploring the US! As a former Facebook employee, Meg remains a Facebook addict and handles KidsOutAndAbout.com's Social Media Marketing in addition to providing freelance services for other small businesses on how to best leverage Facebook as a part of their marketing strategy. Meg also hosts the FamilyPreneur Podcast, a podcast for parent entrepreneurs raising entrepreneurial children. Learn more about Meg at MegBrunson.com!