Preview of Via Aquarium

by Katie Beltramo
You've probably heard about the aquarium opening up in Via Port Rotterdam, formerly the Rotterdam Square Mall. The grand opening of Via Aquarium is finally here, with a preview for VIPs a bit earlier and then opening to the public at 1 pm this Saturday, November 12.
The Experience
Via Aquarium is designed to teach about more than fish. With themes and interactive exhibits, the aquarium seeks to engage kids on a virtual travel adventure. Kids can pick up an "Under Sea Explorer" passport and "join the crew" of the Island Hopper, an amphibious clipper airplane that they'll encounter as they enter the aquarium. The passport pages include child-friendly information and activities, and kids can use an embossing machine to stamp their passports as they travel through the exhibits. This Indiana Jones-style travel adventure theme is augmented by a voice-over of Harrison Ford speaking as the Ocean as well as two different Google Earth stations that allow visitors to travel to various locations around the world.
Along with the passports, kids will find other, more active fun as they explore. At one point, light projections on the floor mimic a river that's been polluted with trash. Kids can stomp out the trash so that fish reappear, learning about the ethics of keeping water clean in the process. In another spot, kids can climb into into a tube that makes it appear as if they're inside the fish tank. The best hands-on interactive activities can be found in the section that the aquarium calls Discovery Cove. There, kids can touch crabs and starfish, touch stingrays and even feed them from between their fingers, and measure themselves against paintings of sharks. They can also pretend that they're gods of their own small universe with the visual sandbox, which uses digital imagery to project land masses and other earth formations according to how kids dig or pile up sand, making it look as if kids are creating their own topographical map.
The aquatic life itself is of course a huge attraction, and kids will love finding sea horses, star fish, jelly fish, "Nemo" clown fish, bonnet head sharks, lion fish (pictured at right), and more. Along with plenty of tanks, visitors walk through a tunnel in which fish can swim above their heads. As you're looking around, one thing to call to your kids' attention many fish and other animals are young and small since the aquarium is brand-new. Take note of the sizes and the activity level so that you can compare them when you visit again in a few months or next year.
Visiting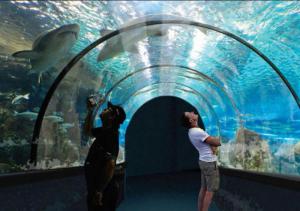 Visitors can enter Via Aquarium directly or through the mall. A gift shop connected to the aquarium is its own store front. Visitors are expected to take about one and a half hours to go through all of the exhibits. The aquarium is located directly across from Via Entertainment, which offers food, bowling, and arcade-style fun. Right now they also offer a lunch buffet during the week, which is a handy way to get quick refueling, but if you have little ones, the combination of the Via Aquarium and Via Entertainment is likely to become overstimulating quickly.
Looking Ahead
The folks at Via Aquarium expect to plan activities that are sure to please, like special piranha-feeding times, so look forward to seeing those on our calendar. They aren't offering birthday parties yet, but they expect to begin in January. Rather than having a tucked-away "party room" like you'll see at many indoor play centers, party-goers will take center stage, celebrating on a raised platform surrounded by a sort of koi moat. This is likely to make guests feel like VIPs and make other kids beg to book their next party there.
Who'll Love It?
Young kids and anyone looking for a new place to explore will love this place. If you are an aquarium enthusiast and you've visited places like the National Aquarium in Baltimore or the Shedd Aquarium in Chicago, Via Aquarium will feel small even at about 25,000 square feet, 37 feet, and 1000 aquatic life species. However, it's a much quicker trip to Rotterdam and it offers a terrific introduction to aquatic life as well as geography-themed adventure for kids.
Details
Via Aquarium is located at Via Port Rotterdam, 93 West Campbell Road, Schenectady, NY.
Tickets are $19 For Adults ($16 on weekdays), $10 For Children Ages 4-17, and Free for Children Under 4.
For the most up-to-date information on ticket prices, visit the Via Aquarium Facebook page. Their website is currently still under construction.

---
© 2016, KidsOutAndAbout.com.
Katie Beltramo is Albany editor and Strategic Content Editor at KidsOutAndAbout.com. She's a fan of the moon jellyfish and stingrays.
---