Restaurants at Disney World's Epcot
by Katie Beltramo
Princess Storybook Dining at Akershus Royal Banquet Hall in the Norway Pavilion is a make-your-reservations-way-ahead-of-time sit-down spot. It's a great setting for encountering plenty of princesses, since it's modeled after a 14th-century castle.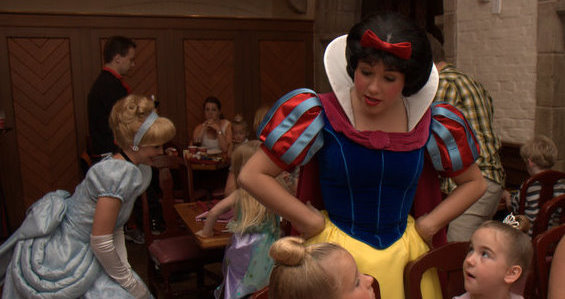 Before we went, I'd read that Cinderella does not appear at this dinner, but she happily attended while we were there, along with our "hostess" Belle (who posed with diners as soon as they walked in) and Ariel, Aurora, and Jasmine. Our favorite character was Ariel, who was just as winningly clueless as she is in the movie. In fact, so many princesses visited so quickly after we sat down that it was tough to eat.
Lucky for us and our starving, tired kids, dinner at Akershus begins with an appetizer buffet. Offerings ranged from basic breads, cheese, and cold cuts to smoked fish, so it was nice that the preschoolers and the grown-ups could both be happy without resorting to chicken nuggets. Our main dishes were some of our best at Disney, and for dessert, servers delivered three different offerings for tablemates to share: chocolate, fruit-and-pastry, and a Norwegian version of rice pudding. Skipping dessert decision-making was an inspired step; funny how picky children are willing to try new items when they're desserts!
La Hacienda de San Angel in Mexico is another sit-down restaurant choice. Here the food ranged from very good to excellent. Service was a bit slow, but staff were particularly friendly and accommodating, including making a plain cheese quesadilla off the menu. My husband had a tilapia dish that was a whole-vacation favorite, and they offered a selection of margaritas, which we were happy to try.
Sunshine Season Food Fair in The Land offered some of the best fast-food options in all of Disney World. There was a wide variety of food, including Chinese and gourmet sandwiches. There was a roasted vegetable sandwich and a gorgeous salad with goat cheese, and even the kids' meals seemed more healthful here than at other locations.
La Cantina Restaurant in Mexico offers quick-service Mexican food outside along the lagoon. If it's not too hot, the setting is excellent, especially if you time yourself to eat during a fireworks show. The nachos, chicken or beef tacos, and other offerings are basic but tasty. The kids' meals were too plain for our kids, but everyone shared a bit of everything, so we were happy. If you're planning to watch the IllumiNations fireworks show, this is a great vantage point.
We didn't get to try nearly as many foods as we'd like, but in researching Epcot, I found this blog post with reviews of some other Epcot foods.
---
©2011, Katie Beltramo
Katie Beltramo, a mom of two, is editor of Kids Out and About--Albany. She also blogs at Capital District Fun.