Reunion Resort - Magnolia View
by Sarah Lephart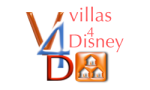 If you are looking for a place to stay in the Orlando, FL area be sure to check out Reunion Resort. Our family stayed in the Magnolia View, a beautiful house located right on there on the Reunion Resort property. The Magnolia View was a perfect mixture of elegance and practicality. We stayed with my family and my in-laws and there was plenty of space for all of us.
Our family comprised children ranging in age from 2-12, and they all had a great time in the pool that was right in our back yard. I also appreciated the child fence that was provided; we used this regularly to make sure kids stayed out of the pool area when a grownup was not outside with them.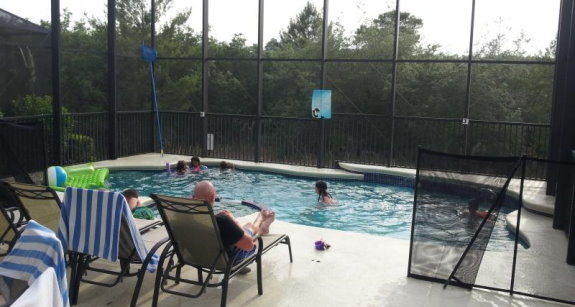 One of our favorite parts about the pool was that it was screened in so we didn't have to worry about bugs or leaves landing in the pool. We did pay the extra charge to have the pool heated, and even though it was warm while we were there, it still was nice to have the pool at a comfortable temperature that we could just jump right in.
Next to the pool there were plenty of lounge chairs and two tables, where we ate most of our meals. Also, on the deck we were able to use the gas grill they provided. This is definitely where we spent most of our time, enjoying the beautiful Florida weather!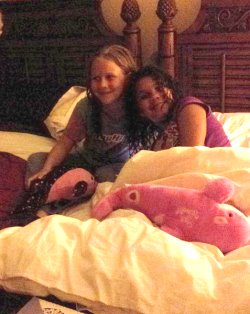 Inside, the house was beautifully decorated, but it was also kid-friendly. They provided a high chair for my littlest one, and they had the garage turned into a game room with a pool table, Foosball table, and air hockey table. There was also a gaming area with a Wii and Playstation. The kids would sometimes use this area, but it was so nice out they usually chose the pool over the games. It was a nice option for the one afternoon we had a thunderstorm and we had to stay out of the pool for a while.
The bedrooms were large, five in all. Three of them had king-size beds with plenty of extra space for luggage. The other two rooms had full-size beds, and provided plenty of space for our kids. The kitchen was fully equipped with all that you need for staying in and cooking. One thing to keep in mind is that although they do provide all of the linens, you do need to make sure you bring paper products. This is not provided by the resort.
Reunion Resort is close to all of the theme parks in Orlando. We also drove over to Daytona Beach one day, which was only a 2-hour drive.
The resort also offers 10 pools for visitors to use, so no matter where you stay, there is one close by. There is also a water park, to which we were able to get tickets for our group for two days. The water park offers a lazy river (our kids' favorite part) with a small waterslide, a small splash area with a bucket dumper, waterslides, and sprayers. It was perfect to visit for a day when we decided to relax and stay at the resort.
Our family truly enjoyed our stay at  Reunion Resort, in Magnolia View. This is a great option for families who are looking for a place to stay in Orlando. It offers a quiet place to relax and unwind after busy days at the parks.
---
© 2013, KidsOutAndAbout.com
Sarah Lephart is editor of KidsOutAndAbout for Ann Arbor - Detroit.
---