Review of 2-Day Family River Rafting with Sheri Griffith Expeditions in Moab, Utah
                          
by Katie Beltramo
One of the highlights of a long Wild West vacation was our splendid 2-Day Family River Rafting trip with Mandy and Carl of Sheri Griffith Expeditions in Moab, Utah. Our whole family ('tween daughters, my husband, and I) loved it: Our guides Mandy and Carl were knowledgeable and fun, the rafting was by turns relaxing and exciting, and the scenery along the beautiful Fishers Towers section of the Colorado River was amazing. Sheri Griffiths advertises that their trips offer "A Touch of Class," and this is completely true. We felt absolutely spoiled during the entire trip.
The Experience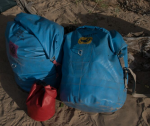 The evening before our departure, we stopped by the Sheri Griffith Expeditions main office on South Highway 191 on the outskirts of Moab to check in, where the friendly staff offered each of us daypacks and drypacks to keep our belongings safe and dry during our trip. Each blue pack contained a freshly-laundered sleeping bag and enough space for us to pack necessities for camping overnight. We were advised to store anything that we might want while we were rafting--sunscreen, a camera, an extra t-shirt--in the smaller red packs. We also received reusable mugs to use on the trip and keep as souvenirs. Thus supplied, we headed back to our cottage for final packing before returning to the office at 9 am. From there, it was a short (about 30-minute) ride to our putting-in spot along the Colorado River.
Before we even hit the water, I realized just how relaxing the trip would be when our guides advised us to sit in the shade and apply one more coat of sunscreen while they headed out to lug two enormous rafts off of the truck and into the water. For our trip, it was just our family of four with two guides, one for each raft. We could switch around as we wished, but for the first day, we parents stuck with Mandy in the lead raft, while our girls rafted with Carl. We spent the day on smooth river, checking out the scenery, asking Mandy tons of questions about history, geology, and the river, noting the herons and nesting swallows, and occasionally dipping into the water. We stopped on a little beach for a lunch break, and the girls loved frolicking around the river's edge, which offered beachy sand and warm water. Later, we stopped and hiked inland briefly to see evidence of long-ago prospecting, then continued to drift downriver. 
By late afternoon, we reached a great spot to camp, and we finally helped Mandy and Carl a bit by assisting as they unloaded the rafts. As they continued to unpack, they suggested we choose where we'd like to camp. Sheri Griffith Expeditions provides two-person tents that, to us, seemed not much smaller than the four-person tents we usually use. They offer coaching on setting up the tent for newbies, but we easily did it ourselves, and the girls loved setting up housekeeping. Meanwhile, Mandy had already set out drinks, chairs, bocce ball, and a great little library of books, making us wonder how they could have possibly managed to pack so much stuff into the rafts. Really, it was as if they'd packed a small resort into the rafts, and the effect was heightened when they each changed into their casual riverwear. It seemed impossible how quickly they transformed the riverside spot into a space that took care of all our needs and desires completely.
Our guides were fantastic: entertaining, knowledgeable, and passionate about the river. Sheri Griffiths guides are all highly qualified, with tons of river training and experience. Mandy explained that the comapany attracts terrific guides in part because they hold so many permits, which means they're allowed to guide folks through a variety of different river routes. Carl laughed about the company's training trip, which he described as "a very intense boot camp." Mandy and Carl were friendly and informative, and most important, they did a great job of taking the measure of our kids and adjusting accordingly, whether it was Carl pushing the girls off the raft early on when they wanted to swim but were too shy to ask, or Mandy casually addressing fears when they were embarrassed about being intimidated by the rapids. And it's not a Family rafting trip for nothing: They added plenty of silliness, like encouraging kids to "toe fish" or bury Carl in the sand. There are actually many more examples, but I don't want to spoil it for you if you go!
After playing around and eating an excellent dinner (more on that later), we took a short hike up to a rocky outcrop where we could take in the view. Mandy was ready with an app that would help us identify constellations, but our entire family had exhausted ourselves with fun in the sun. My 13-year-old and I took shelter from the bugs and shared one of our family's tents, but my husband and the 10-year-old opted to sleep out under the stars.
In the morning, Mandy and Carl had fresh coffee brewing when we woke up, and they prepared breakfast as we packed our bags and broke down our tents. Then our guides unveiled an inflatable 2-person kayak which, they said, would offer more fun as we headed over the rapids on Day Two. While our first day had been on entirely placid water, the morning rapids were just enough to make everyone a bit nervous before we tried them out (Level I & II, for experienced raters). We switched around enough to give everyone a turn on the kayak, enjoyed a lunch, and were sad to leave the river. We had a tight schedule, so we ended a bit earlier than the trip normally would (late afternoon).
What About the, umm, Facilities?
Ah, yes, of course you were wondering: "They spent a day and a half on the river, so what did they do for bathrooms?" Mandy addressed these concerns in the straightforward manner of someone who's explained it all a million times. Basically, if it's "number one," the procedure is to go directly in the river, where the current will whisk it away. This can be casually accomplished with very little fuss because of the frequent swim breaks, or you can choose to announce yourself by using Mandy's euphemism of "smiling," as in "I'm going to pop out of the raft to smile." For "number two," the guides set up a portable potty system in a secluded area on shore that's affectionately known as "the groover" (because an earlier iteration was a sturdy box that left grooves in your thighs after prolonged sitting). Any squeamishness you might feel is allayed by having the best view ever while relieving yourself.
Oh, the Food!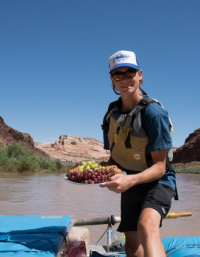 When we told another guide on a later Moab adventure that we'd just gone rafting with Sheri Griffith Expeditions, she gave a little gasp. "What did you eat? Tell me about it! Did you know that they're locally known for great food?" Well, we hadn't, but after our trip, it all made sense. On our first morning, we'd barely begun to move downriver before Carl pulled his raft up to ours to pass us a platter of grapes and blueberry bread.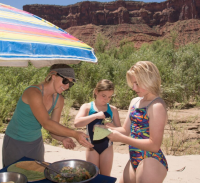 Time flew and soon we were pulling ashore for a lunch break, where Mandy whipped up a chicken Caesar salad for us to make wraps. They took the opportunity, too, to explain the concept of micro-trash: Carl joked with the girls that dropped crumbs would lead to ants, then bigger bugs, and so on until the river's edge would be crowded with lions, tigers, and bears, and he and Mandy showed us their method for a leak-proof wrap. The girls, who had never eaten chicken Caesar wraps before in their lives, loved them so much that they were requested as one of our first homemade dinners when we arrived home. And lest you fear that your picky eaters woldn't adjust, there's ample opportunity to make meal requests prior to the trip. Guides can provide gluten-free, allergy-safe, vegetarian, or vegan foods, or kids' stuff like macaroni and cheese. Along with the wraps, Mandy and Carl provided fruit, chips, and mixes so that we could take a water break and have lemonade, iced tea, or Gatorade.
Before our guides prepared dinner, they set out a cooler full of soft drinks and a platter of cheese, sausage, and pita crisps while we played on the beach. Later, we feasted on grilled steaks or burgers, corn on the cob, potato salad, and grilled vegetables together. Dessert was a surprise: warm brownie cake with whipped cream and vanilla ice cream ("Dry ice," Mandy explained when we looked as if she'd pulled a rabbit out of a hat.)
For breakfast, we ate bacon, fruit, and pancakes (regular or blueberry), with a variety of toppings. Because we were leaving the river around lunch time, they set out a sandwich-making buffet early so that we could pack it and eat on the go.

I'm not sure quite what we expected, but whatever expectations we'd all had, Sheri Griffith Expeditions exceeded them. And I'm actually holding back: I just asked my 10-year-old what her favorite part about the food and drinks on our rafting trip, and she named something I'm not going to mention because I don't want to spoil the surprise for you, just in case you go.
A trip like this can feel a little stressful, because you're ceding control and relying on your guides to keep you and your kids fed and happy. But no need to worry! These folks know what they're doing, and we were challenged with a near-constant supply of delicious food. And the only work we ever did was a bit of dishwashing after dinner, which was presented in such a novel way that the kids were dying to do it. It was excellent to not have to plan and think about meals for the whole trip, which is the sort of thing that doesn't stop for moms, even on vacation.
Who'll Love It?
Our 2-Day Family River Rafting is available to participants ages 3 and up, and if you have younger children, it's a great opportunity to work in some babysitting help while you sit back and take in the view. Really, I think anyone would love this trip, even a bunch of grown-ups, although I think that this trip is especially great for the "beginner outdoorsy" family. If you aspire to camp or whitewater raft, but it feels a bit overwhelming, this trip will keep you feeling safe and well-cared-for the entire time.
Other Options
Although we loved our trip, my family agrees: Next time we need more nights and more white water. Lucky for us (and you), Sheri Griffith Expeditions has tons of options, ranging from a single day out to a 12-day trip, trips on the Colorado, Green, and Yampa Rivers, trips for all ages, accommodations for rafters with disabilities, women-only trips (who's with me?), and--oh, my!--luxury trips. Because apparently ours wasn't luxurious enough? I just mentioned luxury tours aloud and my 10-year-old piped up, "Wasn't what we did luxury?" It felt like it. Now, I saw some other companies loading up a slew of rafts and a busload of people to go on them, and I'm sure that those folks had fun, too, but I'd take our guides and "A Touch of Class" even for a single-day outing.
Tips to Make the Most of Your Visit
Sheri Griffiths Expeditions offers up really extensive packing lists and information (click the Resources tab), so if you're planning to go, I'd check these out first. The points below are items either new or offer a little added emphasis.
If possible, plan your multi-day rafting trip for the middle of your vacation. It really was a terrific relief to not have to think about navigating, making decisions, and finding vacation meals. That said, I'd leave the rest of your final day open to recover. Even though we weren't physically working too hard, the camping and sunshine knocked us out, and some free time or a long sleepy car drive would have been a great follow-up.
The list suggests a strap, retainer, or clip for your hat and sunglasses, but I just want to emphasize: You'll really need these. Even on our placid first day, the wind occasionally knocked my (strapless) hat off my head.
When you step into the raft, you'll likely want to keep your water bottle (or the provided mug) out and handy, and it's a good idea to have a carabiner to attach it to something. You'll also want to keep sunscreen and bug spray handy, sealed in a plastic bag inside your day pack just in case. If your group is splitting into multiple rafts, make sure the sunscreen is distributed among boats.
It wasn't on the list, but I think I would have liked to have a towel or two with me. My kids like a mini chamois towel to dry off after swimming (and they swam a ton), and next time I go, I'll pack a beach towel so that I can go into a full-out recline on the beach when we stop for the evening.
One more item on my to-pack-next-time list is a comfy bra-top camisole. For hanging out in the evening, my swimsuit and sports bra options felt too confining, but forsaking them would have felt. . . not quite confining enough.
Tips are customary, so keep some cash handy.
It might say to bring them, but I'm telling you: You're not going to need snacks.
Our trip was really wonderful and memorable. Knowing what I do now, I might have chosen a more challenging route for my biggish, adventure-loving children, but we loved our trip, too. In fact, writing this article has got me pining for my next trip. Mandy particularly recommends a 5-Day rafting trip through Desolation Canyon on the Green River. Sounds amazing. But, honestly? I'd go with them anywhere.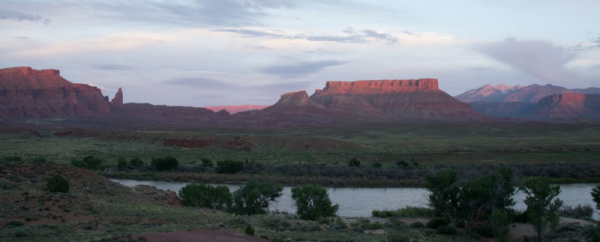 ---
Your meeting place depends on the rafting trip that you choose.
For our trip in July 2015, the cost was $420/adult and $310/youth.  For the most up-to-date information on dates and rates, click here.

Click here for several more KidsOutAndAbout reviews of active outdoor family experiences in the Moab, Utah area. You won't believe how much there is for a family to do in Moab!
---
© 2015, KidsOutAndAbout.com.
Katie Beltramo, a mother of two, is an editor at Kids Out and About. She also blogs at Capital District Fun.
---