Review: Arizona Diamondbacks Game with Kids

By Meg Brunson
Last night, my family attended a Bloggers Night at Chase Field to enjoy the Arizona Diamondbacks game against the San Francisco Giants.  This was our first time at Chase Field, and it was my kids' first baseball game!  I want to share some bits and pieces from our experience bringing 4 kids to the ballpark, as well as some tips and tricks for making the experience amazing when your family visits as well!
Arrive Early
There are a couple reasons to arrive early.  First, you will beat the traffic, find parking easier, and not stress if you get lost, forget something in the car, or some other typical-parenting-disaster occurs.  Second, as soon as the gates open, the Sandlot opens, providing the kids with opportunities to play and keep occupied while you wait for the game to begin.
The Sandlot
This falls under the "cool stuff for kids" category.  Located in the upper concourse, The Sandlot includes activities for kids of all ages including a soft-structure toddler play area (for kids under 36″ tall), a playground with slides (for kids 3+ years old and under 48″ tall), a whiffle ball field and a batting cage! 
Each of these activities were staffed by a Diamondbacks employee.  Having an employee stationed at each activity definitely helped keep order, and all the staff we spoke to were very friendly and helpful.
My oldest (9) was too big for the playground but had a blast in the whiffle ball field.  She was a little intimidated by the batting cages, but I could see her warming up to the idea throughout the game. My six-year-old had a blast on the playground equipment as well as in the whiffle ball field, and my little two (ages 3 & 1) were content playing in the toddler play area on the soft-structured slide and tunnels.
The gentleman staffing the toddler play area during the pregame was amazing (I am not sure if he was there all game or not) – I wish I had gotten his name because he really was great with the kids, cheering and counting and helping facilitate turn taking in a fun and engaging way. My 3-year-old could have also enjoyed the playground, but she chose not to this time.
Kids Club
While you are at The Sandlot, you should also sign your kids up for the D-Backs Kids Club.  It's a free program for kids ages 15 and under that rewards kids with cool prizes and special offers.  When they register they receive a personalized membership card on a lanyard – something the kids thought was really cool!
Then, every Sunday that the D-Backs play at home, Kids Club members can show their card at the Chase Field Box Office for a complimentary ticket!  Talk about value!!  That means, that a family can attend a Sunday game for the cost of 2-adult tickets when their children are Kids Club members!
In addition to that, every game they attend going forward, they can scan their cards at the kiosks up in The Sandlot to win cool prizes!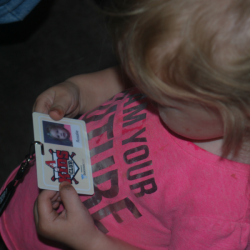 The line at the Kids Club registration desk was pretty short for about an hour after the gates opened, then it got busier, however, it did appear to calm down once the game started.  The staff had a very streamlined process for getting the kids their cards, and even with 4 kids in tow, it was a painless process and well worth the 10 minutes it took start-to-finish.
All of the kids loved getting their membership cards – but my 1-year-old was a special kind of excited.  After getting her ID we made our way back to our seats and she could not stop admiring her photo on the membership card.  It took twice as long to walk back to our seats, and she managed to walk into a wall, the ice cream cart, and a garbage can because she was either admiring her membership card, or attempting to show it to another random person in the hallway.
Ballpark Food
Of course, the kids were hungry as soon as we arrived – but we were able to delay dinner until the game started.  This was a strategic move meant to ensure that we could watch some of the game while the kids were occupied eating.  We were worried about the cost of food at the ballpark.  We all know that food costs are high, and bellies grumble louder when you are at the ballpark smelling all the game-time foods.
Throughout the ballpark, Value Items are available for purchase wherever you see the "Value Items Logo."  You can find hot dogs, corndogs, popcorn, Pepsi and/or milk all for only $2!
Another great option is to purchase the Value Pack wich includes your game ticket, a hot dog OR Subway sandwich, and a regular Pepsi, all for just $25!
Or, Chase Field offers All-You-Can-Eat-Seats with prices starting at $37 and including unlimited ballpark fare (Ball Park hot dogs, chips, popcorn, peanuts, Pepsi products and Aquafina) from the time gates open until the 7th inning!
Outside Food
I am not sure that I have ever heard of a venue that encourages you to bring your own food, but the Diamondbacks do!  How amazing is that?
Personal coolers or bags smaller than 11x11x15 are allowed into the ballpark (though they are screened by security).  You can pack food in clear plastic bags and also bring in sealed water bottles – that is something that will definitely come in handy during the hot summer games!
While we didn't pack food this time – it will be on our "must do" list next time to pack some "dinner" foods.  I don't think we will really save any money that way, because it just means we will be able to indulge in more of the fun stuff (like the huge caramel apples, cotton candy, Coldstone ice cream sundaes, etc.) – but I absolutely love that it's an encouraged option.
Giveaways
On most Saturdays the Diamondbacks offer giveaways to the first 10-20,000 fans which may include bobbleheads, t-shirts, hats, coolers, etc. and on Sunday, April 23 (water bottle) and June 11 (bat & ball set) the giveaways are kids only!  Another reason to get there early – and then enjoy The Sandlot while you wait for game time!
4th Inning Autographs
Make sure you hit the Sandlot during the 4th inning, when Baxter (the Diamondbacks' mascot) signs autographs at Baxter's Den.  The den is located right behind the toddler play area and really can't be missed.
Stay Late
After select games, there will be postgame fireworks.  Relax in your seats as the roof opens and you can enjoy a fireworks show.  You can catch fireworks this season on April 7, May 12, June 24, July 1, July 21, and August 25th.
Additionally, after all Sunday games, kids will have the opportunity to run the bases!  Have your Kids Club membership cards handy, this will bump you to the front of the line!
Special Offer!
Spend Mother's Day with your family at Chase Field with the Arizona Diamondbacks and the Pittsburgh Pirates!  The first 10,000 moms in attendance will receive an adorable Mother's Day Clutch Purse.  Save up to 40% off of tickets to the Mother's Day game by purchasing your tickets at www.dbacks.com/phxkids
Our Review (cont.)
In addition to enjoying the play areas, food, and freebies – the kids enjoyed watching the game.  No, they didn't sit still in their seats the full time, but they sure loved cheering and dancing during the home runs, following along with the mid-inning entertainment, and the fun stuff on the scoreboard.  There was even a screen with a running twitter feed and they LOVED seeing our tweet posted for the whole stadium to see!
Watching a baseball game with 4 young children is vastly different than when I attended my last ball game (without children).  Taking periodic breaks to The Sandlot was a great way to break up the visit and allow the kids to get some wiggles out, while we were still able to watch the game from another vantage point.
The excitement of the game left a long-lasting impression with my children.  When they awoke the next day, they all excitedly wore their new hats to school.  They have begged to return and there are some great events coming up and lots of incentives to return – so we've already decided to plan on attending a couple other games this season!
Find daily game pricing for the Arizona Diamondbacks online at dbacks.com/pricing

---
 © 2017 Meg Brunson
Thanks to the Arizona Diamondbacks for sponsoring this review. All opinions expressed are my own. See more pictures and details on Facebook and Instagram!
Meg is a mommy blogger, Facebook marketer, and much more. She is a mom to four kids who live in Peoria, AZ and is the local Editor of KidsOutAndAbout Phoenix - helping parents and caregivers find free and affordable things to do with kids, out and about in Arizona. As a former Facebook employee, Meg remains a Facebook addict and handles KidsOutAndAbout.com's Social Media Marketing in addition to providing freelance services for other small businesses on how to best leverage Facebook as a part of their marketing strategy. Learn more about Meg at MegRyanne.com!