Review of Blue Fox Travel Tours in Paris

by Katie Beltramo

Paris! The City of Lights, one of the top tourist destinations in the world! It's an amazing destination for families, but it can be overwhelming, too. That's why our family so appreciated tours with Blue Fox Travel. We loved the personal care put into our activities, and we also loved that it's a true family affair, a company founded by a pair of French brothers and the American woman who married into the family. We experienced two different tours with Blue Fox Travel: the Family Bike Tour: The Amazing Race and the Versailles Bike Tour.
The Amazing Race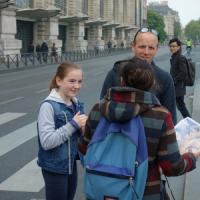 This private family tour is available along Blue Fox's "Best of Paris" or "Hidden Paris" route depending on your preference. We thought that the tour would be a fun introduction to the city for our kids, so we requested the "Best of Paris" route. We met our guide, Camille, at the fountain at St. Michel, an easy-to-find and central location. After a quick introduction and a bit of history of the place, we walked a short distance with Camille to get our special blue bikes, located in the cleanest and most pleasant parking garage I have ever encountered. Here we chose and tried out our bikes to ensure that we were comfortable. To distinguish the identical bikes, each is christened with a French name, and I was delighted to claim Coco Chanel for the excursion. Along with their trademark blue bikes, there are a variety of child-sized bikes and helmets available upon request (or for children 12 and under as required by law).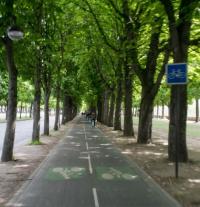 Camille, who is French but had lived in the US for years and is fluent in English, offered us the perfect introduction to biking around Paris. She briefly explained traffic laws and customs, consistently took us along routes that were easy to follow, and paused ahead of time to explain directions to us whenever there was a chance for confusion or stress. We cycled to a variety of locations including the Louvre, the Eiffel Tower, the Musée d'Orsay, and more. At each stop, Camille would offer up a challenge that was a mini-competition between our two teams (my younger daughter and her dad vs. my older daughter and me). I don't want to give the activities away, but they included things like scavenger-style hunts, quizzes, some mild acrobatics, and general goofiness. Our guide would share some information about our current location, and we'd head onward. At lunchtime, Camille brought us to a favorite market street and recommended a variety of food options, including sandwiches, crepes, and sit-down restaurants, as well as where to find some bathrooms.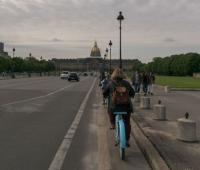 This tour does not include going into the various attractions, but it serves as an excellent introduction to the city. Biking is a terrific way to cover a great deal of ground while getting your bearings in a new place. This was our favorite morning in Paris. It was pure fun without any boredom or stress, and we ended up with some great pictures and a prize, too. If or when we return to Paris, I'd sign us up for the "Hidden Paris" version as well.
Versailles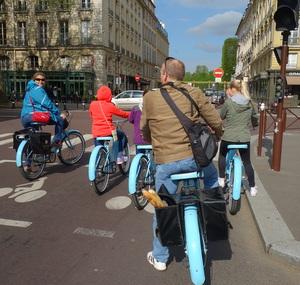 I first heard about Blue Fox Travel from a friend who had participated in the full-day Versailles Bike Tour and highly recommended it. We met our guide, Hava, and our group at the Gare St.-Lazare, one of the largest (and best-known, thanks to the Impressionists) train stations in Paris. Hava is one of the co-owners of Blue Fox Travel, an American who had planned to spend a year in France, then fell in love with a French guy and the city of Paris and never left. Hava handed out the train tickets included in our tour, and we boarded and rode about 40 minutes to the town of Versailles..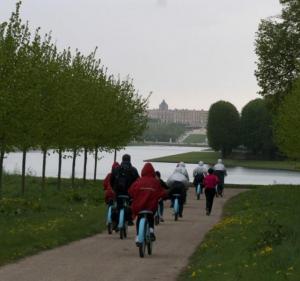 Once in Versailles, our first stop was at Versaille's amazing open air market for about half an hour to purchase items for a picnic lunch. Shopping the market in Versailles was some of our favorite time spent in France. Hava introduced all of us to a favorite family-run cheese business and advised members of the group as they made their purchases. The folks at the market were friendly and accommodating, pressing free samples on us. Soon enough we were toting baguettes, cheeses, and other culinary treasures as we continued our short walk to fetch our bicycles. Some of the bikes come equipped with saddlebag compartments to store picnic fixings and all bikes have a poncho that serves as picnic blanket in nice weather or can be worn in the rain. Once we'd all claimed a bike, we headed into Versailles..
While most people who think of Versailles have vague notions of a very large palace building with its famous hall of mirrors, there's actually a huge complex beyond the main building, including the Grand Trianon, which served as a "getaway house" from the main palace; expansive gardens; and the Petit Trianon, with Marie Antoinette's Estate, which feels a bit like walking through a storybook.
For our tour, we  biked around tree-lined lanes throughout the complex, so the biking was easy and fun. We'd stop, hear an introduction from our guide, then leave our bikes parked while we entered the various buildings and explored them on our own. Hava would send us in with instructions to meet back at the bikes in, say, half an hour. If you are a history geek like I am, the visit timing could sometimes feel a bit tight, but the truth is, there's tons to see at Versailles, so I don't think we would have made it through everything without Hava keeping us on schedule..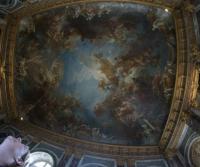 Our final stop as a tour group was at the main palace, where we had a scheduled appointment to enter. Prior to going in, Hava handed out train tickets home (all the trains leaving Versailles go back to Gare St.-Lazare, which makes the return easy) as well as directions and restaurant recommendations for those who wanted to stay in town for dinner. We actually walked in with one of Hava's colleagues who has the PhD qualifications that allow her to bring groups in by appointment. At the time that we entered, there was a huge line of tourists waiting for access to the palace as well as other group tours who hadn't kept to their schedule. We barely waited at all to enter. Once inside, we explored the main palace at our own pace (it's spectacular), with hours of time for the main palace as well as the formal gardens just behind it.
Who Will Love These Tours?
Both of these tours are terrific options for families. I highly recommend biking for your vacation! It's a lovely, active-but-not-strenuous mode of transportation, and you'll be able to see more with much less fatigue than is possible just by walking. If you like the idea of biking around France but find it a little intimidating, these tours (and, I'll bet, any other Blue Fox Travel bike tour) are excellent options. If you have children who tend to get whiny over too much time in a museum or even a grown-up who tends to slow everyone down, both tours are excellent for keeping visits at a brisk and enjoyable pace. The guides are tuned into families and flexible, like when Hava at Versailles pulled a binky out of her bag as she looked for tickets, then offered up emergency childcare for our palace guide. The group tours are designed for grown-ups, but the guides do an excellent job of appealing to their audience, and it's a great choice for multiple generations.
Are There Other Tours That You Would Recommend?
We only went on two tours with Blue Fox Travel, but based on our experiences and other reviews, we'd happily go anywhere they're willing to take us! Blue Fox offers bike tours, skip-the-line tours to major attractions, and day trips outside of Paris. If you're interested in going anywhere outside of Paris (Versailles, Monet's Gardens at Giverny, Mont St. Michel, or other destinations), a tour is a wonderful and stress-free way to travel there. Among the Skip-the-Line options, I'd be most excited about the Sainte Chapelle & Towers of Notre Dame option, both because waiting to go up the towers was our single longest wait in Paris (90 minutes, which was more than the Eiffel Tower, the Catacombs, or the Louvre) and because guides can offer so much information in "reading" stained glass. Finally, there's a super-cool, brand-new option that hasn't even been listed on the website yet: an Adventure in the Louvre tour. This new private family tour takes their popular scavenger hunt method into the museum to help engage everyone in a treasure hunt that incorporates stops at all the most famous art around the Louvre.

Tips to Make the Most of Your Tour
Be sure to have a camera or at least a phone that will take pictures. If you're doing the Amazing Race Tour, you'll want to ensure that each adult has one.
Bring some money. For both of these tours, your guides will point you in the direction of excellent food but won't buy it for you, so don't come empty-handed.
Dress for the weather. Tours are rain or shine, and riding a bike can feel chillier than just walking around.
If you have a Paris Museum Pass, be sure to sign up for the reduced rate for the Versailles tour. If you sign up at the full rate and end up getting the pass, they'll refund the difference upon request.
The best market days in Versailles are Tuesdays, Fridays, and Sundays. We visited on a Tuesday and absolutely loved the market.
Musical Fountains Shows take place in the Versailles gardens on Tuesdays and Fridays from April to October. On the pro side, these days include music and fountains. On the con side, these days require a separate admission for the garden, and it's likely why it was so very crowded inside the chateau on the day that we went.
Get a photo of your family with your tour guide! If you forget, you'll regret it later.
Tips are optional, but it's nice to have money available if you'd like to tip.
International travel can feel overwhelming, with the different language, different money, and finding your way around new places, as well as exhausting, with so much walking, so many choices, and so many things to do. Tours can eliminate these stressors and let you focus on having fun and learning together. With Blue Fox Travel, we were in good hands, and their tours gave us some of our very favorite experiences in and around Paris.
---
For more information on tours available as well as up-to-date prices, visit Blue Fox Travel's website. For more information about visiting Versailles, see the Versailles website.

---
© 2017, KidsOutAndAbout.com.
Katie Beltramo, a mother of two, is an editor at Kids Out and About. She also blogs at Capital District Fun.
---