Review of Catamount in Hillsdale, New York
by Katie Beltramo
If you're looking for a friendly, accessible, and fun choice for winter skiing and snowboarding, then Catamount in Hillsdale, New York is an excellent choice for your family. To be honest, Catamount wasn't even on our radar. Living in the Albany area, we tend to head North or East for skiing, and Catamount is about an hour south of us in the Berkshires. But I'm so glad we visited this family-run resort. We skied Catamount in January, and the weather was cold, but the reception was warm from the most consistently friendly snow resort staff I've encountered. This extra effort was evident in the groomed trails, which were in excellent shape as we started our morning of skiing. We also appreciated the easy drive. Catamount is located near the New York-Massachusetts state line, not too far from multiple major highways.
The Slopes
Catamount has 36 trails, and two-thirds of those are designated easiest or the moderate blue-square that make this a terrific learning mountain, but there are also enough more challenging trails and terrain park areas to keep experienced skiers entertained. Our family spent most of our time on the Ridge Quad lift, which offers access to a range of trail difficulty levels, and the Meadows Triple lift, which is part of the designated "Meadows Learning Area" and has plenty of easy and moderate options.
We value well-groomed trails, because great snow conditions make skiing time fun and low-stress, and we found excellent conditions when we arrived early on a Sunday morning. We also appreciated the thoughtful layout: Catamount offers winding trails to keep trips downhill interesting, and  even the easiest trails were designed so that there was very little traversing across flat space. If you've skied with beginners (or worse, beginning snowboarders), you know that sometimes the journey to the "easiest way down" can feel torturously slow and leave kids (and grown-ups) grouchy, so we were amazed when even Upper Promenade, a trail that appeared to be dang near uphill at first sight, required very little work before we started coasting down. We also especially liked Upper Sidewinder and Fisher's Fluke.
We experienced very few lines at the lifts, although Catamount doesn't feature the higher-speed lifts that you'll see at many larger resorts. We thought it was fun that the Meadows Triple includes a mid-station for novices to unload partway through the lift's journey uphill. My daughters teased me that they were going to kick me off during one of our rides, but we didn't end up trying it.
Catamount offers great family skiing: they have plenty to accommodate the tentative or beginner skier, but there's opportunity for more experienced skiers to challenge themselves.
Learning to Ski or Ride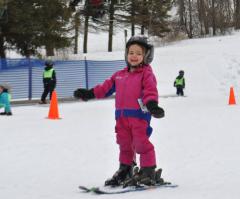 Catamount offers easy, accessible slopes and lifts for the brand-new beginner, starting with a very gentle "Kid Cats" and "Wonder Carpet" area. There are plenty of options for lessons. Private lessons are available for "Tiny Tots" (ages 3 and 4) and up, 1.5 hour long group lessons are available multiple times per day for ages 5 and up, or children ages 4-12 can enroll in the half- or full-day "Mountain Cats" program.
Childcare for the non-skier is also available at the Children's Playroom for (potty-trained) children ages 2 to 6. This daycare setting is right at the bottom of the slope, so it's easy to check in on little ones or pop in to leave a child who wants a break that lasts longer than a cup of cocoa.
Catamount offers a variety of special programs, including a season-long "Mountain Adventure" program for skilled Mountain Cats, a freestyle program for ages 10 and up, a junior ski instructor program, and a special season-long "Women Wednesdays" program. For more information, check their website.
The Lodge and Amenities
Catamount has two lodges, Berkshire Lodge, where most of the services and the majority of food are located, and Taconic Lodge, a dome-style lodge which is more bare-bones in terms of services but offers up space and cozy warmth.
We purchased and ate lunch at the Berkshire Lodge, which listed standard ski lodge offerings: soup, wraps, cheeseburgers, and burritos, among others. As expected when skiing, food prices ran high, with chicken tenders and fries for $10, a hot dog for $5, and a bottle of iced tea for $4. You can go healthful with a Caesar salad option, but overall, weighing price versus taste, I think we'd pack a lunch next time. If you are buying there, though, I'd recommend trying the homemade potato chips. In addition to the cafeteria line, the Berkshire Lodge has a tavern which offers similar food, but with real plates and silverwear and the option of a beer on the side.
The Cat's Paw ski shop, located in another dome at the base of the mountain, is not a huge establishment, but it offers all of the basics that you'll need to stay warm on the slopes. If you find yourself in need of warmers or sunscreen or even new gloves, a better pair of socks, or a bigger helmet, they'll have you covered.
Cool Programs
Catamount's 4th & 5th Graders Club allows children to ski for free on weekends and most holidays with a paying adult. To join for the season, fill out an application a week ahead of time, show proof of grade, and pay a $25 processing fee. This is a good deal if you aren't season pass holders but expect to ski at Catamount at least two times during the season.
Catamount doesn't just host STRIDE adaptive skiing lessons and equipment for individuals who need special accommodations; there's even a special STRIDE room at the main Berkshire Lodge.
Special Deals
For first-timers ages 7 and older, Learn to Ski and Ride packages, including rentals, lift tickets, and lessons are available. Depending on when you go, you can also get free or reduced-price follow-up lessons. For winter 2017, prices are $80 on weekends and holidays or $60 on weekdays. For the most up-to-date information, click here.
Consider staying overnight. Lift tickets are frequently included with a room stay, making the overall cost a terrific deal. For more information on lodging, click here.
Tips
You should ski Catamount! These tips will help you make the most of your visit:
One of Catamount's perks is that its location compared to many other Northeastern resorts means that it can be a full ten degrees warmer than some other ski options. If you're deciding on a destination and the forecast says it will be cold, Catamount's a great choice.
Night skiing is available on Wednesdays, Fridays, and Saturdays. Keep in mind that it gets cold at night, but it's a great way to pack in skiing when you've got a tight schedule.
If you're renting equipment, save time AND MONEY by completing forms online before you go.
Save money on food and pack your own lunch and snacks. If you do this, plan to store items in the Taconic Lodge, which is a little quieter than the Berkshire Lodge, where more food and services are located.
Berkshire Lodge includes an abundance of overhead shelves for leaving boots and other items accessible but out of the way. Next time we come, we'll change into our ski boots in the lodge and leave our boots there instead of in cold car.
We found that some of the trails, especially On Stage, started to feel a bit "skied off" and icy as the day progressed. If you plan on tackling the whole mountain, I'd suggest hitting the mocerate slopes around the Ridge Quad early, then move on to either the nearby expert trails or the trails off the Meadows Triple as the day gets busier.
We had so much fun skiing at Catamount. It's an excellent family destination for skiing first-timers, a fun daytrip, or an economical weekend.
Enjoy skiing at Catamount!
When we visited Catamount in July 2017, lift tickets cost $66/adult, $56/junior (ages 7 to 13), and $20-$30/child 6 and under, depending on which lifts they'll use. For the most up-to-date information, click here.
---
© 2017 Katie Beltramo
Katie Beltramo, a mom of two, is editor of Kids Out and About for New York's Capital Region. She also blogs at Capital District Fun. Photos courtesy of Catamount and the Beltramo family.