Review of the Corning Museum of Glass program You Design It; We Make It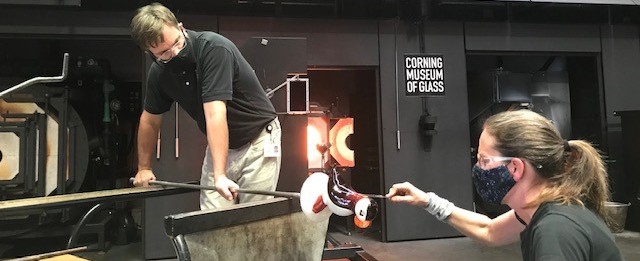 by Robin Harisis

As many families can relate, this pandemic situation has gotten long for the Harisis family. I have exhausted my ability to come up with something new and exciting activities for my kids. Mostly, I am met with blank stares when I suggest anything, from reminding them where to put their thousandth used dish or trying archery. It is all just a bit much.
Enter Corning Museum of Glass to save the day! Their program You design it; We make it has been an in-person experience for decades. Members of the public submit artwork, and the master gaffers make the drawing come to life right in front of you. Since in-person experiences are limited, CMoG has taken this popular program on-line! Children can create a drawing, snap a picture, and upload it using the Museum's online form. The glassblowers choose artwork twice a month and their talents are livestreamed on the Museum's YouTube page.
My son, age 12, sent in a drawing he did of a puffin on his dry erase board. Due to the occasional arm swipe, the puffin was in danger of being erased forever. What better way to preserve this plucky puffin than in glass! We uploaded the photo of his drawing and a few days later, we were notified that his drawing was chosen to be transformed into glass.
My family crowded around my computer to see how the bird developed out of a hunk of orange glass. There were many exclamations of "This is so COOL!" and "It's SOOO CUTE!" Watching glass creation is impressive to begin with, but when you see your 12-year-old's drawing made into 3-D reality, it is a whole new level of awesome.
This is such a wonderful opportunity, especially now, when parents are looking for ways to engage their kids in meaningful experiences while still staying safe. It is creative, unique, exciting, and engaging. It is easy to participate, the communication between the museum and family is wonderful, and it is truly a big smile moment in this pandemic world. Best of all, the whole experience is free. In fact, when it's complete, CMoG will ship it to the artist who inspired the creation!
There are themed You design it; We make it experiences until the end of the year, but they will be keeping with the bi-weekly schedule until May 2021. Here are other live stream glass demos for past You design it; We make it. These are something you will want to check out!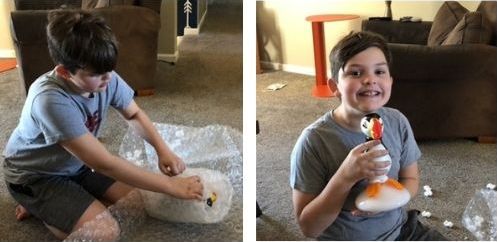 ---
© 2020 KidsOutAndAbout