Review of Disney on Ice: Mickey and Minnie's Magical Journey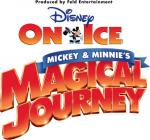 At the Blue Cross Arena, Rochester, NY
January 19-23, 2011
by June Santini
In Mickey and Minnie's Magical Journey, Mickey and Minnie are indeed on Ice, and they do have a Magical Journey, but the title is a little bit of misnomer: Mickey and Minnie make lots of appearances, but they really aren't the stars of the show. That honor belongs to the main characters in the four Disney movie scenes that are portrayed in the 1-and-a-half hour show. Lion King, Little Mermaid, Lilo and Stitch, and Peter Pan are all here. In my family's opinion, they are even more fun to see live and on skates than they are in their respective movies!
To be sure, fun costumes and innovative props (I loved the extra tall jellyfish in the Little Mermaid portion of the show) are sure to capture the attention of the little ones, but the extraordinary figure skating is what really stood out. I can only imagine (from my own experience managing large numbers of young artists in a production) how difficult it is to coordinate dozens of ice skaters in such large, lavish, captivating production numbers. Disney on Ice's choreographical and technical genius somehow avoids collisions as the skaters communicate the mood of the stories with seemingly effortless panache. The most spectacular, technically difficult skating is reserved for the pairs numbers. Prince Eric and Ariel's jaw-dropping maneuvers in their pas de deux was breathtaking, particularly for the moms in the audience who were able to stop worrying that they would get dropped and instead get caught up in the magic.
The Lilo and Stitch section ended the first half of the show with toe-tapping, fun renditions of Elvis songs and a story  line about being an orphan that will pull at your heart-strings. All is happy in the end, though, and the first half ends just the way it should, on a high note.
The second half of the show is devoted to Peter Pan. Excellent use of the two-tiered stage aids in telling the age-old story of Tink and Peter, Captain Hook and Smee. The giant pirate ship, with its giant skull, was spectacular and the medley of musical numbers left us singing in the car all the way home.
Disney on Ice is most appropriate for those who watch Disney movies over and over for the love of it, and are happy to extend that love beyond the flat screen. There are lots of us out there... everyone from the toddler experiencing his first up-close-and-personal encounter with his favorite characters to moms like me who have preteens, teens, and a tough 22-year-old Marine who can probably still recite The Lion King by heart.
---
© 2011 June Santini