Review of Disney's Aladdin at Proctors

by Katie Beltramo
Disney's Aladdin, a new national tour of the Broadway musical making its debut in Schenectady, is playing at Proctors through Sunday, October 23.
A  massively entertaining musical, Disney's Aladdin is a fantastic introduction to theater for children. The production follows the animated and live-action movie versions closely, which is helpful for kids, who sometimes have trouble following the plot in live theater. There's plenty of humor, dancing, sumptuous costumes, and effects to thrill the audience. In our production, someone ahead of us jumped into a standing ovation in the middle of the first act, and during intermission, one child stood in the aisle calling to the stage, "I love you. . . I love you. . . come back!"
The show opens in a big musical number in which the Genie (Marcus M. Martin) serves as narrator, setting the scene, joking with the audience, and introducing the characters. That's followed by the familiar story of Aladdin eluding capture after stealing some bread. Right away, a young audience member noticed something missing: "Where's Abu?" While there's no monkey, Aladdin has acquired three buddies who cavort and scheme with him as well as a dearly-departed mother who serves as his moral compass throughout the show with the refrain of the song "Proud of Your Boy," originally written for the 1992 animated film but discarded before the final cut. This gives Aladdin (Adi Roy) the chance to show off his pipes and show a little depth to his streetrat-turned-prince character. Meanwhile, Jasmine (Senzel Ahmady) is eager to escape her palace prison. The scenes in the marketplace are tremendously fun, with energetic dancing, bright and beautiful costumes, and terrific voices. Reading the actors' biographies, you'll see that there are a ton of them making their national tour debuts, and it's about time, because there isn't a less-than-great performer in the bunch.
The scheming Jafar (Anand Nagraj) is the villain without seeming too terribly sinister for little ones -- it helps that his parrot Iago (Aaron Choi) has morphed into a goofy, fawning, human sidekick who takes the scary sting out of an evil laugh by asking if it's time for the evil laugh and performs mincing choreography: together, the pair makes it clear that while they're the bad guys, they'll clearly be defeated in the end.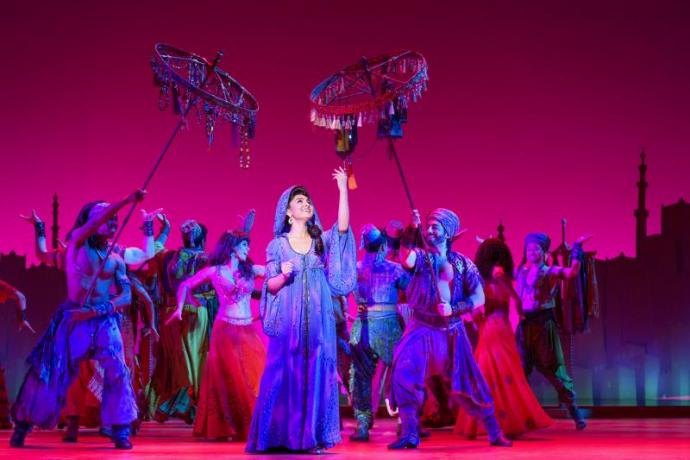 As you might expect, the Genie is a scene stealer every time with a big voice, fun choreography, and a special relationship with the audience who are his pals throughout the program. The musical takes full advantage of "Friend Like Me," the song in which the Genie demonstrates his miraculous powers: a mini-medley of Disney hits and flashy musical numbers all take place in a Cave of Wonders that becomes wondrous, indeed.
With Aladdin finally prepared to claim his princess, much of the second act is his romance with Jasmine, but audience-goers who might snooze at romance will appreciate the fight choreography as Aladdin and his pals storm the castle. If you are wondering how the characters will manage a magic carpet ride for "A Whole New World," rest assured that they do, indeed, manage to soar "through an endless diamond sky."
Firsts can be tough with kiddos. You don't want to introduce them to any new activity that's going to be a "meh" experience and turn them off for good. If you want your kids to love the theater, Disney's Aladdin is the perfect first show. They will love it, and so will their grown-ups.
What to know ahead of time:
A major theme in the musical is Aladdin's memory of his mother, who has died prior to the story.
The Cave of Wonders scene is the scariest part of the musical, but it doesn't last long. In our child-packed theater, you could actually hear children's whimpers of dismay from all over the theater, enough so that it prompted chuckling from the adults. 
There are fight scenes, but they're almost cartoonishly comical. It's unlikely that your child will get scared, but they may start asking for their very own scimitar.
Things to talk about:
There are plenty of ethical dilemmas in this plot: is it ever okay to steal? (Aladdin says at one point that "stealing food doesn't count.") How about pretending to be someone you're not? What did you think when Aladdin decides he'll break his promise to the Genie?
Aladdin wants to make his mother proud of him: is there someone you think about when you make tough decisions? Can children ever influence their parents to make better choices? (Like Jasmine and the Sultan)
There are plenty of friendships in this musical. Which friendships did you like? How do the characters act as good or bad friends?
Iago is different in the musical than in the movies -- why? Which other character is missing, and is there a substitute?  Why do you think that there aren't animals in the show?
Sometimes the characters acted like the story was real and they didn't know the audience was there, and other times, it was clear that they were putting on a show for a crowd. Can you think of examples of this? Have you seen this in books, movies, or TV shows?
And of course, if you had three wishes, what would they be?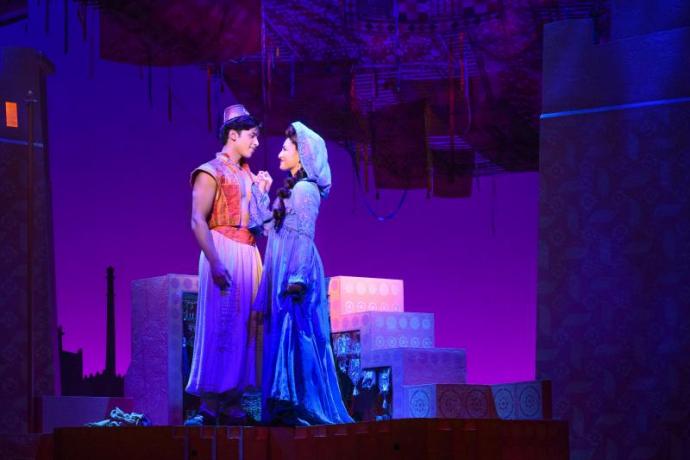 ---
Disney's Aladdin is playing at Proctors, Schenectady, through Sunday, October 23.  at Proctors. For schedule and ticket information, call 581-346-6204 or visit www.proctors.org.
The tour will continue all around the country. For dates and locations, click here. 
Photos provided by Proctors.
---
© 2022 Katie Beltramo.
Katie Beltramo, a mom of two, is communication director at Kids Out and About and blogs at Capital District Fun.