Review of the Fiery Furnace Tour at Arches National Park

by Katie Beltramo
Arches National Park is best-known for its lovely Delicate Arch, but the park contains more than 2000 naturally-formed arches as well as a multitude of other natural formations: turrets, balancing boulders, and more in gorgeous red rock. One terrific experience that requires a bit of planning ahead is going on the special Fiery Furnace Tour.
The Fiery Furnace section of Arches is not available to the casual hiker looking for a well-trodden trail. Instead, visitors hike, climb, and occasional squeeze or crawl between rocks that create a maze-like conditions. It's easy to get lost, weather conditions can be severe (extreme heat or a sudden downpour can be dangerous), and the flora and fauna are delicate. As a result, the National Park Service only allows visitors into this section of the park if they are participating in a ranger-led tour (like we did) or if they obtain a special permit.
The Experience
As soon as I began looking into Arches National Park, I was excited to reserve spots for our family. The park's website offers an overview of the experience that seemed mildly intimidating, but I knew we were up for it. We were fortunate to nab space online for a morning tour about three or four months before our visit.
On the morning of our tour, we followed directions and arrived early. The park service advises that there can be traffic at the park entrance and that check-in for the tour is one hour prior to the start time. When we arrived, we understood why: The tour itself begins at the trailhead about half an hour's drive away from where you check in. At check-in, we were reminded again of what to expect: a strenuous 2-mile hike that would take approximately three hours and would involve climbing over and around rocks, on ledges, and in tight spaces, all in a place that would, predictably enough, likely get hot. But it makes sense: the folks who sign up for the tour have a variety of skill levels, and since the group is led by a single park ranger and it's easy to get lost, there's not a way to leave mid-tour. Our one complication was that we were told at the Visitor Center that we were required to have two liters of water instead of the one we'd planned. Afraid of being turned away at the trailhead, we purchased extra water bottles and filled them, only to find out at the beginning of the tour that one liter would be sufficient.
We were greeted warmly by Alice, our park ranger, as we joined our group, and she reminded us that sunscreen and water were a must. Then we headed on our way, following Alice single file. What's great about this tour is that you're able to focus on enjoying the landscape because your park ranger will ensure that you don't get lost. Alice shared information about the geology of Arches National Park, explained how erosion forms the arches, and pointed out wildlife that we absolutely would have missed if we'd been hiking on our own (like the creatures living in the pools of water we encountered on our hike). Although some aspects of the hike were moderately difficult, there had been so much build-up about the tour's difficulty that we were surprised that it wasn't more challenging. Occasionally a member of our group would need help, and whenever portions of the hike seemed a bit extra-challenging, Alice offered up a preferred method for getting around or through an obstacle the safest way possible.
Our progress was slow and steady throughout the gorgeous landscape, and, toward the end, we paused in a sort of natural amphitheatre as Alice made some lovely concluding remarks about what we'd seen and all that's available to us around our country through our national parks and elsewhere. Then we headed back out.
Next Time
In order to visit the Fiery Furnace area, you basically have three options: Take a morning tour that was pre-scheduled online like we did, purchase tickets for the afternoon tour in-person at the Visitor Center up to seven days in advance, or purchase a permit in person (including all members of the group) at the Visitor Center up to seven days in advance. If you are not sure about your group's abilities and enthusiasm for a canyoneering-style hike, I'd plan this tour for early in your trip in Moab. That way, if you love it, you can seek out opportunities to do more local canyonnering. If you love a ton of adventure and you are skilled enough with a compass to navigate, you might prefer to apply for a permit in order to explore the Fiery Furnace area on your own. For our family, after the more challenging outing we'd spent Canyoneering with Moab Desert Adventures, my children were impatient with this tour, both because we had to wait for slower members of our tour group to negotiate tough spots and because staying in the single-file line felt rigid after we'd had a bit more freedom to follow our interests on other expeditions. Next time we go to Moab, we'll head for the Arches Visitor Center as soon as possible to increase our odds of obtaining a permit to explore on our own later during our stay.

Who Will Love This Tour?

This tour is an excellent choice if you'd like to see this spectacular section of the park and you're up for a little adventure, but you'd still appreciate the insights of a knowledgeable guide. If you or your family have difficulty with basic hiking, have a fear of heights or confined spaces, or are too large to squeeze between close-set rocks, this isn't the best choice for you. Children under 5 years of age are not allowed; children 12 and under must be accompanied by a responsible adult; one adult is required for each child 5 and 6 years of age.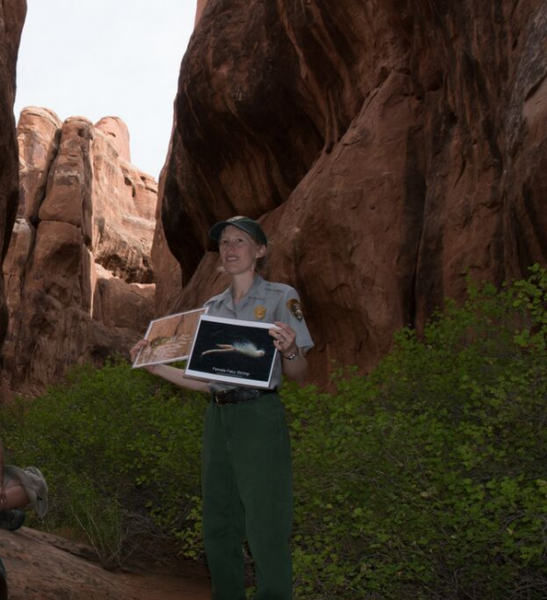 Tips to Make the Most of Your Visit
Fiery Furnace Tours are available May through September, and you can reserve space on the morning tours online. These fill up early, so plan ahead.
Keep in mind that this park is big. Travel time from the Visitors Center to the trailhead from which the Fiery Furnace Tour leaves is approximately half an hour.
Wear comfortable hiking shoes and, if you have a pack or camera, it needs to be strapped on to leave your hands free for climbing.
For any visit, plan to bring at least 1 liter of water per person and pack some salty snacks.
While there are restrooms available at the beginning of your tour, I'd also suggest a "bathroom emergency pack" for during your tour, when bathrooms will be inaccessible: store a whole stack of baby wipes and several large, sealable plastic bags in another plastic bag and keep it in the Mom Daypack always.
Don't forget sun protection.
Arches is a gorgeous park, and you can make a quick stop to see the Delicate Arch or spend days here. The Fiery Furnace area is well worth the effort of planning ahead to take part in a tour or obtain a permit.
---
On the day of our visit in July 2015, tickets for the Fiery Furnace tour cost $10/adult (13 and older) and $5/ child (5 through 12). Fiery Furnace hiking permits cost $4/adult, $2/child.  For the most up-to-date information on what's available and current pricing, click this link.  
Click here for several more KidsOutAndAbout reviews of active outdoor family experiences in the Moab, Utah area. You won't believe how much there is for a family to do in Moab!
---
© 2015, KidsOutAndAbout.com.
Katie Beltramo, a mother of two, is an editor at Kids Out and About. She also blogs at Capital District Fun.
---