Review of Hilton Garden Inn in Downtown Rochester, NY
by Katie Beltramo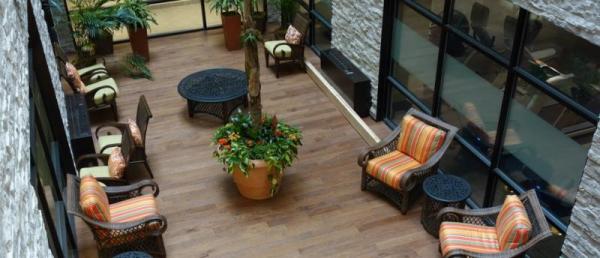 Our family recently stayed at the Hilton Garden Inn Downtown Rochester, a brand-new hotel that's in a perfect location for exploring Rochester, NY, one of our favorite places for a family getaway.

Reception
When we arrived at the hotel, we were struck right away by how unbelievably friendly and enthusiastic the staff members were as they welcomed us. Walking away from the front desk, my 12-year-old whispered, "I feel like we're VIPs!" This continued throughout our stay, with consistently solicitous folks at the front desk, a follow-up call once we were in our room, and a restaurant server who sent us off with a slice of cheesecake on a china plate to take to our room when our kids' energy expired before their appetites.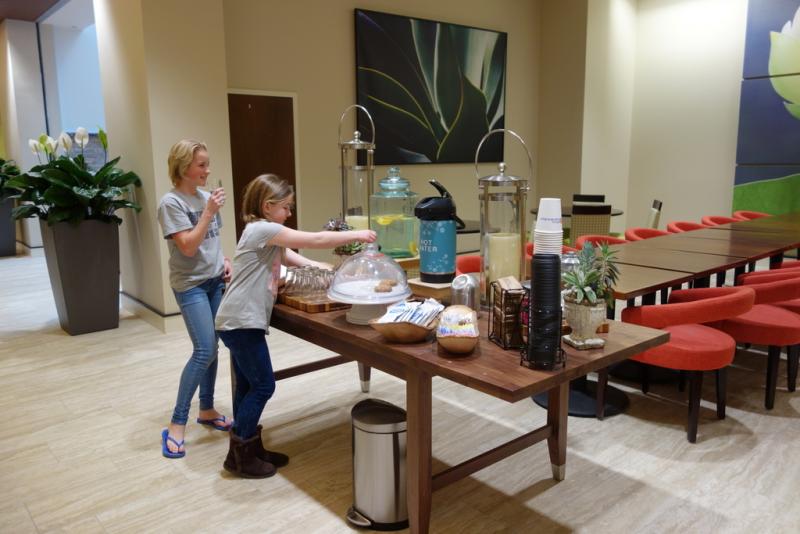 Hotel Amenities

The hotel itself is gorgeous. The building is renovated from what used to be the National Clothing Company, and fun historic photographs and salvaged architecture helped inspire the lobby and restaurant decor. See if your kids can find the old-fashioned hat on display at the bar in Drifters LB, the hotel's restaurant: it was found in the attic when construction workers were renovating the space.

From the Tiffany light fixtures (which I covet) to the gorgeous decor, the place felt almost too fabulous for my scruffy children, but luckily everyone seemed thrilled to have us there and charmed by kids in general, even when they happened to be raiding the hospitality table.
The pool
On the lower level, we found every family's favorite hotel amenity, an indoor pool. The pool is just large enough to make it fun, and its L-shape and nearby column make the acoustics particularly tricky for Marco-Polo (trust me: I know). We appreciated that the pool room is right next door to the indoor courtyard, which means that there is natural sunlight, and that there are plenty of chaise lounges and thick towels.
But, hands-down, the best feature of the pool is an innovation that is so obviously an improvement on your usual indoor pool that you'll wonder why everyone doesn't do it this way: There's a water fountain and also a bathroom that opens directly onto the pool room. Think about it: How many times have you had to haul kids out of the pool so that you can walk a child through shivery air conditioning to take a bathroom break? That won't happen here, and it's a revelation.
Our Hotel Room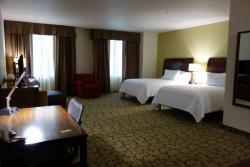 We lucked out and received an upgrade to a room that included not only two queen-sized beds, but a pull-out couch as well. When we walked in, my 10-year-old gasped, "I can do cartwheels in here!" What followed was a can/may discussion, but the important point is that both girls agreed that it was their best hotel room ever.
This larger room would be a terrific choice for families with three or more children or families who plan to stay long enough to have a 'home away from home," because it's unbelievably spacious. Along with the pull-out couch and the usual amenities, our room included a microwave, an excellent addition if you'll be bringing home leftovers or purchase one of the frozen meals in the hotel's Pavilion Pantry. The beds were comfortable, the temperature control was easy, the bathroom was very clean, and I liked having Neutrogena products stocked in the bathroom.
Food: Drifters LB and The Garden Grille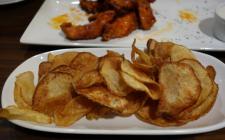 Although we'd already eaten dinner, when we heard that there were homemade potato chips, we couldn't resist a late-evening snack. Lunch, dinners, and late-night snacks are available at Drifters LB, the hotel restaurant. We loved the chips and boneless wings, and there was a well-priced kids' menu with items like chicken tenders, pizza, macaroni and cheese, and sliders for $5 or $6. High chairs are available. The menu includes standard favorites along with Southern dishes, and I found myself wishing that I hadn't already eaten when I saw Shrimp & Grits available.
For breakfast, The Garden Grille offers a self-service buffet of pastries, fruit, cereals, yogurt, and more. You can also request made-to-order omelettes as well as other hot breakfast items. While you can order pancakes, French toast, or waffles, your kids will probably want to make their own waffles. When we visited, you could stir in your own blueberries or chocolate chips. I loved my veggie-packed omelette, but the kids were carbo-loaded on hash browns. Service was quick and easy, which was good, because we had plenty to do.
Where To Go While You're in Rochester
I'm serious when I said we love going to Rochester. The hotel is less than a mile away from the Memorial Art Gallery, the George Eastman House and The Strong National Museum of Play. If you have kids under ten and you haven't visited The Strong, you absolutely must plan a trip soon. It's a terrific vacation destination. For information about other great places to go, you can check out the links below. Many of them are from my "Fun in Rochester" series on Capital District Fun, and the rest are reviews by other members of the KidsOutAndAbout team.

What Age is Best for visiting the Hilton Garden Inn Downtown Rochester?
While ours was a family trip this time, the Hilton Garden Inn Downtown Rochester would be a great destination for a grownups-only getaway or a business trip. The staff were friendly and accommodating, and with the kid-friendly food choices and pool, it's a great option for a family visit. But I found myself wishing I could spend a date night there, too.
Tips For Your Stay:
The address is 155 East Main Street, but you'll want to follow hotel directions to Stone Street, between East Main and Broad Street. Just left of the hotel entrance, there's a parking garage where hotel guests can stay for free.
Don't forget to bring swimsuits! But remind the kids not to run around the pool--the tile gets very slippery when it's wet.
If you're considering whether or not to bring workout clothes, bring them! The exercise room is more spacious than you'll usually find, and if you visit soon it might still have what my 10-year-old called, "That new car smell."
Ask about AAA discounts and the Hilton rewards program to get your best deals.
Reservations
For more information, check out the Hilton Garden Inn Downtown Rochester site for current room availability and rates.
---
© 2015, KidsOutAndAbout.com
Katie Beltramo is editor of KidsOutAndAbout.com-Albany and also blogs at CapitalDistrictFun.com.