Review of The New Children's Museum in San Diego

by Meg Brunson
Our first destination in San Diego, the New Children's Museum was bright, colorful and inviting even from outside. We could not wait to get inside and explore.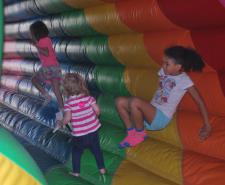 One of the first exhibits we saw was a huge inflatable bouncy tube.  The exterior was solid white (like a cloud) and the inside was every color of the rainbow.  All of the children excitedly tossed their shoes aside and jumped to their heart's content. I firmly believe that had we not forced them to move on to another area, we could have spent the whole day glued to that spot, and they would have jumped until closing.
Luckily, forcing them to move into another area of the museum only brought more fun and adventures.  There were so many opportunities for creativity and art - for kids of all ages!  My oldest gravitated towards an area where she was able to make a greeting card for a relative back home.  In addition to the typical craft supplies you would expect to have available to you for card making, they had tiny lights and batteries that you could use to add lights to your project.  The New Children's Museum had staff members supervising all of the areas of the museum, so when Kailyn (9) expressed an interest in making a card with the lights, one of the staff instantly began working with her one-on-one to not only make her vision come to life, but teach her about how the electrical circuits work so that she could adhere the battery to one part of the card, and run a wire (from a pipe cleaner) to the lights.
The younger children enjoyed creating masterpieces with more traditional craft supplies like yarn, sticks, feathers, paper, and clay.
In addition to arts & crafts, the New Children's Museum of San Diego provides multiple age-appropriate areas of discovery focused on gross motor skills.  There was an area for the little ones and a separate area for the older children - allowing them all the opportunity to climb, jump, run, and play with their peers.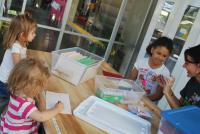 I loved the open feel of the museum inside and out.  Spread across three levels and located on the corner of a city block, the building has plenty of natural light, outdoor spaces, and open air.  There were also numerous places where you were able to look up or down and see different exhibits of the museum as well.  As a matter of fact, the Museum is one of the first green museums in California, reflecting the Museum's commitment to environmental sustainability.
We successfully spent the majority of the day at the museum, playing & creating. The museum offers a cafe for lunch, and the surrounding neighborhood also has plenty of little shops and restaurants within walking distance.
Click here to learn more about The New Children's Museum.
For updated admission prices and other visiting specifics, click here.
---
Click here for more vacation reviews in the West or click here for vacation ideas across the country.
---
© 2017, KidsOutAndAbout.com
Meg Brunson, a mother of four, is Phoenix editor of KidsOutAndAbout.com.