Review of Seabreeze Amusement and water park in Rochester, NY
By June Santini
Seabreeze is one of the nicest parks in western New York; it is clean, affordable, and (generally) not too crowded. It is a family-owned business that genuinely cares about promoting a family-friendly atmosphere. Most parents in Rochester already know this. But of course, I have more to say about it.
When my kids ask me to go to Seabreeze, I don't find myself mentally running through nightmare scenarios about the lines, the parking, or the expense. And that is because the lines are typically short, parking is free, and the expense is minimal. (And, read on to find out how you can minimize it even more.)
One thing that distinguishes Seabreeze is its sense of history and days gone by. The park features Victorian details, and there are many examples of restored original fixtures, like the lamp posts in front of the train station. After a 1994 fire destroyed the original 1918 carousel, a reproduction was lovingly built with hand-carved horses and hand-painted scenes depicting life in upstate New York.
For Jeff Bailey, Seabreeze public relations manager, that fire that really brought home how much the history of Seabreeze means to people in Rochester. He witnessed people come into the park and lay roses on the ashes of the carousel and mourn the loss of something that had been a part of their own families' stories for as long as they could remember. He told me how, for many families, the first time a child is tall enough to ride the Jack Rabbit marks a rite of passage; it is noted and celebrated from generation to generation.  It is that sentimental feeling, in addition to a great time, that keeps generations of Rochesterians returning summer after summer to enjoy the not-too-big, not-too-small park. In my opinion, the size of the park is one of its greatest assets.
As parents, we all struggle with letting go and giving our kids the independence they want and that they eventually must have; at Seabreeze, you can give a little more slack on the reins. It is the perfect size to let them think they are going off on their own; however, you can station yourself strategically so that you can pretty well monitor their comings and goings within sections of the park.
One thing you will see at Seabreeze that you will no longer see at virtually any other amusement park is picnic areas within the park. Families are allowed to bring coolers and picnics into the park with them. This is an amazing privilege, in my opinion. We always bring our lunch and plenty of bottled water, so we both save money and eat more healthful food. (We also traditionally buy at least one treat, because after all, what is a trip to an amusement park without an ice cream cone or a funnel cake?).
Shelling out hundreds of dollars to take preschoolers on vacation to a place they may only marginally appreciate seems silly to me. Seabreeze lets younger kids have a better time—they're not dragged from attraction to attraction—and at a tiny fraction of the cost. The admission cost for an adult Ride and Slide pass of $26.99 is very reasonable, and you can feel really good that your littlest ones are enjoying themselves in the Soak Zone and Looney Lagoon (little kid sized water slides!) in the water park or the old-fashioned boat ride; I love seeing the kids squeal with delight as they ring the bell and shout "Look at me!" to their parents.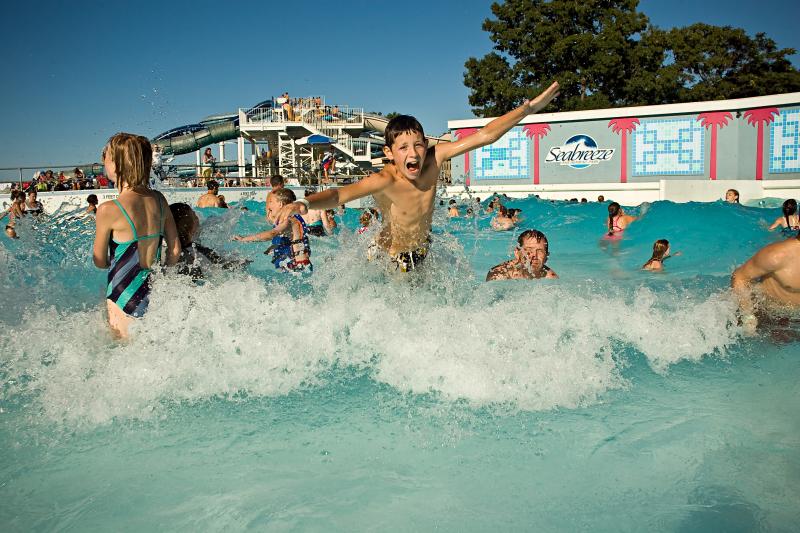 Bigger kids, too, will have a great time in both the water park and the ride side; just this year they have added a new thrill ride Revolution 360. Three of the four kids I took to Seabreeze on a beautiful July day pronounced it "Awesome!"
Old favorites still await, such as the Bobsleds, a coaster that is a unique combination of wood structure and tubular steel track. Originally patterned loosely on the Matterhorn at Disneyland; the Bobsleds is still considered ingenious in its use of gravity to propel it.
The water park has one of my favorite features: shaded tables and chaise lounges where I feel quite comfortable relaxing, reading a book, and providing cold drinks for the kids from the cooler as they check in with me every now and then between water slides. I, too, ventured out to one or two slides down some of the tamer slides, such as the Inner Tube Slides and the Lazy River. I'm sure many of you parents are more adventurous than I, so rest assured you can find thrills on the Helix and the Body Flumes. 
Top Tips for a Fun Day At Seabreeze:
Rent a locker for the day: it's $5 and will give you a place to leave your valuables while you go in the water; the key is on an elastic band you keep on your wrist. (Pack lightly, the lockers are small.)
Bring your lunch. No glass bottles allowed.
Do the wet rides first; you can change into dry clothes, go down the hill to Bill Gray's for dinner, then return to the park and do the dry rides.
If you wear glasses, you can purchase a lanyard to secure them on the water slides at the Surf Shop; you must have one if you wear your glasses on the slides.
As always, wear that waterproof sunscreen; don't blame me if you get burned!
---
© 2013, KidsOutAndAbout.com