Review of Splash Lagoon Indoor Water Park in Erie, PA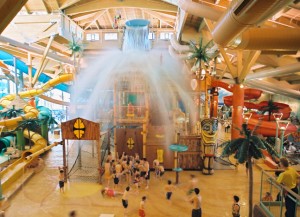 Splash Lagoon
Indoor Water Park in Erie, PA
A Review
By Debra Ross
I am sitting 20 feet away from where my 7- and 9-year-old daughters are waiting under the Tiki Tree House for the bucket above to drench the waiting throngs below with a thousand gallons of warm water. The horn has just blown to let everyone know the bucket is about to tip—which it does about four times each hour—and kids are hurrying from all corners of the indoor water park to be part of the fun.
I also have a view of the snow that since yesterday has been drifting gently against the windowpanes that let in plenty of natural light. The weather outside is easy to ignore. The temperature out there is 18 degrees, but in here, both the air and water are 84 degrees. My girls, despite having stood beneath the Tiki Tree House a dozen times since we arrived yesterday, are hopping around with the rest of the kids in excitement, anticipating the big splash. They are happy.
I am happy, too. We are on Day 2 of a two-day vacation at Splash Lagoon in Erie, PA. I could be in front of my laptop at home, getting work done. Instead, I am in front of my laptop at Splash Lagoon, getting work done. Although the wireless internet in the breakfast area of the Holiday Inn Express does not extend all the way into the water park, and despite the fact that it's far too loud in here for a cell phone conference call, I am still doing plenty. Although it is a Friday in January in the early afternoon—therefore not yet very crowded—I can see I am not the only parent who had this idea. And, I will confess, periodically I put the laptop in the locker we rented, and join the kids on one of the slides, in a tube on the Lazy River, or in one of the two family whirlpools.
---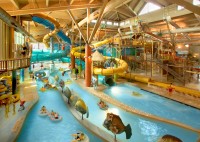 Splash Lagoon draws happy customers mainly from upstate/central/western New York, Pennsylvania, and eastern Ohio, as well as Ontario, Canada. It opened in 2003, expanded in 2006, and will expand further in late 2009 with the addition of a wave pool. It is owned by Scott Enterprises.
Splash Lagoon has five slides, two "extreme" water rides, a sports pool, a shallow-water little-kids pool with appropriately-sized slides, a splash pad for tots, the Tiki Tree House ("twelve levels of wet, wild activities"), two family hot tubs, and an adults-only whirlpool. Everything is indoors, although some of the covered slides stick out of the building (though not open to the elements). Most of the slides are appropriate for about age six and up, although the extreme rides were a bit too exciting for my girls.
Scott Enterprises owns three hotels—a Holiday Inn Express, a Marriott, and a Comfort Inn—that are connected directly to Splash Lagoon so that customers can avoid having to go outside for the entire length of their stay, should they so choose. In January, that seemed to me to be well worth the extra cost. "Staying in one of the attached hotels is the best way to go," Miriam, from Brockport, NY, assured me. "You can walk in and out of the place without ever going outside. Great in winter months for sure!"
We stayed at the Holiday Inn Express, but plenty of other vacationers stay in some of the other nearby offsite hotels. "We found that the EconoLodge across the street from Splash Lagoon offered the best package rates," said Alyson, from Bergen, NY. "They had an amazing Continental breakfast that included everything from fresh fruit to homemade waffles. They also had a wonderful indoor pool and hot tub."
Food
"We take our food seriously," Nick Scott, President and Owner of Scott Enterprises, told me when I interviewed him at Splash Lagoon. His father had started in the hospitality industry in 1945, and the company currently owns several restaurants in addition to its hotels (both franchised and original) and water park. Indeed, while the Laguna Grill, the fast food style restaurant inside Splash Lagoon, was priced comparably to amusement park food, it was a notch above the rest in quality—the chicken Caesar wrap was delicious, and the portions were large. My recommendation: If you have two kids, make only one of their entrees into a "meal" and let them share the fries and drink; there will be plenty to go around. If you are staying in an attached hotel and have not yet checked out, you can charge your meal to your room so you need not bring cash with you into the water park proper.
The park requests that you not bring your own coolers of food unless it is baby food, or accompanied by a written consent from a doctor for medications or food allergies. My sense is that the attitude of the employees is quite cheerful and relaxed, so I would not expect them to be vultures about this issue.
Several chain restaurants, including Applebee's, Quaker Steak & Lube ("best wings in the USA"), and Boston Pizza, include delivery right to your room, at no extra charge. There were buttons direct to these restaurants on our hotel room's telephone. My kids were wet, and very tired from all of the swimming and sliding, so we chose Boston Pizza to deliver to our door, at a total cost of $38. The current special is that you get a large pizza for the same price as a medium pizza (about $14). I happened to order Boston Pizza's new "Italian Trio" in addition to the large pizza, and, though the Chicken Parmesan and Fettucine Alfredo were delicious, it was too much food for the three of us; we would have been fine with just the pizza. So I froze the remaining pizza in the little freezer that came with our room and stored it in the car on the day we left (no danger of it melting!) and reheated it at home. It held up well.
Cleanliness
One aspect of Splash Lagoon that struck me immediately was that, unlike many amusement parks, it was clean—clean, clean, better-than-even-Disney clean. And not institutional, smells-like-Lysol clean, either, not like a hospital. There wasn't a speck of trash anywhere, not a hint of dirt in the changing rooms, and nothing to watch out for on the floor of the water park. I suspect that the sheer sparkling quality of the place makes the people who visit even less inclined to dispose of their trash improperly—not that any of the guests seemed to be the kind of person to be disrespectful of property.
Speaking of clean, I was treated to a private underground tour of the equipment: tanks and pumps that filter the 400,000 gallons of water that cycle through the park, every four hours. Mr. Scott told me that Splash Lagoon also brings local school groups to this restricted area to teach them about hydraulics, filtration, viscosity, and other principles of fluid dynamics. They are planning a home school program as well.
Lockers
When I asked for recommendations from readers about Splash Lagoon in advance of our trip, one of the main suggestions I received was to rent a locker. You might think: A locker for $5? Yes, but it was well worth it. Get the big locker (the small one was $3) if you need to store several big items like coats. We had three coats, a purse, a tote bag, and (at various points) my laptop bag, and they just barely fit the large locker.
Arcade
When my girls were ready for a little change after several hours of swimming and sliding, we headed upstairs to the Treasure Island arcade. The arcade has typical hotel- or Chuck-E-Cheese-level arcade games. My girls were happy that they also have Skeeball, my favorite (much of my time in the early 1980s at the Jersey Shore was spent perfecting my Skeeball toss), so that I could win tickets for them. Instead of using change or tokens, most of the games use a swipe card that you can purchase, for any value you like. I bought 80 points for $20, and it kept my two girls busy for 40 minutes.
Splash Lagoon also has a LazerTag area, but we did not visit this. Miriam, one of my readers who gave me some details in advance, told me that "if you get laser tag passes, you do have to go outside to get there. Schedule a time there ahead of time, otherwise it will be full, and you will lose out and not be able to go, and lose your money. There are no refunds on that (we had that happen last time we were there)." Sounds like wise advice.
Age Recommendations
Many families have children with a wide age range, and are on the constant lookout for an activity that has "something for everyone." My assessment: Splash Lagoon is appropriate for kids from the very young through teenagers. If you are wondering whether your teen will have a good time, the answer is yes. The same thing for your toddler, elementary-age child, or hard-to-please middle-schooler. I watched faces carefully. There were plenty of tots, teens, and every age in between. No one looked grumpy, bored, or sullen.
Waiting in Line
Everyone who visits an amusement park knows that queuing is part of the package. And, I am told, if you visit Splash Lagoon on a busy weekend, or during March and April spring breaks, you may have to wait for some of the slides. "But it's really a maximum of 20 minutes at absolute peak," Mr. Scott assured me. His sentiment was echoed by several readers.
Towels
Splash Lagoon provides small hotel-quality towels for hotel guests inside the water park—do not bring your hotel towels into the park! However, the mom of a Pittsburgh-area family visiting when we were there told me that at peak times, they run out of towels. "Besides," she said, "you just can't beat your own snuggly beach towel wrapped around you." I concurred. I was glad we had brought our own towels—plus, they clearly marked our chairs.
Safety
Because my kids are not that young, they are at an age when I didn't need to watch them every minute. I felt perfectly safe with them out of my sight for half an hour at a time, both because the park is guarded against outsiders, and also because the only place where they might get in water over their heads is the six-foot pool into which Hurricane Hole drops—and my kids were not interested in either of those. (By the way, only Coast-Guard approved life jackets are permitted inside Splash Lagoon, and then, not on any body slides because they may damage the equipment. But unless you have special circumstances, you won't feel that you need a life jacket.)
For those with preschoolers that do need constant watch, there is adequate seating near Monkey Shines Island, as well as a nearby bathroom with changing tables (by the entrance to the Marriott).
Park officials explained that when a child is reported missing, the park shuts down the exits until the child is found, and that in their six years in operation, all such incidents have always ended well.
All lifeguards are trained by Jeff Ellis and Associates, a service used by 96% of water parks in the world to license their lifeguards. Training time is 40 hours, with periodic refresher courses and audits. There are many attentive lifeguards in every corner of the park.
When to Go
Splash Lagoon is open all year, and gets busiest in March and April. This seems to be because Spring Break for schools in Pennsylvania and Ohio is in March, but I would guess that it has partly to do with the fact that by the time March rolls around, people up here are tired of winter and need a break. For us western New Yorkers, Winter Break for our kids typically happens in February; the Splash Lagoon folks agreed that it is very busy there during that week in February, but not quite to the extent that it is later in the winter.
I agree with most of the folks in my informal survey, both at the park and of KidsOutAndAbout.com readers: The best "bang for the buck" of Splash Lagoon can be had in a one-night, two-day stay. Some of my readers said they stayed for two nights and enjoyed it a great deal. But, even though I can't say that my kids were exactly ready to drive home at the end of the second day, I think they found the whole experience as enjoyable and as memorable as if we had stayed three days. And, I personally felt refreshed after two days in a "warm climate," and ready to head home.
Splash Lagoon is not open on Tuesdays or Wednesdays in January, February, and March, except for Winter and Spring Break weeks. I can vouch that if you want to go there at a quiet time, go on Thursday/Friday. I heard that Sunday/Monday is also fairly calm, although if you go on either of these pairs of days be aware that the water park does not open until 10am. This can be great if you like to sleep in, but less ideal if your little swimmers wake you excitedly at six o'clock. Park days and hours can be found here.
Several readers told me that to get the most for their money, they got up early at home on the first day to drive so as to be at the park shortly after opening time.
What to remember to bring
Beach shoes/sandals/flip-flops and beach/pool cover-up for traipsing back and forth from hotel room to pool, if you are staying in an attached hotel
A pool bag
Beach towel per person
What not to bring
How much will you spend?
Splash Lagoon allows day pass sales, unlike some other indoor water parks such as Great Wolf Lodge, which only permits overnight guests to use their facilities. Day passes rates are, as of this writing, $34.95 for people over 48 inches tall ($24.95 after 4pm) and $24.95 for folks under 48 inches tall ($17.95 after 4pm). Spectator-only day passes are $7.95, and kids under 2 are free.
So, if you do your math and look at some of the packages, you will see that it is cheaper for a family of four to stay overnight with a package that includes day passes than to stay with local friends and buy day passes for two days.
Weekend nights are more expensive than non-weekend nights during the winter, and tend to fill up faster.
Example: On the Monday/Tuesday of Winter Break in February, as of this writing you can get a package at the Holiday Inn Express that includes overnight accommodations in one of their special Kids Suite rooms, Free Breakfast and Two-Day Splash Lagoon Passes for a family of four, for $299, and $309 on the weekend. The same type of package, but in a standard room at the Comfort Inn (which is also attached to Splash Lagoon) is $209 on that Monday night, and $249 on the weekend, and $179 on a Sunday/Monday that is earlier in the season. In comparison, the same type of package, which includes two days of passes but lodges you at the EconoLodge across the street, is $139 on the Monday of Winter Break. In other words: The hotels vary in amenities and pricing depends on the time of the year, but I found something to accommodate every type of budget.
For special package deals, click here. Reservations can be made online, or call 1-866-3-SPLASH.
Expect to spend at least $40-$50 per meal for a family of four, although breakfast at all associated hotels is free. (The Holiday Inn's continental breakfast during our stay was only so-so—the variety was minimal and the juice machine was broken—but I've heard nicer comments about the offerings at the Marriott and EconoLodge.)
Random Notes because I'm a mom
Only children age 12 and older can be left in the water park on their own; you need to be physically in the water park, and not in your room, with younger kids.
The tap water tasted good. My kids are pretty sensitive to tap water. I always find that the tap water in Florida tastes awful, and I buy endless bottles of Aquafina. But the Erie tap water was fine, and we did great with a bucket of ice and what came out of the faucet in the hotel room.
Our room at the Holiday Inn Express had a microwave and small refrigerator, which makes a world of difference when your child craves a nice warm mug of milk at bedtime as mine does. If these conveniences are important to you, make sure you call to ask which types of hotel rooms have these amenities.
There was no separate light in the Kids Suite at the Holiday Inn Express, probably because the wall separating it from the rest of the hotel room was just a 3-quarter wall, so it got the light from our section. I would have preferred a full wall (especially for noise reduction), and a lighted kids' area. 
The Kids Suite also had a big whirlpool tub. This was a BIG hit with my kids—we don't have one at home.
I found the information page located hereto be very helpful in understanding the rules of Splash Lagoon as we planned our trip.
In summary
Does Splash Lagoon make for a great, inexpensive, mid-winter, easy-to-drive-to getaway for me and the kids? Yes. Is this a romantic little overnight appropriate just for me and my sweetie? No. I wouldn't come without the kids; there would be little point.
Ways we would make Splash Lagoon better
Having a wireless internet connection makes my ability to do my job much easier, as it does for increasing numbers of parents these days. It would not take much for the folks at Scott Enterprises to make sure we could access wireless internet in the park proper, and I think they should do it.
I asked my kids this same question: How would you make Splash Lagoon better?
They looked at me, puzzled, for a minute. Then Madison, my 9-year-old, cried triumphantly, "I have it! They could deliver our pizza to us right while we're sitting in the Lava Pool."
"Well, I don't think they'll risk getting the pool water dirty," I explained.
"You're such a grownup," she complained. Then she paused, reflectively. "On the other hand, you are the grownup that took us to Splash Lagoon."
That puts me pretty high on the Cool Mom list, it seems.
---
© 2011 KidsOutAndAbout.com