Review of: The Woodlands Resort and Conference Center
What better place to have a vacation than right in town at a fabulous hidden gem...no airline fees, no car sickness, no "are we there yet?" The Woodlands Resort and Conference Center is the perfect location to have a staycation around Houston. (Or if you're not from around Houston, the perfect place to stay and play.) 
We recently visited The Woodlands Resort and Conference center and every single family member had a relaxing, fun vacation - without the road-trip blues. Even the teens were happy! If you choose to staycation at the resort, here's a rundown of what you'll find.
Activities for All
All ages from 0 to 90 will enjoy a variety of activities. Family activities and specials typically run from Memorial Day to Labor Day each year. Be sure to check their website for details.
Forest Oasis Waterscape
We spent most of our time enjoying the various water features at the resort encompassed by the Forest Oasis Waterscape. It truly was an oasis. My absolute favorite was the lazy river. The kiddos enjoyed both unique freeform pools, including multiple waterfalls. The resort has free activities for families every single day (see below).
Along the lazy river, you'll enjoy soothing plants, flowers, and trees rather than tons of concrete. It is a very feng shui experience. Inside the lazy river there are alcoves for a kiddie water slide, a wave hideaway, and faster and slower sections. There's a patio overlook so you can wave to friends and family as they go around.
The pools have a "dive-in" movie every night with shows the whole family can enjoy. If there's a threat of rain, they move indoors to the big conference center. Free popcorn is served. Hint: There's a hidden hot tub alcove for adults while the kids watch the movies. There are two bigger water slides at the big pools in addition to the one inside the lazy river.
A splash pad provides excitement for the littlest ones, and there's also a shallow kiddie pool as well. By the way, there's plenty of shade all around, with foliage and shelters to get out of the sun.
Hiking/Biking Trails
Attached to the resort are trails leading to The Woodlands trail system where you can walk, jog, or bike on any of their 200 miles of trails. This is a perfect way to enjoy nature, get out of the direct sun, and stop and smell the roses.
Game Room
Kids 12 years and older can enjoy the indoor game room where foosball, air hockey, pool, Xbox, and arcade games are available. This comes in handy as a break from the pool.
S'mores, Karaoke, Dance-offs, and more
Poolside activities run from 12 noon to 6 pm each day. These activities are free...and fun! Make your own s'mores at the fire pit (guided by plenty of supervision if necessary), dance-offs, trivia contests, Jenga tournaments, and so much more! Here's an example. Plus, there are food specials each night at the poolside Cool Water Cafe.
If anyone in your family plays golf or tennis, that's available as well. We didn't make use of these, but the facilities were well-kept and in great shape.
Nearby Activities
You would never know it by looking around, but The Woodlands Mall, Market Street, Riva Row Boathouse, and the Cynthia Woods Mitchell Pavilion are all within a few minutes of The Woodlands Resort and Conference Center. We popped over for a movie and shopping a couple of days. It was nice to skip traffic and just cruise to the heart of The Woodlands.
The Spa
Beside the lazy river, THIS was my favorite. Parents, be sure to treat yourself to a massage at the spa...along with complimentary sauna and steam rooms. Everything here seems designed to reduce stress. Then you, too, can say you took a vacation and actually relaxed!
Be sure to plan your time before or after your spa treatment to enjoy the showers, sauna, and steam rooms. I loved extending my relaxation juuust a bit more. 
Food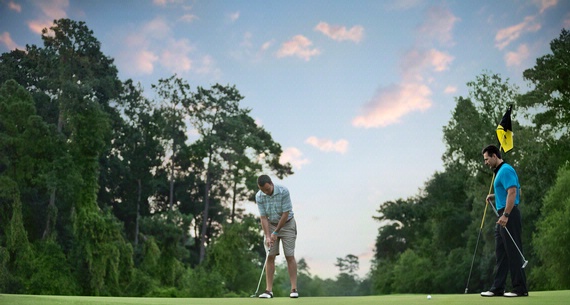 I enjoyed the fact that we didn't need to go off site for food. There are quite a few dining options for everything from breakfast buffet to elegant dinner: Cool Water Cafe, The Bistro, The Woodlands Dining Room, and Robard's Steakhouse. Of course, room service is offered too. 
This getaway is amazing. Rooms are gorgeous and modern - our patio even opened out to a trail by the pool. The property is quiet and elegant. An oasis, and a staycation you won't forget!
Check out The Woodlands Resort and Conference center here.