Rides at Disney World's Hollywood Studios
by Katie Beltramo
When we visited Hollywood Studios, the hottest ride was Toy Story Mania! This was our first thing in the morning, walk-very-quickly-to-get-Fast-Passes destination. For our family, it lived up to the hype. Designed to look like a classic carnival, the ride features spinning, 3-D glasses, and shooting at things video-game style. Everyone loved it. Except me.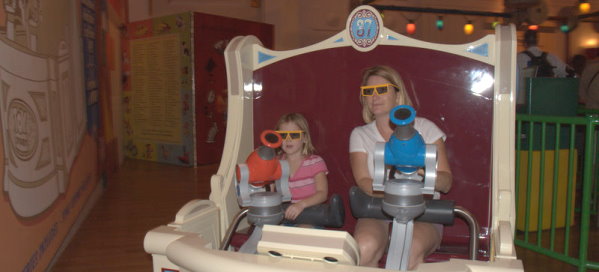 No, I hate all of those features. My daughter who is prone to motion sickness, however, thought it was fabulous. Each rider racks up a score for their play, which makes everyone (except me) go again and again to improve their score. Clever, right? Check out details of the game online ahead of time so your kids will know how to play ahead of time.
Another great ride to repeat is Star Tours. Guests are escorted onto a Star-Wars style ship, and with the help of a 3-D film with some favorite Star Wars characters and plenty of sound and motion effects, the ship finds itself in danger. Each time you ride, the story and characters are different, so if you like it the first time, you'll want to go again. However, this ride produced some of the worst cases of motion sickness in all of the parks. If you are prone to motion sickness and/or don't love 3-D effects, I'd skip the ride altogether. This ride has a 40-inch height requirement.
A classic Disney ride is The Great Movie Ride. If you have limited time in the park, I'd probably skip it. Movie fans will enjoy recreations of movie scenes with the animatronic figures for which Disney World is well known. It is good as a "rest" ride if you feel that you need a break from the action, but with young children, it probably isn't worth waiting in line for very long.
The Rock 'n' Roller Coaster Starring Aerosmith, with a 48-inch height requirement, is a newer coaster. It includes loud Aerosmith music, super-high speeds, and 3 inverted loops, all of which takes place indoors, where it's almost entirely dark except for neon signs. This is a fun coaster, and the darkness adds an extra element of scariness. It felt more jerky than the other coasters, so I'd avoid it if you have neck issues. This was one of the rides that offers a singles lines, and the grown-ups in our group couldn't resist returning to this one.
Close to the coaster in the Sunset Boulevard neighborhood, you'll find The Twilight Zone Tower of Terror. This ride has only a 40-inch height requirement, but it will be too scary for many who are in the 40-something inch range. This was my favorite ride in Hollywood Studios. Walking the line and entering the mythical Hollywood Tower Hotel is atmospheric and creepy. The cast members do an excellent job of keeping in character for a ride that's also a convincing and fun performance. And the ride, which consists entirely of going up and down, quickly, didn't bother anyone with motion sickness issues. In fact, some of our group felt that the ride itself was a bit of an anti-climax after the build-up approaching the part before we strapped ourselves down. But fans of The Twilight Zone absolutely shouldn't miss it.
---
© 2012, Katie Beltramo
Katie Beltramo, a mother of two, is Editor of Kids Out and About-Albany and blogs at Capital District Fun.