Sea World Review
by Sarah Lephart
Visiting Sea World in Orlando with a toddler can be a great experience, because this theme park features more activities of interest for little ones than almost any other theme park we visited in the Orlando area. Even though they can't accompany their older siblings on the bigger-kid rides, there is plenty to fascinate, educate, and enthrall your toddlers and preschoolers. This article tells you how to make the most of your visit to Sea World Orlando with your youngest family members.
Here are a few quick tips to know before you go.
If you purchase your tickets online in advance, you can save $10/ticket. Our group visited with seven children ranging from age 2 to age 12. When you go with a big group like we did, buying tickets in advance saved us over $100!
You'll want to do the extras
Be sure to bring some extra cash with you. If you plan to feed the Stingrays or the Dolphins, you will want to have some money to pay for the food. There are also a lot of places to play games or buy caricatures or for kids to get their faces painted. This is good to know ahead of time, so you can set up boundaries or a budget before you arrive at the park.
Plan your trip for big kids and little kids
When we first arrived at the park we visited was the Manta Aquarium with the younger children while the big kids rode on the Manta roller coaster. It was neat that the big kids could see the aquarium while they waited in line for the roller coaster while we were looking at it from inside the aquarium. The aquarium had a neat tunnel for the kids to climb in and then stand up and look around like they were inside the aquarium.
Our next stop was the Stingray Lagoon, our little ones loved feeding the stingrays and reaching in and touching them. Know that you will most likely get wet while feeding the Stingrays; they like to splash!
Next we went to see "Clyde and Seamore take Pirate Island." This is a fun show for kids of all ages, and we were able to enjoy this with the entire group!
We also went to "One Ocean," which is the Shamu show. We split up for the "One Ocean" show, because all of the older kids wanted to sit in the Splash Zone, while our little ones weren't so sure about getting that wet. I am glad we sat back further with the little ones because the rest of our group got really wet!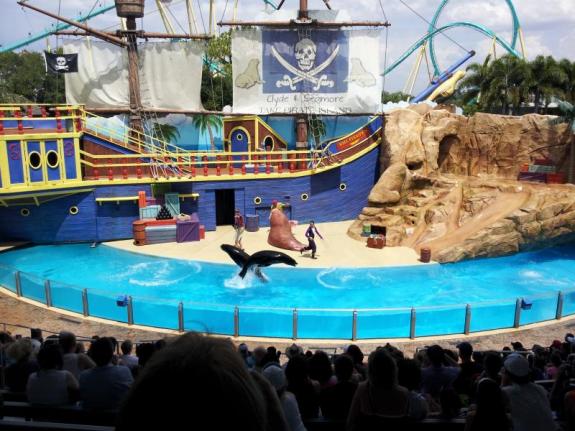 There are a lot of shows at Sea World; you could spend your entire day going to shows, so I suggest picking a few the day before and checking out show times so that you can plan your day accordingly.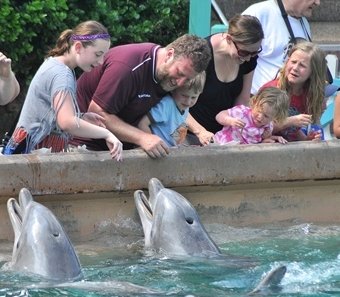 Another stop for us was to feed the dolphins. This was such a neat experience for our whole group. From the youngest to the oldest, all of us loved the opportunity to reach down and pat the dolphins as we fed them.
Just for the younger kids
There are also some fun little rides for the younger ones in our group. While the older ones went to ride on the Kracken, the smaller ones in the group ventured onto Shamu Express, a very small roller coaster with some fun twists and turns. There are also some spinning cups and a climbing area in Shamu's Happy Harbor. If it is a hot day, kids can wear their swimsuits and play around in the water works area, where there is ample opportunity for little ones to get wet.
In summary. Sea World Is a great place to visit with kids of all ages. Even the littlest ones can enjoy many of the activities at Sea World. Whether it is feeding the animals, walking through the aquariums, watching the shows, or playing at Shamu's Happy Harbor, your little ones will have a great time spending the day at Sea World.
So print out this article, pack some swim diapers and an umbrella stroller, and head to the park!
---
© 2013, KidsOutAndAbout.com
Sarah Lephart is editor of KidsOutAndAbout for the Ann Arbor - Detroit area.
---