Swimming and Learning at Canaveral National Seashore in Florida
By Meg Brunson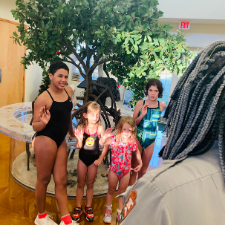 Canaveral National Seashore was the perfect combination of two of my favorite things: an ocean beach for swimming and a national park!
With our America The Beautiful Annual Pass (which we previously purchased for $80) we benefitted to free admission. Without a pass, there is a fee per vehicle (if you drive in) or per person (if you walk/bike).
Inside the visitor center we obtained Junior Ranger books for the kids, which guide them through learning about the park and conservation efforts. We also had the opportunity to watch a brief movie on the park, and examine a few different exhibits within the center – before heading out to the beach!
What we loved most about this park was that it was completely un-developed. There are no restaurants, shops, houses – just the natural ecosystems. We saw a variety of birds and animals including a bunch of armadillos and a big turtle. We randomly decided to visit the beach from Parking Lot 4, as we enjoyed the drive past Lots 1-3. At the lot there was a restroom, then a deck leading down to the beach. There were a few other people nearby, but far less busy than we expected. The water was chilly at the beginning, but we adapted quickly and played for what felt like hours!
When we were all swam out (us parents at least!), we made the trip back to the visitor center where we went to check out the river-side of the park (which is a barrier island). I could not believe it – as soon as we arrived we experienced a dolphin swimming right beside the dock and we watched her explore the river a bit before swimming away. A fisherman in the area said the dolphins are frequently spotted there, as are manatees from time-to-time. Unfortunately we did not see a manatee – but we were thrilled to observe a dolphin in the wild!
Tips for a wonderful visit:
Pack a lunch – this is undeveloped beach-front, so there is nowhere to buy food. If you want to eat at covered picnic tables, there are some behind the visitor center on the river-side. There are some tables at the parking areas but they are not covered.
You probably want to avoid Parking Lot 5 – this is the "clothing optional" area of the beach.
Prepare to "unplug" – cell service is very limited!
There are vehicle entry fees if you don't have the America The Beautiful Annual Pass – it's free for passholders!
This is a great spot for viewing launches from Kennedy Space Center – but come early. The park will close to new traffic once capacity is reached.
Start planning your trip to Canaveral National Seashore at https://www.nps.gov/cana/index.htm - then, read about some of the other adventures we're having on our Year-Long Road Trip!

---
© 2019 Meg Brunson
All opinions expressed are my own. See more on Instagram!
Meg is a mommy blogger, Facebook marketer, and much more. She is a mom to four kids who live full-time in an RV exploring the US! As a former Facebook employee, Meg remains a Facebook addict and handles KidsOutAndAbout.com's Social Media Marketing in addition to providing freelance services for other small businesses on how to best leverage Facebook as a part of their marketing strategy. Meg also hosts the FamilyPreneur Podcast, a podcast for parent entrepreneurs raising entrepreneurial children. Learn more about Meg at MegBrunson.com!