A Trip Back in Time through New York City's Tenement Museum
-by Carol White Llewellyn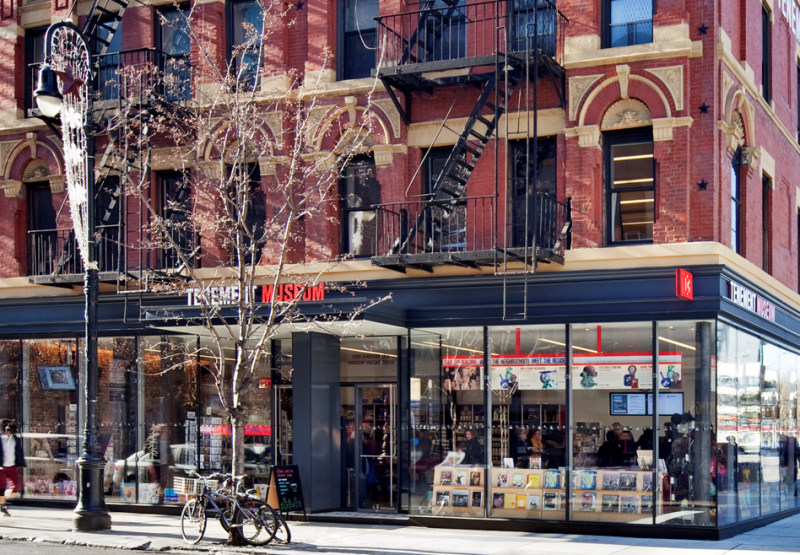 If you take a train or a bus downtown to the Lower East Side, a bit further east than Chinatown or Little Italy, you'll discover an area of Manhattan that was once the thoroughfare for New York's ever-changing immigrant communities. Today, it's the home of The Tenement Museum, located at 103 Orchard Street. The Museum was founded in 1988 by historian Ruth Abram and social activist Anita Jacobsen. The two discovered a dilapidated tenement building at 97 Orchard Street that had been abandoned for 50 years and, through vision and hard work, turned it into a very different type of museum. In the process of unearthing artifacts from the some 7,000 families that lived in the building between the 1860s and the 1930's, they chose to make the building the centerpiece for an immersive experience showcasing how immigrants contributed to this nation's foundation. It offers an eye-opening perspective on our historic past.
Closed for a while during the pandemic, the museum created virtual tenement tours that they plan to continue offering. The museum has now re-opened for neighborhood walking tours, private virtual events and building tours.
On a warm Friday morning, my husband and I met a friend there to take the Hard Times: 1880s tour, a time when the area was known as "Little Germany."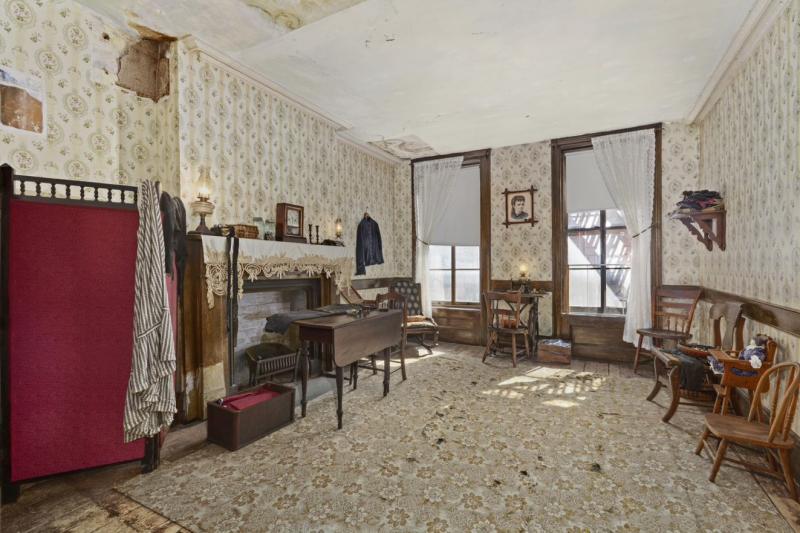 After checking in and presenting our vaccination cards at the Museum Shop and headquarters at 103 Orchard Street, we headed outside and down the street to number 97 for an orientation about the building we were about to visit from our Guide and Educator named Grace. There were about 9 of us on the tour, and some of us were "newbies" to the experience, but others had visited before.
After about ten minutes filled with fascinating information and lots of questions from tour participants, we headed into the building at 97 Orchard Street.
The first thing you'll notice is that some of the building retains its original abandoned ambiance, including wooden trim, wainscoting, and metal ceiling tiles, that have not been restored. On this particular tour, you climb the wooden steps to the second floor and "step into the life" of Natalie Gumpertz and her daughters.
It seems impossible by today's standards that a family of five could fit into the tiny one-bedroom apartment. A small, antiquated sewing machine, surrounded by thread and sewing accoutrements suggest the life led by Natalie, the young immigrant woman who took up dressmaking to make a life for herself and her daughters in their little one-bedroom apartment, after her husband disappeared.
She was apparently friends with her downstairs neighbors, saloon owners John and Caroline Schneider. Their abode is somewhat more spacious and well-appointed than that of their upstairs neighbor. Yet you can practically see Caroline bending over a tiny cook stove, day in and day out, to prepare the foods set out for the patrons who bellied up to the bar to quaff their thirst for the bier served by John, while listening to German music performed by John's musician friends.
In the back courtyard, one pump, located not far from the four privies, served to provide drinking, laundry, cooking and bathing water to the entire building. Since laundry was women's work, and done in the back courtyard, one can imagine the camaraderie and laughter as the women shared their joys and woes on laundry day, while children played nearby in the courtyard.
Our Educator/Docent was extremely knowledgeable about the history of the museum and its founding, as well as the history of the neighborhood. In many ways, it was almost as if she personally knew the families we were "visiting" because she had investigated them so thoroughly, discovering as much as could be known through records and research, archives and artifacts. Throughout the building, the museum curators have worked to retain authenticity, going as far as to recreate wallpaper found 7 layers down, and collecting artifacts from descendants of the immigrants who had lived in the building.
Across this country, there are many grand mansions, historic buildings and museums that pay tribute to the rich and famous throughout history. This museum was a refreshing change, in that it interprets the experience of the common man and woman who landed on our shores. The museum highlights the history of the immigrants that lived in this building over a 70-year period, yet it has an even more universal story to tell about the challenges, adversity and joys of our shared American heritage.
For anyone interested in history, this is a "must see" museum, if you get to New York. For those who cannot make it there in-person, the same Educators host the virtual tours as the in-person tours, so you'ree guaranteed a fascinating experience. The families' stories cover several different time periods, as well as people of diverse ancestry.
The museum also offers virtual school programs, teacher resources, lesson plans, digital exhibits, and two seasons of the excellent podcast series entitled "How to Be an American"
As a plus to the visit, the Museum Shop, for which many of the items can be purchased online, is one of the most innovatively-stocked museum stores I've seen.
The tours and virtual experiences take place at various times throughout the week, so visit the Tenement Museum website for fees and schedule, and be sure to read their COVID-19 Safety Measures before scheduling an in-person tour.
This is a trip back in time you won't want to miss!
Photo credit: Ryan Lahiff
Top: Tenement Museum
Second: Gumpertz Sewing/living room
Third: Schneider Barroom
Fourth: Water Pump and Privies at 97 Orchard St. 
---
Carol White Llewellyn is the Editor of BeyondtheNest.com and she is an award-winning marketing and media professional.
---