Visiting Adoptable Cabbage Patch Kids at Babyland General Hospital
By Meg Brunson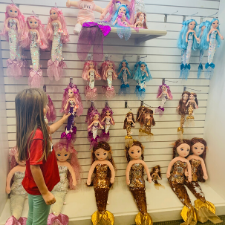 Growing up, my sister and I both had Cabbage Patch Kids and loved them. I remember my mom telling me stories about rushes at the toy stores to get the dolls, they were the "it" toy in the 80s! When I discovered Babyland General Hospital, I thought it was adorably clever and I knew I wanted to make a trip to the interactive toy store! Bonus: it's FREE to visit!
We accidentally walked in a side door (near the rest rooms) and had fun looking at all the celebrity headshots and autographs. Cabbage Patch Kids are loved by EVERYONE! When we entered the lobby, a nurse greeted us just like we were visiting a real hospital and we signed in for our visit. The lobby contained display cases with historic dolls. We visited just before Christmas, so the lobby was beautifully decorated for the holidays and there were plenty of photo ops around the room!
From the lobby we entered into 3 different nursery rooms full of adorable hand-stitched boy babies, girl babies, and kids. Then we walked into a huge room of toys and magic! There were so many toys – not just Cabbage Patch Kids, but all sorts of toys! Mermaids and Paw Patrol and all sorts of stuffed animals! There were slippers and backpacks and hats. It was an amazing toy store with interactive areas for the kids to play.
The highlight of the visit was the ginormous Magic Crystal Tree in the center of the room – where the Cabbage Patch Kids are grown… and throughout the day Mother Cabbage goes into labor!  Everyone gathers around the tree and a nurse reveals the sex during an ultrasound, administers a shot of TLC, and then everyone helps Mother Cabbage "PUSH!" Once the baby is born, the audience helps name the new little one and he goes off to the nursery to be weighed and dressed.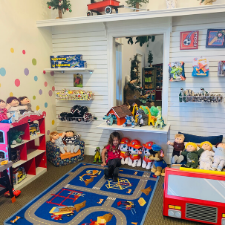 Of course, all of the Cabbage Patch Kids – from the newborns to the kids – are adoptable. And once you've selected your little one, a nurse will join you to take an oath and complete the adoption papers. 
Tips for a Terrific Visit:
If you own a Cabbage Patch Kid(s) bring them along – they will enjoy visiting the patch!
Budget and plan – The dolls can range in price from $12.99 - $295. There are lots of other toys to shop for, but I like to have an idea of what we're looking for and preparing the kids ahead of time.
When you arrive, ask when the next labor is expected – especially if you want a seat around the tree! They fill quickly, and after that people stand behind the seats trying to get a good view.
Plan for about an hour to visit Babyland General Hospital
Start planning your visit at https://cabbagepatchkids.com/pages/babyland-general-hospital - then, read about some of the other adventures we're having on our Year-Long Road Trip!
---
© 2019 Meg Brunson
All opinions expressed are my own. See more on Instagram!
Meg is a mommy blogger, Facebook marketer, and much more. She is a mom to four kids who live full-time in an RV exploring the US! As a former Facebook employee, Meg remains a Facebook addict and handles KidsOutAndAbout.com's Social Media Marketing in addition to providing freelance services for other small businesses on how to best leverage Facebook as a part of their marketing strategy. Meg also hosts the FamilyPreneur Podcast, a podcast for parent entrepreneurs raising entrepreneurial children. Learn more about Meg at MegBrunson.com!