Visiting Graceland With Kids

By Meg Brunson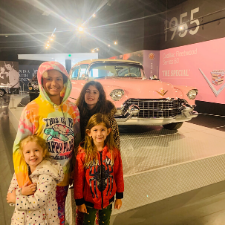 When I think about Memphis, I think about Graceland… but, I have to be honest here: I was not raised in an Elvis loving household. I knew about Elvis, and nobody DISLIKED him – but we were definitely not at the Uncle Jessie (from Full House) level of appreciation. As a matter of fact, I may have learned most of what I knew about Elvis from Full House… but I still totally wanted to visit Graceland… and I am SO glad we did!  We enjoyed this experience way more than we expected!
Mansion Tour
The Visitor Center is located across the street from Elvis' Mansion, and after we grabbed our tickets from Will Call we got in line for our tour. The tour began with an introductory movie (which was well done) and then Graceland photographers took pictures of each family as they left the movie theater to board the busses. This was also where iPads and headphones were distributed so you could listen to the audio tour during the tour. My youngest was too young to be granted her own iPad, however they did have splicers on-hand to allow us to share the iPad with them (so we had 2 headphones attached to one iPad)
A short bus ride took us across the street to the Mansion and we were able to walk through the mansion while listening to the audio tour. We learned all about the property (not just the home itself) and my kids left wanting a mirrored stairway, fabric covered walls, and a jungle room in our next house! The audio tour also took us through the Meditation Gardens, where Elvis is buried, which I did not know we'd experience! It was near the end of the tour that I realized that John Stamos (Uncle Jesse himself) was the one narrating the tour!  How funny and cool is that!?

After completing the Mansion Tour, we boarded a bus to return to the visitor center where we would begin our exploration of Elvis' Memphis!
Elvis' Memphis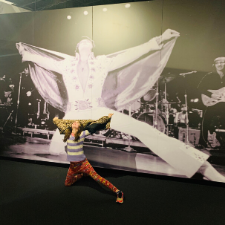 This section of Graceland is like it's own mini-city focused on entertainment and a variety of exhibits showcasing Elvis' life, career, and legacy. There are a variety of exhibits with their own entrances and giftshops showcasing unique items related to the specific exhibit including: Elvis' cars, motorcycles, Lisa Marie (his daughter), films, military, travel, and more! There was even a Full House display which made me so happy!
We loved browsing the variety of exhibits and learning more about what shaped Elvis' life and career. Everyone loved seeing so many of his stage outfits, and the walls of gold records and awards was breathtaking and impressive.
Elvis' Memphis also has selfie spots GALORE throughout the exhibits! My kids happily jumped form one area to another and had fun coming up with the poses they would showcase based on the various scenes. This is definitely where we spent the most time.
Graceland's two restaurants are located within Elvis' Memphis. Vernon's Steakhouse offers authentic Memphis BBQ, and Gladys' Diner offers classic American cuisine. With our picky eaters, we opted to eat at Gladys' Diner, though no one opted to try Elvis' favorite Peanut Butter and Banana Sandwich! The diner has one amazing VIP table – built out of an classic car – and we arrived at the perfect time to score that table for our meal! It was so fun to enjoy our hot dogs, burgers, and pizza in the classic car table within the diner! There was also an adorable ice cream and sweet shop at Elvis' Memphis – Minnie Mae's Sweets – where we each enjoyed a delicious ice cream cone.

After a fun and tasty lunch, we took a short walk over to the Graceland Expedition Center – where we'd take a break from Elvis to learn about Dinosaurs and Outer Space!
Graceland Exhibition Center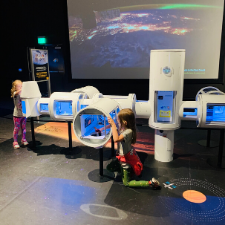 Have you ever walked into a Convention Center and seen the doors to the exhibit rooms and thought wow, it's smaller than I thought! But then, you go in and somehow there is a TON of space in there?! That's exactly what happened to us at the Graceland Exhibition Center!
This building caters to special events like dinners, receptions, and parties… and it also offers space for traveling exhibits! During our visit the exhibits included "Journey to Space" and "Expedition: Dinosaurs" – now, neither of these have anything to do with Elvis – but they do provide amazing opportunities to have fun and learn and you can buy tickets to these exhibits independently of the Elvis-related materials.
We recently visited NASA's Kennedy Space Center – and the "Journey to Space" Exhibit was a wonderful sampling of the same types of exhibits and activities offered by NASA themselves (at a fraction of the price tag). The kids especially loved experimenting with zero-gravity through a vacuum chamber, playing with astronaut dolls in a International Space Center "doll house," and experiencing a simulation of the International Space Station's Destiny Lab!
In the "Expedition: Dinosaurs" Exhibit, we all enjoyed digging for fossils, as well as observing (and controlling) robotic dinosaurs! The kids loved being able to climb inside a T-Rex mouth and pose for silly pictures, and enjoyed a variety of hands-on activities.
The traveling exhibits were small when compared to a full Science Museum… however, the quality of the exhibit was above and beyond what we've experienced at any science museum thus far. These specific exhibits will only be at the Graceland Exhibition Center for a limited time – but judging by how amazing they were, I am sure they have some awesome plans up their sleeves for future exhibits!
Graceland RV Park
As a full-time RV'ing family we drive A LOT. We'll often drive up to 90 minutes from where we are staying to visit different venues. When I learned that Graceland had it's own RV Park, we decided it would be nice to NOT have a long commute to/from Graceland. We stayed just two nights, arriving the day before our visit and departing the next morning.
The RV Park has 24-hour security, which is a great feature when you're staying in an unknown city! Security stopped our car at the gate – then gave us directions from there. Checking in was easy-peasy and the park store was stocked with RV'ing staples, snacks, and (of course) Elvis souvenirs! 
Our site was level and easy to access, with full hookusp, wi-fi, laundry and showers on-site. We could see the visitor center from the RV Park, and it made a VERY easy walk in the morning. Being so close (and with such a short walk) meant that we really got to make the most of the visit by arriving early and staying late – without losing a ton of sleep or battling traffic – plus we were able to catch up on laundry and fill our propane tanks. It was a win all around!
If you visit in the summer, the RV Park also has a pool – but with the summer also comes increased traffic at Graceland… while the kids were bummed about not being able to swim, I personally preferred having less crowds at Graceland!
Tips for a Terrific Visit:
Plan ahead – take a look at the website and plan for all the things you want to do. This is a place where we could have comfortably spent two (or more) days exploring. Consider a stay at the Guest House at Graceland or the RV park and campground so you can experience everything at a pace that suits you!
Get a free poster when you check in at Graceland on Facebook. Just show your check-in to Guest Services to receive your free poster.
Pick up a free kids activity book for each child at Guest Services upon arrival.
Dining – don't miss the food! There is a steakhouse and diner onsite, something for everyone!
Parking – there is a secure lot available for a fee ($10 for cars, $15 for RVs/Trailers/Semis)
I honestly believe that there is something for everyone at Graceland – you don't have to be a die-hard Elvis fan to appreciate the impact he made on the music scene, the big screen, and in pop culture. We spent a full day at Graceland and didn't get to experience it all – so learn more about what else there is to see/do and start planning your trip at https://www.graceland.com/
Read about some of the other adventures we're having on our Year-Long Road Trip!
---
© 2019 Meg Brunson
Thanks to Graceland for sponsoring this review! All opinions expressed are my own. See more on Instagram!
Meg is a mommy blogger, Facebook marketer, and much more. She is a mom to four kids who live full-time in an RV exploring the US! As a former Facebook employee, Meg remains a Facebook addict and handles KidsOutAndAbout.com's Social Media Marketing in addition to providing freelance services for other small businesses on how to best leverage Facebook as a part of their marketing strategy. Meg also hosts the FamilyPreneur Podcast, a podcast for parent entrepreneurs raising entrepreneurial children. Learn more about Meg at MegBrunson.com!