Visiting the Grand Canyon's North Rim

by Katie Beltramo
Expansive, awe-inspiring views, plenty of opportunities to get close to nature, and a rich history: The Grand Canyon National Park is a terrific vacation destination for families. With about 5 million visitors per year, it's hugely popular, and getting the most out of your visit requires some planning. Our family recently spent a few days along the Grand Canyon's North Rim.
The South Rim vs. The North Rim
As you might expect, the Grand Canyon is large enough (277 miles along the river at the canyon floor) that going all the way around it really isn't feasible for most visitors. If you are interested in exploring the Inner Canyon, either hiking or riding a mule all the way down and lodging at the canyon floor overnight or taking a rafting trip, you'll need to begin planning far ahead of time. Reservations are taken approximately 13 months in advance, and they book solid almost immediately. If you are considering whether to visit the South Rim or the North Rim, here's an overview of how the two sides of the canyon contrast with each other:

Based on these factors, a good generalization is that if you're looking for a quick and convenient stop on a larger trip or for general tourist fun, the South Rim is the way to go, while if you're looking to have an experience with a natural wonder, the North Rim is more your speed. If your Grand Canyon visit is part of a larger tour around the Southwest, that will factor into your choice, too.
Our family chose the North Rim because we knew that we wanted the opportunity to spend a couple of days to explore, and, frankly, we weren't with-it enough to plan ahead and visit the Inner Canyon. But even though I'd happily go back and explore more, we enjoyed our stay at the Grand Canyon.
The Grand Canyon Lodge at the North Rim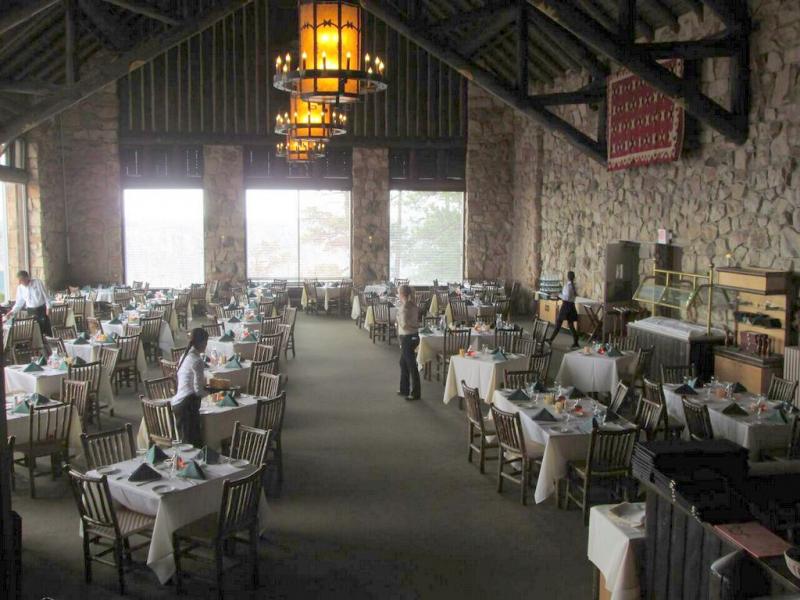 The only lodging within the park along the North Rim is Grand Canyon Lodge. Accommodations vary from different-sized cabins to motel rooms, and they're situated right along the edge of the canyon. The lodge itself is gorgeous, built in 1937 in a rustic style and featuring a viewing chamber just off the lobby that offers a panoramic view of the canyon through an enormous wall of windows. Many of the cabins feature little porches, and just off the main lodge there is plenty of space for relaxing and taking in the splenor. It feels luxurious, and prices ranged from about $215-$320 per night when we visited in July, 2015. Again, if this is what you'd like to do, plan to call at the beginning of the month 12 months prior to your anticipated vacation date. Even if you don't stay at the lodge, you can still dine at the lodge's lovely dining room.
Camping at the Grand Canyon's North Rim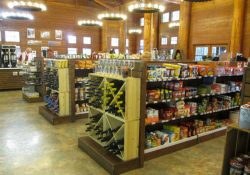 If you're looking for a more rustic or a considerably cheaper option, you can reserve space at the North Rim Campground. Both tent camping and RV camping is permitted, although there are no RV hook-ups available. There's a very limited section of the campsite that is right along the rim and available for tents only, so if you book early enough and plan to tent-camp, I recommend these sites first. If you've done any camping at all, this location offers very easy camping: restrooms are well-maintained, coin-operated laundry and shower facilities are available, and the tents are just a short walk from the rim itself. Most impressive, to me, was the camp store. After years of arriving at a new campground and crossing my fingers that there would be ice and firewood available, the sheer breadth and abundance of just about anything you'd ever want camping amazed me: all kinds of food, clothing, health & beauty aids, ice cream, wine and wine glasses, and camping supplies were all on display. And with sites going for $18 to $25 per night during our visit (July, 2015), you could do quite a bit of shopping and still save a bundle compared to staying at the lodge!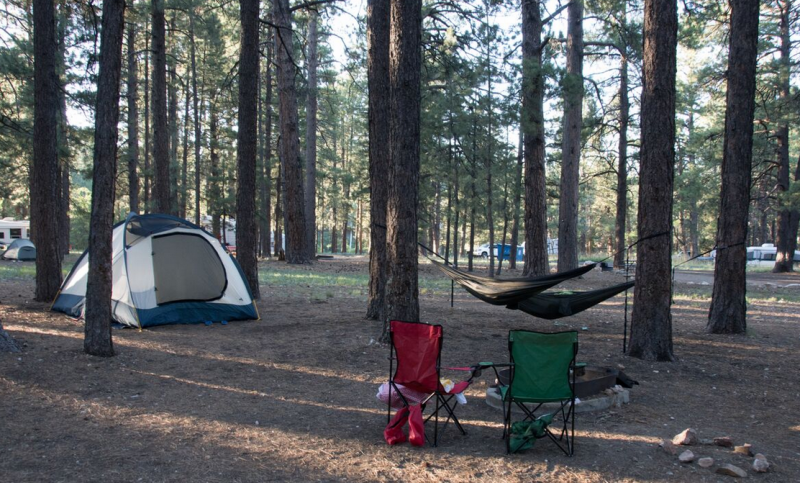 With tall ponderosa pines and relatively little brush, campsites are mostly open to each other, although the area is quiet during the day as everyone is out exploring and sight-seeing. One rule that we thought was particularly charming is that campers are not permitted to leave hammocks unattended because the deer who roam the area can get tangled in them. Along with some very relaxed and comfortable-looking deer, we saw Kaibab Squirrels, squirrels with bushy white tails who only live along the North Rim of the Grand Canyon. Camping was an excellent choice for staying at the Grand Canyon: it was convenient and inexpensive, and the atmosphere had the friendly, home-away-from-home feel that tends to exist among camping families.

Outings Available at the North Rim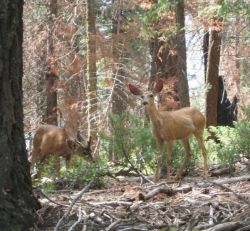 While you'll need to plan well ahead of time if you'd like to raft, ride a mule, or travel to the bottom of the canyon, there are absolutely other outings available to you for which reservations are either easier to obtain or not required at all. There are a wide range of programs from the National Park Service available daily. For more information, click this link and then choose links to the North Rim Newspaper for more information. These programs take place in a variety of locations, including the North Rim Campground amphitheatre, conveniently located almost among the tents at the campground. You might also enjoy some in-depth programming from the Grand Canyon Field Institute. Click here to read my review of a North Rim Family Hiking Adventure.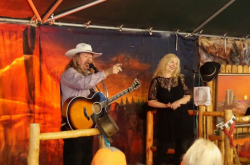 We also attended the Grand Canyon Cookout Experience, a combination chuckwagon-style buffet and musical comedy show located near the North Rim Campground. The meal, with choices including beef brisket, roast chicken, macaroni & cheese, and much more, was not our best meal on the trip, but it was tasty and mighty fun, presented in all its checked-tablecloth-and-speckled-enamelware glory. Our entertainers were a charmingly cheesy couple who twanged through country songs and presented us with a wide array of their self-proclaimed bad jokes. The whole affair takes place in a tent not far from the North Rim Campground. Anyone can choose to get a ride from the lodge in their tram as part of the fun, but with older kids who are no longer charmed by special rides in vehicles without car seats, we showed up on our own exactly two minutes early, thus jumping to the front of the line. When we visited, the cost was $29.95/adult and $14.95/child ages 6-10, kids 5 and under free. This was just enough to make me hesitate to book it, but the combination of the fun show and the fact that we didn't have to plan for an extra dinner cooked by campfire made us glad we'd decided to go.
The visitor center is a terrific source of information, with helpful park rangers and exhibits, both permanent and evolving with the season, like a case full of photographs of wildflowers currently in bloom. Right near the visitor center is the not-to-be-missed Bright Angel Trail: gorgeous!
Tips to Make the Most of Your Visit
I sound like a broken record, but I can't emphasize enough: put the trip on your calendar well ahead of time, then mark your calendar for 13 months ahead of time so that you can make any reservations that you'll require.
When pondering hiking, the general rule is that, when hiking into the canyon, you should plan that hiking back up will take at least twice as long as it took to hike down. So if you hike thirty minutes down, expect at least an hour-long trip back to the rim.
Pace yourself for the visit, too. If you are planning to stay multiple days, set aside free time or time to do something different from hiking.
Timing is everything. Views are more magnificent at sunrise and sunset, and if you're visiting in the summer, you might want to plan some rest time for midday to avoid the heat.
Remember that temperatures are variable, so pack clothes that you can layer. Elevation is approximately 7,000 feet above sea level along the South Rim and 8,000 feet above sea level along the North Rim, so even in summer, nighttime chills can dip into the 40s and 50s. Meanwhile, on a hot summer day down at the bottom of the canyon, temperatures can reach 120 degrees.
---
Read Katie's review of a North Rim Family Hiking Adventure here.
For more KidsOutAndAbout articles on visiting National Parks, start with our article on Preparing for a National Parks Vacation.
For more information about the Grand Canyon, check the National Park Service website.

---
© 2015, KidsOutAndAbout.com.
Katie Beltramo, a mother of two, is an editor at Kids Out and About. She also blogs at Capital District Fun.
---