Visiting the North Carolina Aquarium at Fort Fisher
By Meg Brunson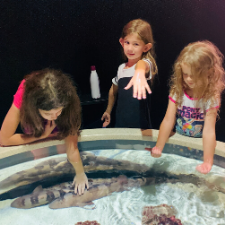 When I think about Wilmington, I think about sea turtles. I mentioned in a previous article, that part of my desire to visit Wilmington started because of my love for Nicholas Sparks novels. In one of his novels, The Last Song, which was also made into a movie starring Miley Cyrus and Liam Hemsworth, the hatching of sea turtles on a Wilmington beach plays a significant role in the story. I knew the liklihood of seeing a sea turtle in real life was slim to none, so I wanted to visit the aquarium to learn more about them and other North Carolina wildlife!
Entering the museum, the first area you come to is the Cape Fear Conservatory. Within this area we enjoyed being able to observe, and learn about, a bald eagle. I didn't know that due to a treaty the US has with indigenous people, all eagle feathers belong to Native Americans. So when the eagle's habitat is cleaned, all feathers are collected and sent to the appropriate tribe! Within this area we also loved watching the box turtles, tree frogs, and aligators - among other animals.
Next, the Marine Building's upper level is where we got to meet a sea turtle. Every spring, specialists go checking the sea turtle nests after the turtles have hatched and made their way to the sea, to see if any unhatched eggs remain. If/when they do, they take them for incubation and to care for the turtles who didn't make it to sea. That's where these turtles come from. They stay with the aquarium for a year or two, and are raised in such a way that they're able to be reintroduced to the wild. Once in the ocean, they'll live their lives completely at sea. Only females will ever return to shore - to the beach where they themselves hatched - to lay their eggs. I loved being able to watch the sea turtle and ask a volunteer all of my questions! They are fascinating animals!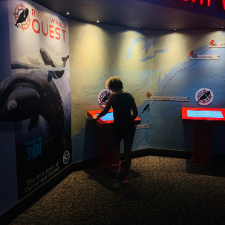 The kids loved being able to touch a variety of marine life including sea stars, horseshoe crabs, and even small sharks! We loved the Cape Fear Shoals - spanning 2 levels - we loved watching sharks, a green sea turtle, and a wide variety of fish swimming in this large area. There was even a spherical window area where the kids could sit "in" the exhibit for a close-up experience.
On the lower level of the Marine Building, the kids loved exploring the interactive displays focued on whales and dolphins. Seeing a replica megaladon jaw and standing "inside" it, really gave an appreciation for how amazing those sharks were! Some of our other favorites were in this area as well: jellyfish, seahorses, eels, and my youngest's favorites: the lion fish!
When we arrived at the aquarium, staff took our family photo, and we loved how they turned out, so we picked up a copy of that before heading out. Their gift shop was really amazing too - tons of the typical gift shop stuff (clothing, magnets, post cards, etc.) but they also had a great selection of conservation-related items, like collapsable reusable straws (to save those adorable sea turtles)! 
Outside there was also a playground where we spent a little time before heading to nearby Kure beach. We are so glad that we had the opportunity to visit this aquarium. Everyone we met (from staff to volunteers) were super friendly, helpful, and knowledgable. 
Helpful Hints for Making the Most of your Visit
Beach Access - The aquarium is located a short distance from Kure Beach, so if you are looking to visit the ocean and experience an amazing local attraction, this is a great way to do it!  We hit the aquarium first, then when it closed at 5pm, we hopped over to the beach to dip our toes in the ocean before heading home.
Snack time - While you may not have food or drinks inside, you can enjoy refreshments on the snack bar deck or picnic tables by the parking lot. The snack bar is open daily from March through September, on weekends during October and November, and is closed the rest of the year.
Parking - Parking is Free and there is a large lot!
Scavanger Hunt - Have a little extra fun with a scavenger hunt you can download right to your phone!
Feedings and more! - Plan your visit around one (or more) of these daily events!
Find more information on admissions, exhibits, and special events - plus, start planning your trip at http://www.ncaquariums.com/
Read about some of the other adventures we're having on our Year-Long Road Trip!
---
© 2019 Meg Brunson
Thanks to Wilmington and Beaches Convention & Visitors Bureau and North Carolina Aquarium Fort Fisher. for sponsoring this review. All opinions expressed are my own. See more on Instagram!
Meg is a mommy blogger, Facebook marketer, and much more. She is a mom to four kids who live full-time in an RV exploring the US! As a former Facebook employee, Meg remains a Facebook addict and handles KidsOutAndAbout.com's Social Media Marketing in addition to providing freelance services for other small businesses on how to best leverage Facebook as a part of their marketing strategy. Meg also hosts the FamilyPreneur Podcast, a podcast for parent entrepreneurs raising entrepreneurial children. Learn more about Meg at MegBrunson.com!