What To Wear When Taking Child or Family Photographs Outside
By Honey DeLapa
The goal of any fine portrait is to direct the viewer's attention to the face or faces in the portrait. Proper clothing allows the face to dominate the portrait. All other features should be secondary.
Coordinate!
In a group portrait, proper clothing coordination is critical, so the decision of what family members wear should be made as a group. Choose a theme that works for all family members; while wearing identical clothing is not required (and in some cases could distract the viewer by looking TOO much the same), all should be wearing similar colors and styles. Clothing that blends harmoniously creates timeless portraiture because the viewer's eye goes directly to the faces of the people, rather than attracting attention to itself.
Colors
Clothing in medium to dark colors works well in an outdoor setting or when using a medium or dark background.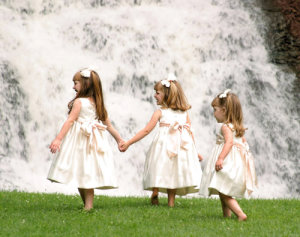 However, when creating a "high key" portrait (portraits with a white or light background), pastel or white clothing should be worn. For example, when on the beach or using the sky as background, white, off-white or pastel colors work best.
Do not mix tones between family members. In groups, light and dark tones together create visual confusion, because one subject comes forward and the other recedes.
Solid colors are best.  Stripes, checks, plaids, and prints are confusing and do not photograph well. Solid colors are preferred.
Styles
Turtlenecks or V-necks can be flattering provided they are not exaggerated in style. Avoid particularly wide or deep V-neck garments as well as bulky cowl neck sweaters that completely hide the neck.
For adults, long sleeves are most flattering. Bare arms call attention to themselves and will overpower the face.
Women's bare legs are distracting in photographs. Women being photographed in full length should wear long skirts, slacks or stockings in key with other clothing in order to keep the eye from being directed toward the legs and away from the face.
Bare feet or shoes? Feet will show in the portraits, so be certain that shoes and socks or stockings are in keeping with the visual intent of the portrait. If the portrait is casual studio or on the beach, bare feet are fine.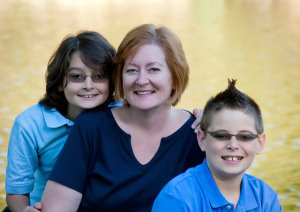 Glasses, makeup, and accessories
If you wear glasses on a daily basis, you should consider wearing them in your portrait. If lenses can be removed, that is best, but of course it's not necessary. People should see you as you usually are.
Avoid wearing makeup heavier than usual. Makeup with a natural look will photograph better with today's advanced technology.
Keep it simple. Remember, the focus is on you, not on your clothing or jewelry! Very simple garments and accessories always photograph best.
---
Honey DeLapa is owner of DeLapa Photography, based in Hilton, NY; her studio is in Honeoye Falls, NY. Contact her at thelakehouse@mac.com or 585-392-3886