Visiting Disney World's Hollywood Studios
by Katie Beltramo
Prior to our Disney World trip, my husband said, "You know, I don't even know if we should bother going to Hollywood Studios." Like many, he had vivid childhood memories of the Magic Kingdom and Epcot, but Hollywood Studios was all speculation. We also heard the same thing over and over: it's mostly a bunch of shows. But Hollywood Studios has been growing, and there was plenty more to do beyond the shows. But also? The shows were pretty awesome.
We saw four different shows at Disney World's Hollywood Studios, and they were all very good. The must-see was Fantasmic! An evening extravaganza of fountains, fireworks, film, and live action, it brings together classics and new characters and includes something for everyone. It shows a few times a week in the evenings, and if you are rationing your late nights, it's worth going. The theater space is huge, but it does fill up, so arrive early.
We had planned to multitask by eating our dinner while waiting for the show, but the nearby food selection was pretty junky: hot dogs, nachos, and other food that doesn't make a legitimate dinner. I'd suggest packing your own meal, or at least some healthy sides, to improve upon the offerings.
There will also be a free-for-all of cool-but-costly light-up souvenirs on sale, so plan ahead by bringing along a lower-cost surprise, working some cash into your budget, or steeling yourself to say no. Getting splashed is a possibility if you're sitting in the first several rows.
Finally, if you use a Disney stroller on your trip, you won't need to find the same one after the show. They remove names so that guests can choose a handy stroller and move quickly.
We also watched the Indiana Jones Epic Stunt Spectacular! It was a huge hit particularly with the dads, although some children found the noises and stunts scary. This show is conveniently located next to food, so it was easy for us to split up and let the kids eat at a leisurely pace while someone else scouted out seats.
Muppet*Vision 3D, unlike the others I've featured, is indoors, and we all loved feeling as if we were in the Muppets' theater. The film included some live action puppetry and other extras that made it one of the multi-sensory Disney shows that are so wonderful. I come from a family of pretty hard-core Muppet fanatics, and that enhanced the enjoyment for all of us, but I think even non-enthusiasts would enjoy this show.
We stumbled upon Disney Channel Rocks! It's a moveable outdoor show that's geared especially for almost-tween fans of shows like High School Musical and Camp Rock. The performers were charming and high-energy, and all the Disney guests were friendly and helpful in getting the kids to step forward for a view of the action. All are encouraged to dance along, and it's difficult to resist joining the fun.
Finally, the Disney folks bill the Star Wars: Jedi Training Academy, but if your child is a devoted lover of All Things Star Wars, he or she will only be truly happy as a participant, and the competition for a place in this academy is fierce. Plan to arrive first thing in the morning and walk very quickly to the designated friendly Disney cast member with a clipboard who can "register" your child for one of the show times later in the day. Participants don brown Jedi cloaks and wield a light saber and train under a Jedi Master, then confront Darth Vader. For many kids, it's easily the highlight of the entire trip.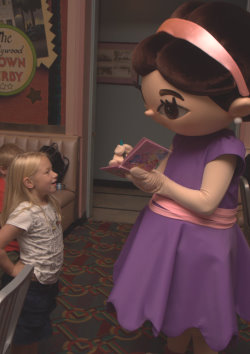 Between all of these shows and waiting in line, kids and their adults will appreciate a visit to "Honey, I Shrunk the Kids" Movie Set Adventure. This is a wonderfully imaginative playground in which small items have been magnified to make kids feel like they are smaller than a bug. They'll love exploring through tunnels and encountering surprises, like a colossal discarded Super Soaker water gun that occasionally shoots a spray of water over unsuspecting passers-by. It's difficult to keep track of your kids through the space, but it is closed off so that they can't escape far. During busy seasons, entrance is controlled, but it remains a hectic place. Still, it's a nice change of pace for kids to play entirely under their own power, and it was one of our favorite attractions in Hollywood Studios.
We had one sit-down meal in Hollywood Studios, a Character Dining Lunch Buffet at Hollywood & Vine. We managed to make reservations for this with our concierge once we'd already arrived at Walt Disney World. Characters included Handy Manny, Super Agent Oso, and folks from Little Einsteins, and the food was excellent. Yes, character dining can be time-consuming, but buffet meals are so far superior to the fast-food style fair that you'll find all over Disney World. This lunch included chicken, beef, meatballs, chicken nugget, and macaroni and cheese along with plenty of vegetables and yummy garlic mashed potatoes. Desserts included chocolate mousse, berry cobbler, red velvet cake, cookies, and a baked apple dessert, and a self-serve ice cream machine.
---
Read more about specific rides at Disney's Hollywood Studios.
---
© 2011, Katie Beltramo
Katie Beltramo, a mother of two, is Editor of Kids Out and About-Albany and blogs at Capital District Fun.