Visiting Disney World's Epcot with Family
by Katie Beltramo
Our family visited Epcot with a group that ranged from a preschool boy to the grandparents. If you've looked into Epcot at all, you've heard the joke...
...that, instead of Experimental Prototype Community of Tomorrow, Epcot stands for Every Person Comes Out Tired.
Well, yes: it's true. There's more walking between attractions here than in the other Disney parks, making it challenging for younger kids (and the parents who love them).
There are two main sections to Epcot: Future World, which is more like a standard amusement park; and World Showcase, which includes eleven pavilions dedicated to different countries. The truth? We visited Epcot on three different occasions, and in spite of our best intentions, we never made it to all the countries. We'd planned to finally accomplish that goal on the last day of our week-long Disney vacation, partly because we no longer had younger (slower) cousins with us. But exhaustion had set in by then, so we only managed to get through three countries before we admitted defeat and turned back.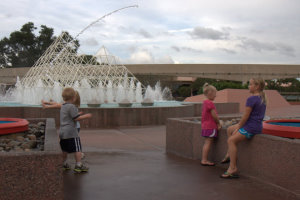 We spent most of our time in Future World, and there was plenty to delight us there, including the larger attractions and the incidentals along the way. My kids and their cousins loved the jumping water fountains near Imagination! This was one of my husband's favorite childhood memories, and he was excited to share it. My younger daughter loved making shadows and dancing among the lights around the big memorial slabs between the entrance and Spaceship Earth. Plus my kids love a bridge. Is it any wonder that it was tough for us to get anywhere quickly?
We enjoyed quick-service and table-service meals throughout Epcot, and everyone loved the "countries" that we visited. Mexico, which offers what feels like an open-air marketplace at dusk, was particularly appreciated. If you're a shopping enthusiast, make plenty of time to check out the imported goods from the different countries. Staff are imported, too, which goes far in making the atmosphere in each pavilion special.
One disappointment at Epcot was the IllumiNations show, which was fireworks and video on a giant globe that was captivating for 30 seconds, then tedious. If you want to limit your late nights with small children, skip it and head for Fantasmic! at Hollywood Studios instead.
Selected Restaurants at Disney World's Epcot
Highlights of the Rides at Disney World's Epcot
---
©2011, Katie Beltramo.
Katie Beltramo, a mom of two, is editor of Kids Out and About--Albany. She also blogs at Capital District Fun.